Picture Of The Day for March 6, 2008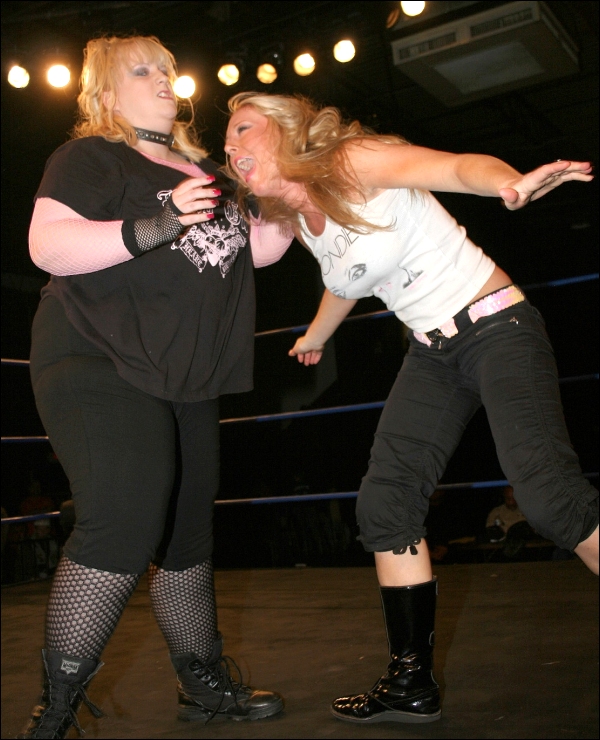 Amy Lee Destroys Amber...But Can She Do The Same To Kong?
Amy Lee faced-off with fellow G.L.O.R.Y. Girl Amber O'Neal back in December when they met in Philadelphia, Pennsylvania for WEW. The result for Ms. O'Neal was less than favorable. Very less than favorable.
Actually, from the look of Wrestlin' Wally's pictures below, it was a disaster for Amber!
Big, bad Amy Lee destroyed the smaller blonde, mauling the screaming southern belle from the very start of the match...and then it got worse for Amber. After cornering her opponent against the turnbuckles, Amy pounded away relentlessly...hammering huge blows into the chest and body of her overwhelmed foe. O'Neal was in no shape to defend herself by the time Amy decided to scoop her up and slam her to the mat....a set-up for the biker's specialty: that devastating and crushing leg drop!
By match's end, Amber O'Neal was seeing stars from the beating she endured. We wonder if she even knew where she was as she had to be helped from the ring and back to the locker room. On this night, Amber felt the wrath of the raging AmyLee.
But what would happen if AmyLee faced someone closer to her in size? Similar in power? Someone who matched her in devastating effectiveness?
Turns out that we're going to get an answer to those questions this Saturday at WSU's First Anniversary Show in Lake Hiawatha, New Jersey! That's right. Big, bad, brutal AmyLee will be stepping into the ring to take on Amazing Kong! And the brash G.L.O.R.Y. Girl is showing nothing but confidence in her performance against the powerful TNA star. She's said as much right here on the G.L.O.R.Y. Message Board.
The much-viewed thread came into existence when G.L.O.R.Y. fan edd voiced his opinion of the way Kong is being booked by TNA brass. Weekly squashes of her opponents have become the norm for Amazing Kong...a situation that edd doesn't particularly endorse. Replies came rolling in as fans discussed the pros and cons of TNA's booking of their Women's Division. Some agreed with edd, wanting to see more competition for Kong. Others disagreed, saying that Kong's build-up is reminiscent of the "Goldberg days" of WCW. (Then, of course, there was the discussion of capitalization, exclamation marks(!) and other "banalities" that seem to crop up when these discussions get a little hot!)
But things really got interesting when AmyLee herself entered into the Kong debate as she posted a very simple message: "I guarantee on march 8th [Kong] won't be squashing me!!!!!!!"
(Note to the Wizard Of Id: Notice how many exclamation marks AmyLee used, buddy...)
Anyway...the arena will be rocking Saturday in New Jersey when these two powerhouses, G.L.O.R.Y. Girl AmyLee and TNA's Amazing Kong, face off for Women's Superstars Uncensored. We hope the fed's execs have scheduled this match as the last of the evening...because the WSU ring may be in no condition for further wrestling after these two ladies finish with their epic battle!
Photo:
Wrestlin' Wally
Bonus POD!
Picture #2
Bonus POD!
Photo:
Wrestlin' Wally
Bonus POD!
Picture #3
Bonus POD!
Photo:
Wrestlin' Wally
Bonus POD!
Picture #4
Bonus POD!
Photo:
Wrestlin' Wally
Bonus POD!
Picture #5
Bonus POD!
Photo:
Wrestlin' Wally
Bonus POD!
Picture #6
Bonus POD!
Photo:
Wrestlin' Wally