Picture Of The Day for March 2, 2008
1) Manage; 2) Law School; 3) Wrestle!
Not quite the typical "To Do" list for a sexy, blonde 20-something model to be carrying around in her purse...but that's exactly the plan which G.L.O.R.Y. Girl Brandi Richardson has been following over the past few years.
Long-time G.L.O.R.Y. fans know that Brandi joined us several years ago as an up-and-coming Florida manager. But then a temporary detour steered Brandi away from the wrestling business. That detour was called Law School. (Okay...time to ditch all those blonde jokes. They're not going to work for this bright young lady!)
But guess what? Richardson is about to graduate from law school this spring. And what's the first thing she's going to do? Join a corporate board? Prosecute a crooked politician? Uh-uh. She's going to start training to become a full-fledged wrestler!
Wrestling manager...law school graduate...wrestler: definitely not your typical path through the world of professional wrestling. But who ever said that the gorgeous Brandi Richardson is typical?! Watch for Brandi's newly-updated G.L.O.R.Y. profile to debut a little later today...
Bonus POD!
Picture #2
Bonus POD!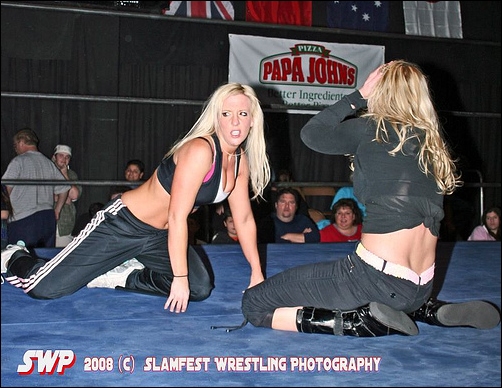 Photo:
Slamfest Wrestling Photography