Picture Of The Day for September 27, 2007
Alicia/Bayless in WSU Street Fight!
Last weekend's WSU event in Lake Hiawatha, New Jersey hosted a wild and out-of-control street fight between G.L.O.R.Y. Girl Alicia and soon-to-be (again!) G.L.O.R.Y. Girl Becky Bayless. These ladies were tearing into each other at the sound of the bell...and the action spilled to the outside of the ring almost immediately. Bayless seemed intent on doing damage to arch-enemy Alicia early and often. The violent brunette seemed particularly delighted as she locked Alicia's arms over the ringside fence and chopped away at the trapped blonde's chest. The sound of the solidly connecting chops echoed throughout the arena as Alicia was rocked against the steel barricade.
Photo:
Robert Payes/Stiff Shots
Bonus POD!
Picture #2
Bonus POD!
The Fight Continues...
Still stunned from Bayless' devastating chop attack, Alicia was in no condition to prevent the brunette from dragging her away from the confines of the immediate ringside area. The look on Becky's face makes it clear that she still has plenty of punishment in mind for her rival.
Photo:
Robert Payes/Stiff Shots
Bonus POD!
Picture #3
Bonus POD!
More Chops!
Becky, as well as everyone else in the arena, knew that those ringside chops to Alicia's chest were extremely effective. So why abandon a good thing? Bayless went right back to the same strategy. After flinging the blonde into the bleachers those brutal chops continued. And continued. And continued...
Photo:
Robert Payes/Stiff Shots
Bonus POD!
Picture #4
Bonus POD!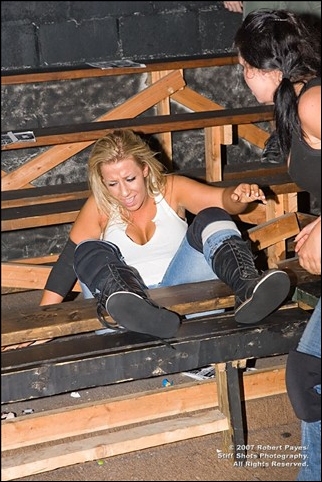 Fans Scatter!
Those amused fans who you saw sitting right next to the action in the last shot soon realized that this wasn't a safe place to be. The viciousness of Becky's attack sent people scurrying for safety as they became convinced that getting anywhere close to these two brawlers was not good for their physical well-being. And they were right! Alicia took blow after blow from Becky until she was driven back into the seats...the violence of their encounter even doing damage to the wooden bleachers.
Photo:
Robert Payes/Stiff Shots
Bonus POD!
Picture #5
Bonus POD!
Bayless Still Not Finished!
Unbelievably, the brutal brunette wasn't satisfied with the damage she had done to Alicia's body. The blows to the chest were just the beginning of what Bayless had in mind for her adversary. With a handful of hair, Becky drags the hurting blonde back towards the ring for even more punishment. From the look on Bayless' face, it appears that she's not just looking to win this match...she intends to dish out some serious physical damage to Alicia.
More wild street fighting action tomorrow!
Photo:
Robert Payes/Stiff Shots