Picture Of The Day for September 28, 2007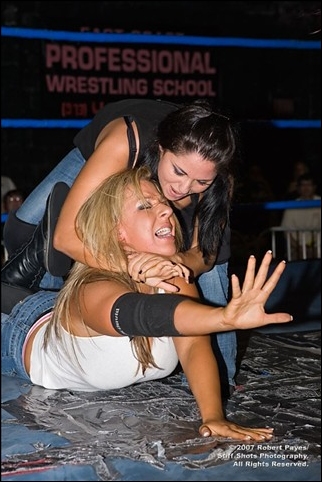 WSU Street Fight: Part II
Yesterday we showed you how Becky Bayless dragged Alicia out of the ring and beat the heck out of her during their WSU street fight this past Saturday. After Bayless chopped and pounded her opponent outside the ring, she dragged her back inside the ropes to continue the punishment. But this time, she concentrated on Alicia "above the shoulders". Locking up the legs, here we see Becky going to work as she stretches the back and neck of the sexy blonde.
Photo:
Robert Payes/Stiff Shots
Bonus POD!
Picture #2
Bonus POD!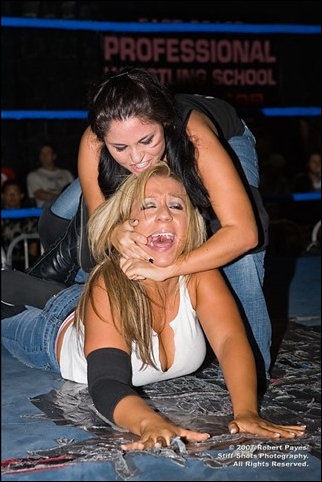 Alicia Silenced?
If you've ever seen Alicia in action, you know that she has a tendency to...mmmm..."chat" with her opponent and the fans. Okay, okay. To be honest, she taunts and screams at the fans. Well, Becky took care of that problem. Look at the way she fish hooks Alicia's mouth. Now there's an effective way to keep her opponent from mouthing off. Becky is not only in control, she seems to be rather enjoying dishing out the punishment to her mortal enemy. But Alicia is one of those opponents who you don't want to get careless with during the heat of battle.
And Becky got careless...
Photo:
Robert Payes/Stiff Shots
Bonus POD!
Picture #3
Bonus POD!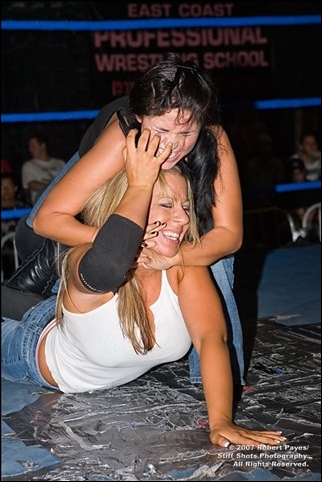 Eye Rake!
Even when she's in big trouble, Alicia is always thinking ahead. And when she realized that she had the opportunity to reach up and take a swipe at her attacker's pretty face, she did just that. Alicia connects with those clawing fingers and rips her nails across Becky's eyes. Needless to say, the vicious maneuver changed the entire complexion of the match. In an instant, Bayless found herself on her back with Alicia on the attack...
Photo:
Robert Payes/Stiff Shots
Bonus POD!
Picture #4
Bonus POD!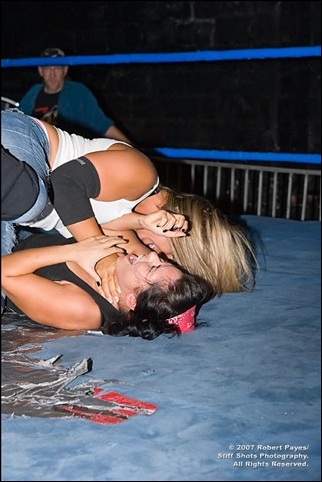 The Tide Turns
The dangerous blonde didn't take long in pressing her opportunity to do more damage. She went right for the throat of her opponent, clamping her hand around the windpipe of the suffering Bayless and squeezing hard. Becky tries hard to loosen Alicia's grip but the blonde won't be deterred. It looks like she wants to permanently injure Bayless! But it got even worse for the brunette street fighter...
Photo:
Robert Payes/Stiff Shots
Bonus POD!
Picture #5
Bonus POD!
Cuffed, Mauled And Strangled Senseless!
We don't know where she got them, but...unfortunately for Becky Bayless...Alicia managed to get her hands on a pair of handcuffs. It didn't take her long to get the brunette cuffed to the lower rope. Once there, Bayless was helpless to defend herself from Alicia's assault. Take a look at the violent blonde as she leans into her opponent...putting everything she has into mauling and strangling Becky. If she wasn't stopped, she just might have killed her enemy rather than simply defeat her!
You just know that the final chapter in the confrontation between these two furious fighters hasn't been written yet. We just hope that both of these ladies survive their inevitable future battles!
Photo:
Robert Payes/Stiff Shots