Picture Of The Day for September 26, 2007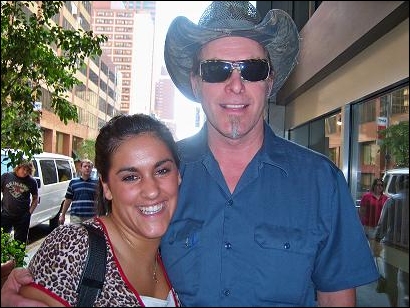 Cat Scratch Barbie?
That's our own G.L.O.R.Y. Girl Barbie catching the Cat Scratch Fever as she meets R&R wild man Ted Nugent at a recent New York City appearance. But we wonder whether it was Barbie who asked Ted to pose for this photo...or was it the other way around?!
Bonus POD!
Picture #2
Bonus POD!
Barbie's Brawling Weekend
In other Barbie news, the New England-based wrestler was involved in a wild three-way brawl this past weekend for Top Rope Productions in Oxford, Massachusetts. Barbie stepped into the ring with fellow G.L.O.R.Y. Girl Luscious Latasha and a third wrestler named Lea Morrison. Unfortunately for Barbie, it was Latasha who came out with the "V" as she rolled up Lea for the pin. Before the event the two G.L.O.R.Y. ladies mugged for this backstage photo. Friends one minute and beating each other's brains in a short time later...welcome to the wacky world of professional wrestling!