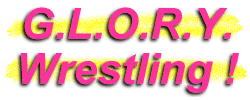 Miss DeVille
Wrestler
Whether she is wrestling in singles competition or as a member of The Diva Killaz (with partner Kayla Sparks), Miss DeVille is proving that she's a force to be reckoned with in the Women's Division of the sport. Behind the bling-bling and "thuggery" is a wrestler who is well-versed in technical and high-flying combat. Don't let the boa's and break dancing fool you...this lady is the real deal when she hits the wrestling ring!
Miss DeVille: Tough and sexy!
DeVille with long-time partner Kayla Sparks...The Diva Killaz!
No-nonsense DeVille is one lady you don't want to tick-off!
DeVille goes high risk with her patented swanton off the top rope.
Miss DeVille's Stats...
Height:

5' 7"

Weight:

140

Hair:

Black

Eyes:

Green

Hometown:

New York City, New York (USA)
Miss DeVille's Profile...
How It Started:

Well, I always knew I wanted to be more than just a fan. My family is HUGE on wrestling. One day, my Aunt & Uncle took me to a WWF show in Albany, NY. The wife of one of the wrestlers was sitting in front of me. I overheard her talking about his wrestling school. The next day, there was no hesitation. Ever since, it's been Eat, Sleep, Wrestle, Repeat!

Gimmick:

I am a Diva Killa! If that is not enough said, just imagine if Hulk Hogan and Punky Brewster were one person.

Wrestling Style:

Old School and high-flying when the time is right.

Gear:

Yellow and Black attack!

Titles Held:

Genesis Tag Team Champion; WOHW Women's Champion; WOHW Best Female 2004.

Biggest Win:

I have two. Winning the WOHW Women's Title against Kayla Sparks to become the first Women's Champion there. Also, at the Schenectady Wrestling Hall of Fame Show where I beat the crap out of Barbie!

Worst Loss:

Probably to Kayla at G.L.O.R.Y.Con 2004. If you think wrestling and friendship don't mix...think again!

Favorite Type of Match:

I cannot lie...I am a sucker for hardcore.

Favorite Moves/Holds:

Swantons; Bridges; Sharpshooter; Northern Lights.

Finisher:

"DeVille Chill Pill" (Swanton bomb off top rope); "You wanna see something cool?" (Reverse STF into a bridge).

Biggest Allies:

Kenny Casanova; Kayla Sparks; Nick Nilsen; Pinky Sanchez; Buttery Bert Williams; Cheech & Cloudy.

Most-Hated Enemies:

Little whiney divas like Liz Savage!

Toughest Opponent(s):

April Hunter is one tough chick.

Career Highlight:

Recently, The Diva Killaz wrestling T&A in their debut match. As well as being a feature in WWE Magazine. Not so much a career highlight, but a life highlight.

Favorite Wrestlers:

Bret Hart; Stone Cold Steve Austin; Randy Savage; Kurt Angle; Miss Elizabeth; Sherri Martel; Trish Stratus.

Wrestling Ambition:

Just to stay healthy and keep wrestling for as long as I can. I'd like to travel to Mexico or Japan. And of course, when the time is right, I'd like to aim high for WWE.
Miss DeVille's Personal Notes...
People call me Krit. My real name isn't so fancy so I hate to be called it.....I love lamp.....I am always smiling and always being silly (Biggest ally of Kenny Casanova, and you expected any less of me?).....I like to roll with my homies when I'm not sitting at home in the corner playing my guitar. (Yes, I've been playing for over nine years!).....I am a movie geek and love reciting lines from movies. When I watch musicals, I sing along. Even though I am terrible at it.....My favorite era of wrestling is definitely the 80's. Old School all the way! I really don't think I go a day without talking about those glory days.....My favorite person to beat up is Kayla Sparks.....Thats about all I have for now!
Essential Miss DeVille Links...