Picture Of The Day for May 31, 2010
A Big Mystake
Some people may have thought that "Hardcore" Heather Owens made a big mistake by agreeing to face 5' 11" Minnesota wrestler Mystic earlier this month. But the mistake was made by the newcomer. Apparently unaware of the reputation of the wild, tattooed G.L.O.R.Y. Girl, Mystic was decimated by the blonde brawler. Amazingly, Owens' destruction of the rookie relied less on hardcore tactics and more on pure, old-school, rough housing.
Heather took the air out of Mystic right off the bat as she crunched her with a sidewalk slam [above], before splattering her into the mat with a powerful bodyslam [Picture #2]. Even as Mystic tried to catch her breath near the ring ropes, Owens was planning her next attack [ #3]. That attack came when Heather pinned Mystic against the corner turnbuckles and applied one of the most brutal hammerlocks we've ever seen [ #4]. It looks like the Minnesotan's left arm is within an inch of being snapped in two! Down on the mat there was still no relief in site for Mystic as Owens tied things up using her opponent's own arm to lock on a damaging choke [ #5].
Even when she's not fighting hardcore, Heather Owens is still a menacing ring warrior!
Bonus POD!
Picture #2
Bonus POD!
Bonus POD!
Picture #3
Bonus POD!
Bonus POD!
Picture #4
Bonus POD!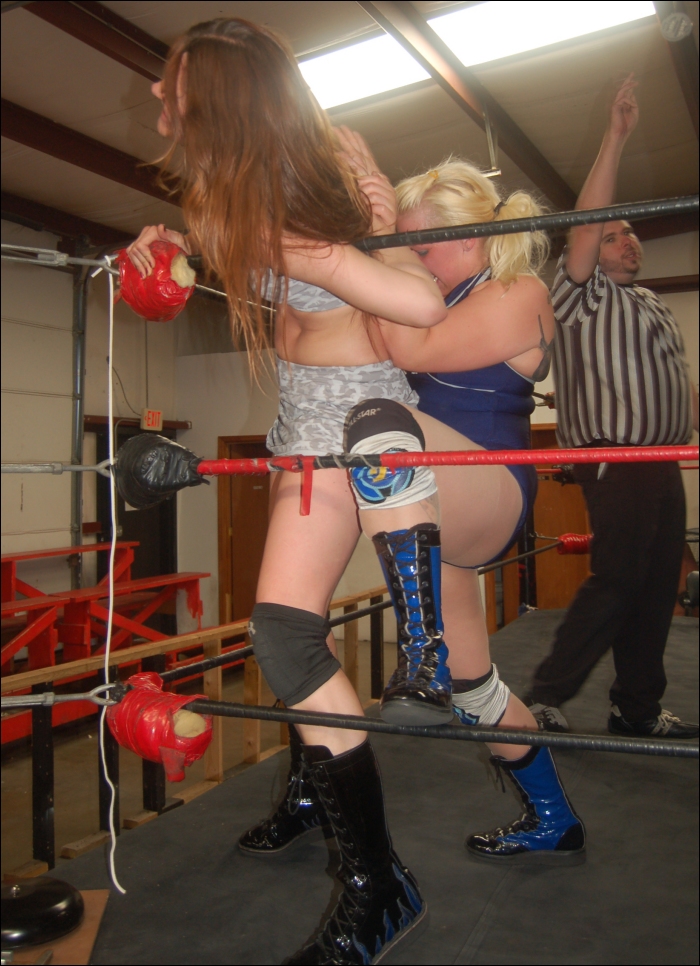 Bonus POD!
Picture #5
Bonus POD!