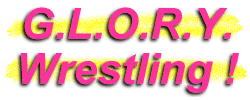 "Hardcore" Heather Owens
Wrestler
What's the best way to describe Heather Owens? Some would call her "old-school". Others might say "unpredictable". Heather herself sums it up in one word: Hardcore! This Ohio-based wrestler came up through the ranks of pro wrestling as a referee...then a manager...until finally stepping into the ring to compete. And what can you expect to see when this blonde battler enters the ring? Who knows? Every match seems to be an adventure for the tattoo-blanketed "Hardcore" Heather Owens!
Heather Owens: 100% old-school!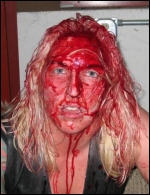 Now do you know why they call her
"Hardcore"
Heather?
One of Heather's many intricate tattoos.
Yes, the unpredictable Owens actually got married in her wrestling boots and...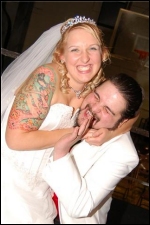 ...in the ring at a wrestling show!
"Hardcore" Heather Owens' Stats...
Height:

5' 4"

Weight:

140

Hair:

Blonde

Eyes:

Blue

Hometown:

Cincinnati, Ohio (USA)
"Hardcore" Heather Owens' Profile...
How It Started:

I attended a WWE show back in 1997 and was hooked! As soon as I graduated high school in 2002, I went to wrestling school in Cincinnati and was there for a few months. I left because of some personal reasons and returned back to train in 2005. I started out as a referee and worked my way up to be a wrestler. I still do some reffing though, as well as managing.

Gimmick:

I am not a diva. I have fun with my opponent and crowd. I like to keep it old school while incorporating moves that the girls usually don't use.

Wrestling Style:

I like to keep it old school and I'm not afraid to brawl or break rules.

Gear:

I wear a one piece black bathing suit with "Anti-Diva" on the back, blue or silver stockings, and black and blue boots.

Titles Held:

None at this time.

Biggest Win:

At HWA's CyberClash 2.0 when I faced Nevaeh in a "Leather, Whips and Chains Match". It was a very bloody match for me but I came out on top.

Worst Loss:

Against Mickie Knuckles in Indiana. It was a one-on-one match up and it was very hard hitting...but after getting a kick to the face, I was out and Mickie got the win.

Favorite Type of Match:

I like singles the best but also enjoy the intergender match-ups. You can do a lot with boys that you can't do with girls. Gimmick matches are the best. I think you can have the most fun with those.

Favorite Moves/Holds:

Side Russian; DDT; Tornado DDT; Tarantula; Ass Smash on the ropes; Flair Flip.

Finisher:

TKO.

Biggest Allies:

Mary Elizabeth Monroe; Hailey Hatred.

Most-Hated Enemies:

Nevaeh; Ashley Lane.

Toughest Opponent(s):

Mickie Knuckles; Nevaeh.

Career Highlight:

HWA's Best Female of 2006; Reffing on the 2008 Pillman Show; Winning the "Leather, Whips and Chains Match" at HWA's CyberClash 2.0.

Favorite Wrestlers:

Ric Flair; Moolah; Dean Malenko; Owen Hart.

Wrestling Ambition:

I just want to continue having fun. I left for a while because of an incredible amount of indy wrestling drama. If I had the chance to work for WWE I would like only to be a ref. I am happy with where I am now. I love wrestling but I love my husband and family more.
"Hardcore" Heather Owens' Personal Notes...
I was born and raised in Cincinnati, Ohio.....I work full time as an internet specialist at a local bank.....On October 13th, 2007, I got married in the ring to another wrestler, Eddie Gonzales, at a show in Dayton, Ohio.....I went on the road with the "Legendary" Tracy Smothers to learn wrestling like it was learned back in the good ol' days...I love animals. I have two cats (Jigsaw and Gizmo).....My husband and I are huge horror movie marks and have a great collection of scary movies and toys. We also collect classic wrestling figures!.....I am all about enjoying the time I have and I try to stay away from all the crazy negative energy.
Essential "Hardcore" Heather Owens Links...
"Hardcore" Heather Owens Video