Picture Of The Day for May 21, 2010
April Training In May
G.L.O.R.Y. Girl April Hunter participated in a fitness shoot this past weekend and we're happy to bring a few pictures from the session snapped by Kelly O'Neil. You have your choice here: you can take the serious April who's wrapping up her fists to do some work on the heavy bag [above & Picture #2] or the self-described "nerd with boobs" April [ #3] sporting her glasses and who seems more concerned with her hair than boxing!
April is currently five weeks out from appearing at the NPC Junior Nationals Figure Competition. Despite her still-tender knee, April is training hard. Take a look at the videos linked below to see Big Red at the gym as she works at finishing-off those shapely biceps and triceps.
April is taking two days off from training this weekend, though. But she won't be relaxing on a beach somewhere. Instead, the sexy redhead will be competing in Lexie's Slammin' Ladies ring... the only wrestling she's scheduled to be doing between now and the figure competition.
Photo:
Kelly O'Neil
Bonus POD!
Picture #2
Bonus POD!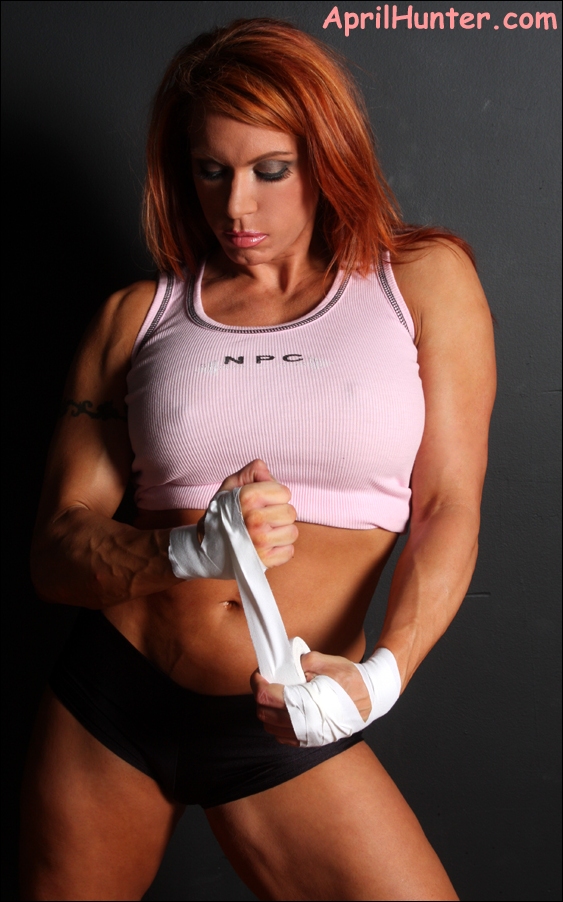 Photo:
Kelly O'Neil
Bonus POD!
Picture #3
Bonus POD!
Photo:
Kelly O'Neil