Picture Of The Day for May 17, 2010
More Than A Spectator
G.L.O.R.Y. Girl veteran April Hunter was supposed to simply accompany her man, JD Maverick, to the ring at the last MECW show in Evansville, Indiana. But by now we all know that really isn't Ms. Hunter's style. April wasn't going to help JD off with his ring jacket [Picture #2] and then just stride away to the locker room. Uh-uh. Instead, Big Red stayed at ringside...and she wasn't there just because she wanted to have a good view of the action. She was there to make sure she could take part in the action! And that's just what she did as she helped JD to a victory by working over his opponent along the ropes [ #3] and then getting in a well-timed trip when Maverick looked to be in big trouble [ #4].
By the way, what do you think of April's and JD's gear? It's custom made from Ms. Hunter's favorite source for ring outfits: SuperStar Gear!
Bonus POD!
Picture #2
Bonus POD!
Bonus POD!
Picture #3
Bonus POD!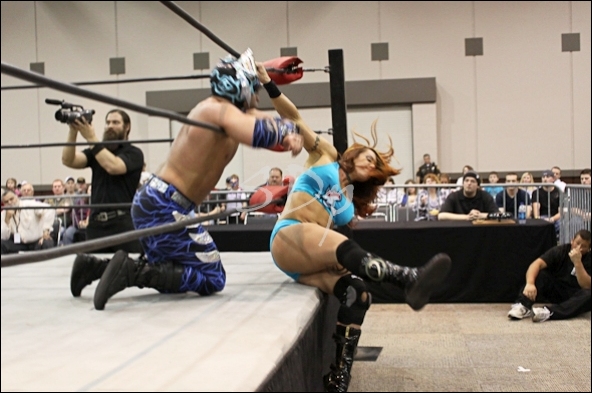 Bonus POD!
Picture #4
Bonus POD!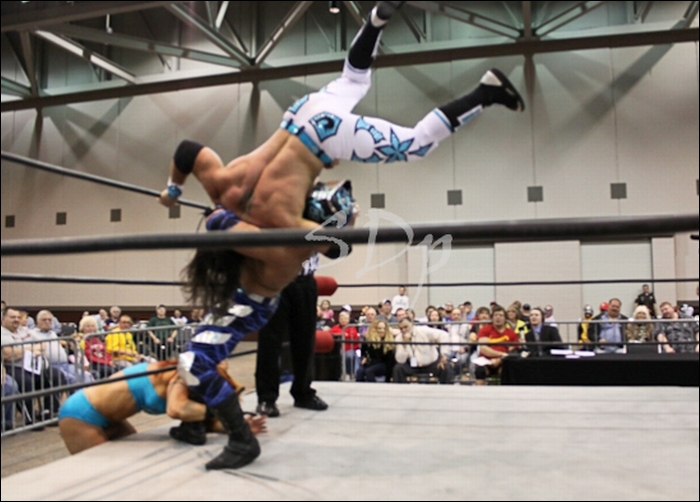 32,042,671
Visitors to this page.
"Action is a great restorer and builder of confidence. Inaction is not only the result, but the cause of fear. Perhaps the action you take will be successful; perhaps different action or adjustments will have to follow. But any action is better than no action at all." -- Norman Vincent Peale
Quick Links
Top Of Page | Home | The G.L.O.R.Y. Girls | POD · LOD · VOW | Hot 100 | Message Board