Picture Of The Day for November 30, 2009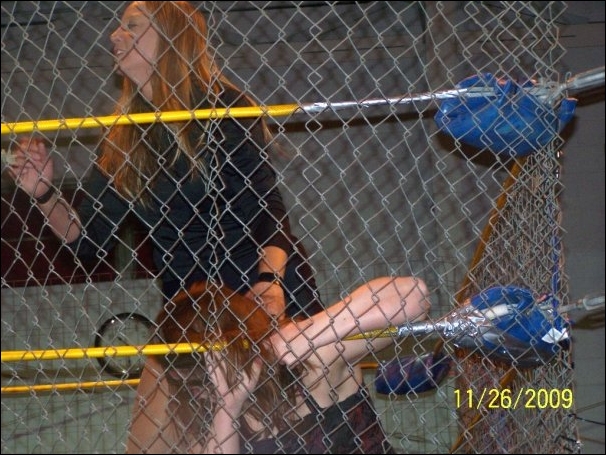 Caged G.L.O.R.Y. Girls!
While the rest of the United States wrestling fans were deciding whether or not to have whipped cream on their slice of pumpkin pie, Southern States Wrestling was hosting their Thanksgiving Night event. One of the most-anticipated matches was the Texas Tornado Bull Wire Match with Misty and Beau James facing Rebecca Lynn and Jamie Gibson. Today, we bring you some action shots and a report on the match...
The action started as soon as the James Family entered the ring. They wasted no time in going after Lynn and Gibson. Both Misty and Beau were in control at first as they pounded their opponents...and it wasn't long before Lynn and Gibson met the wire! At one point, Beau held Lynn in the corner as Misty worked over Gibson.
The action turned when Gibson was able to hit Beau with a low blow. As Misty turned to see what happened, Lynn was able to attack her from behind. Now the James Family was in trouble as Gibson used the wire on Beau, leaving the King of Kingsport a bloody mess.
With Beau down, Lynn came over and helped put the boots to him before using her fingernails to open up his head even more.
But as the crowd got behind the King and Queen of Kingsport, they began to fight back and get the upper hand. Misty ended up rolling up Gibson for the three-count to give her team the win. But the fight continued even after the bell with the James Family in control until the wire was opened for them to exit.
A big win for G.L.O.R.Y. Girl Misty James and her husband, Beau!
Bonus POD!
Picture #2
Bonus POD!
Bonus POD!
Picture #3
Bonus POD!