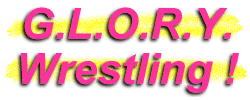 Rebecca Lynn
Wrestler
Rebecca Lynn started her wrestling career as a beautiful and effective manager whose ringside presence helped to bring gold to many of her men. But the rich, stuck-up manager from Bellaire, Texas, wanted more: she wanted to compete! Now battling inside the ring ropes, Ms. Lynn has already captured a couple of titles and more are sure to be added to the collection in the near future.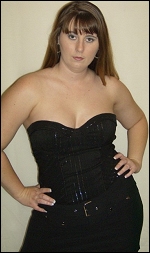 Ms. Rebecca Lynn!
Ms. Rebecca Lynn is the beautiful, spoiled, rich girl from Bellaire, Texas.
Rebecca stops for a picture before heading to the ring for a match.
The classy Ms. Lynn!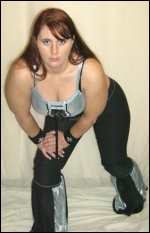 Rebecca Lynn has made a successful transition from ringside manager to wrestler.
Rebecca Lynn's Stats...
Height:

5' 4"

Weight:

160

Hair:

Brown

Eyes:

Hazel

Hometown:

Bellaire, Texas (USA)...now in Fall Branch, Tennessee (USA)
Rebecca Lynn's Profile...
How It Started:

I was at a Smokey Mountain Wrestling show one night and ended up talking to a girl who was sitting next to me. It turned out that her father was a local wrestling promoter. She invited me to come and check out one of his shows, so I did. At the show that night, she asked me if I would like to get into wrestling. At first I said no, but ended up changing my mind and a couple of weeks later I was in training and even managing.

Gimmick:

I am the rich bitch rule-breaker, who will stop at nothing to get the win.

Wrestling Style:

Straight up old school.

Gear:

I wear a lot of black: black pants, black boots and corset tops.

Titles Held:

APW Women's Champion; TCW Tag Champion w/Allen King.

Biggest Win:

When I defeated Brittany Diamond in the first-ever TCW Women's Street Fight Match in March of 2008 in Mtn. City, TN.

Worst Loss:

Losing to rookie Misty James on Thanksgiving night in 2007 in Kingsport, TN.

Favorite Type of Match:

Singles, mixed tags and street fights.

Favorite Moves/Holds:

Figure-four leg lock; crossface;

"The Money Clip"

(Tree of Woe neck breaker).

Finisher:

"The Bellaire Bitch Drop"

(DDT with opponent's feet on second rope).

Biggest Allies:

Jamie Gibson; Jeff Storm; Brett Storm; Shane Hennig; Allen King; Dameon Cross; DP Holliday.

Most-Hated Enemies:

Brittany Diamond; Chance Gibson; Misty & Beau James.

Toughest Opponent(s):

Brittany Diamond.

Career Highlight:

When I beat Brittany Diamond in the first-ever TCW women's street fight. That was one of the roughest and toughest matches I have ever been in. We beat the hell out of each other with anything and everything. But hearing the reaction of the fans made it all worth while. I may have walked away with the win, but we both walked away proving to everyone, including ourselves, that we are two tough bitches!

Favorite Wrestlers:

Jeff Hardy; AJ Styles; Austin Aries; Roderick Strong; Chris Sabin; CM Punk; Jamie Gibson; Jeff Storm; the late Chris Beniot; Nigel McGuinness; Matt Cross; Tylor Black and more.

Wrestling Ambition:

I love this business and if I never make it past the indy level, that's fine with me. I do it because I love it and will until I can't any longer. I just want to continue to learn, grow and get better.
Rebecca Lynn's Personal Notes...
I am the youngest of three girls. I never knew my father and was raised by my mom and grandmother. My sister Treasa is not just my sister, but also my best friend.....I enjoy spending time with my friends and family when I'm not wrestling.....I have a black and white Pomeranian named Lexie. I always tell everyone she is more of a diva than I am! lol.....I like all different types of music.....I also like to dance, roller skate and shop!.....I collect lots of wrestling DVDs.....I am a ROH fan and own many of their DVDs, as well as attend many of their shows as a fan.
Essential Rebecca Lynn Links...