Picture Of The Day for April 25, 2009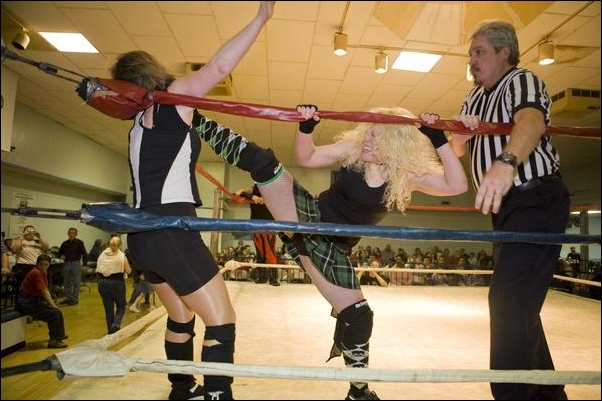 Stacey Gets Her Irish Up!
Have you met new G.L.O.R.Y. Girl Stacey O'Brien yet? She's the newest wrestler to join our roster, coming on board just a couple of days ago. Today's pictures prove that the last thing you want to do is get this Boston tough girl's Irish up! Take a look as she dismantles a couple of unfortunate opponents during two different matches. Above, Stacey grits her teeth as she works to get every last ounce of strength behind a violent and illegal boot strangle of her cornered foe. Below, O'Brien is once again making it as painful as possible for her enemy during an outdoor event. The Irish toughie appears to be putting everything she has into a vicious, neck-wrenching chinlock...and look at how she keeps that handful of hair out of the sight of the referee!
If you haven't visited Irish Stacey O'Brien's G.L.O.R.Y. Profile yet, click over and read about the up-and-coming grappling gal.
Bonus POD!
Picture #2
Bonus POD!