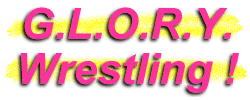 Stacey O'Brien
Wrestler
Growing up on the rough-and-tumble streets of Boston, Massachusetts, Stacey O'Brien quickly learned what she had to do to survive...and that meant learning how to fight! Stacey O is no demure Irish lass. She's a tough, vicious wrestler who will do whatever it takes to win a match...even if it means breaking every rule that the referee throws at her. Already collecting championship belts, Stacey O'Brien is well on her way to making her mark in the women's wrestling division.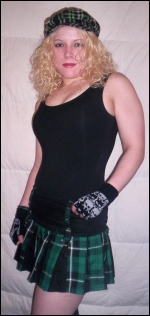 Green plaid skirt and Irish hat? It must be Boston tough-girl Stacey O'Brien!
Stacey applies her patented
Celtic Clutch
to an unfortunate opponent.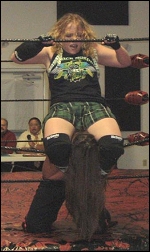 Rules? What are they? O'Brien couldn't care less about following any stinkin' rules!
Stacey likes to collect gold.
Irish Stacey O!
Stacey O'Brien's Stats...
Height:

5' 3"

Weight:

10 stone

Hair:

Blonde

Eyes:

Blue

Hometown:

Boston, Massachusetts (USA)
Stacey O'Brien's Profile...
How It Started:

I was always a fighter growing up and looking for some kind of athletic outlet. I later became friends with a wrestler who offered to give me a shot...and the rest is history.

Gimmick:

Stacey O'Brien is a tough Irish-Boston wrestler. She may seem cute and innocent at a glance, but she uses her wits and a feisty attitude to get ahead in the ring. Stacey O uses all the rules to her advantage and doesn't hesitate to break them. She wins if she can, loses if she must, but always cheats.

Wrestling Style:

Stacey O is a technical wrestler that wins at all costs.

Gear:

A green plaid school girl skirt, argyle socks, black tank top, Irish hat and gloves.

Titles Held:

WLW Ladies Championship; MMWA-SICW Ladies Championship.

Biggest Win:

O'Brien was victorious in her fight for the WLW Ladies Championship belt in April, 2008. in Lebanon, Missouri. She defeated Ms. Natural with a sneaky reversal of a fisherman suplex into a roll-up pin. Stacey O'Brien became the new World League Wrestling Ladies Champion!

Worst Loss:

None!

Favorite Type of Match:

No disqualification...it's my chance to inflict as much pain as possible!

Favorite Moves/Holds:

Irish leg sweep; running STO; celtic clutch; various backbreakers.

Finisher:

"Boston Backstabber"

; Boston Crab.

Biggest Allies:

Stacey O'Brien occasionally teams with fellow MMWA-SICW wrestler Waco...the terror from Texas. Waco is a Texas militant masked assassin. I don't exactly enjoy his company though.

Most-Hated Enemies:

Ms. Natural; MsChif; Jennifer Starr; Christie Summers; Alexis Lightfoot.

Toughest Opponent(s):

I've never met an opponent that can challenge my athletic ability or my cunning cerebral attack.

Career Highlight:

Retaining the WLW Ladies Championship in a war against MsChif before a crowd of legends including Harley Race, Rowdy Roddy Piper, Baron Von Raschke, Nikita Koloff and the Hitman Bret Hart. MsChif scored the pinfall over Stacey with the green mist to the face behind the referee's back...but after intervention by Misty Henning, the decision was reversed and Stacey O'Brien retained her WLW Ladies Title.

Favorite Wrestlers:

Harley Race; Bret Hart; Ric Flair; Finlay; Beth Phoenix; Nataylia Neidhart; Melina.

Wrestling Ambition:

To conquer the wrestling world!
Stacey O'Brien's Personal Notes...
The person behind Stacey O'Brien is one and the same with the Stacey O'Brien we all know.
Essential Stacey O'Brien Links...
Stacey O'Brien Video