Picture Of The Day for April 3, 2009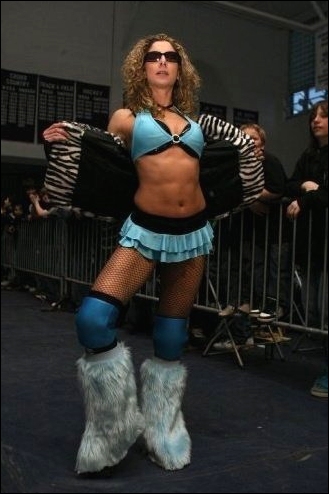 Border City Mayhem: Danyah And Haley Rock Ontario!
Rough, tough and gorgeous G.L.O.R.Y. Girls Danyah and Haley Rogers (a.k.a. Cat Power) faced each other this past weekend at Border City Wrestling as they battled for the fans of Windsor, Ontario. And what a match those fans witnessed! Neither of these two ladies are shy when it comes to showing off for the fans...and who can blame them? With each woman possessing an incredibly athletic and sexy body, there was no shortage of attitude as these wrestlers entered the ring. Here, Danyah unveils her unbelievably shredded abs to the audience as she makes her way from the locker room.
Bonus POD!
Picture #2
Bonus POD!
Fuzzy Boots And All
Danyah's unique footwear was put to good use early in the match when she used one of those fuzzy blue boots to pin Haley in the corner against the top turnbuckle. As the brunette battler struggled to get free from the vicious choke, Danyah took the opportunity to show off for the crowd by raising her arms and flashing victory signs to the Border City fans. Seems kind of arrogant to us.
Bonus POD!
Picture #3
Bonus POD!
Flying High! (Well, For A Second, Anyway...)
Looks like those victory signs that Danyah was flashing to the fans were a little premature! In a classic example of counting her chickens before they hatched, Danyah seemed to have chalked this match up as a victory without realizing that her opponent might want to have a say in the outcome. And here we see Haley having that say as she turns the tables on her over-confident opponent and uses a running bulldog to drive the blonde's face into the mat. Quite a stunning reversal of Danyah's fortunes.
Bonus POD!
Picture #4
Bonus POD!
Northern Lights-Out
We're pretty sure that this isn't the ending that Danyah had in mind when made her cocky ring entrance at the start of this match. Stunned by Haley's skull-crunching bulldog, the disoriented blonde wasn't able to counter this perfectly executed Northern Lights Suplex. And it was LIGHTS-OUT for Danyah as the referee's hand pounded the mat three times to signal the victory for Haley Rogers!