Picture Of The Day for April 1, 2009
Camron's Back And Still Making Trouble
We haven't seen Camron Star here on the Picture Of The Day lately, so we thought we'd check in to see what's been happening with the famous (some might say infamous) G.L.O.R.Y. Girl. She was in action twice this past weekend in Indiana...Burnettsville, to be exact...for Next Generation Wrestling. Looking at these match pictures from Marcus A. Fine, we'd have to conclude that this lady remains as nasty as ever.
First of all, we can see that she's hanging with the same bad influences that have guided her through most of her career. As she heads to the ring to participate in a two-on-one handicap match with her partner TJ Kemp (above), none other than manager JT Brannam brings them to the ring. That's him in the back...not Kenny Rogers, as you might have thought at first glance.
Once the match got underway, the same sneaky Camron showed her true colors. When her opponent was thrown out of the ring, she attacked him on the arena floor. When it looked like her partner was going to be pinned, she jumped into the ring and interfered with a boot to the back of Tommy Gage. Camron Star breaking the rules? So what else is new?!
Later that same night, Ms. Star participated in an NGW battle royal. Marcus brings us the before and after shots of that particular match. Before, Camron shows a sweet (and very phony) smile after DEMANDING that Mr. Fine snap her picture. While we can't see her face in the final shot, we're sure that the smile is gone as Camron is tossed over the top rope and eliminated from the battle royal competition.
Of course, we did notice that Ms. Star didn't take a baseball bat to the ring as she has in past Pictures Of The Day. Maybe she is becoming a "kinder and gentler" wrestler.
Naaaaaahhhh...
Photo:
Marcus A. Fine
Bonus POD!
Picture #2
Bonus POD!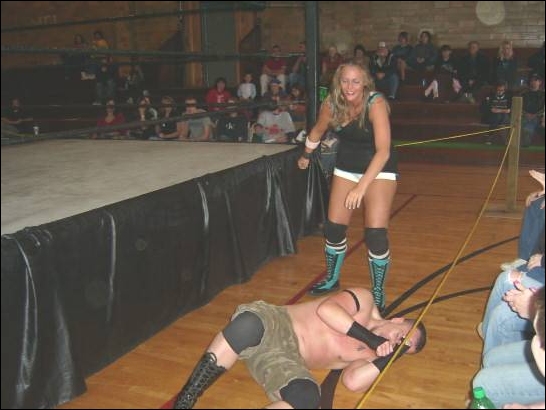 Photo:
Marcus A. Fine
Bonus POD!
Picture #3
Bonus POD!
Photo:
Marcus A. Fine
Bonus POD!
Picture #4
Bonus POD!
Photo:
Marcus A. Fine
Bonus POD!
Picture #5
Bonus POD!
Photo:
Marcus A. Fine