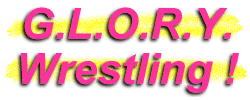 Camron Star
a.k.a. Allie Spirit
Wrestler
She was once known as Allie Spirit...Florida's bright-as-sunshine cheerleader who wouldn't think of stooping to any kind of rule-breaking to capture a win. But then the cheerleader left, replaced by the cruel and violent Camron Star. The vicious wrestler didn't only break the rules to win matches...she broke the rules simply to make her opponents suffer. Camron Star considered inflicting pain as much of a goal of her matches as having her arm raised in victory. As of late, Camron seems to even have gone back to adopting the rules. Instead of doing anything and everything to punish and defeat her opponents, she seems to be winning the crowd over with her smile and class. Psychotic, schizophrenic, sadistic...and maybe even sweet. Camron Star is all them and more!
Camron Star: one of the most "disturbed" wrestlers on the G.L.O.R.Y. roster.
Camron Star often seems more concerned with torturing her opponent rather than defeating them!
Ms. Star was a fan favorite when she wrestled as cheerleader Allie Spirit.
Camron Star's cocky attitude leaves much to be desired.
Look at the arrogance of this pin attempt!
LOOK OUT! Camron has a baseball bat!
Camron Star's Stats...
Height:

5' 9" (In boots!)

Weight:

Enough! Nosey...

Hair:

Blonde

Eyes:

Brown

Hometown:

Indianapolis, Indiana (USA)
Camron Star's Profile...
How It Started:

My husband had started training, and not long after, we were talking to some other people in his group. One of them said "I'll bet you can't do this." Well, I did...and all their mouths dropped to the floor! That was my first bump, and after that I was hooked!

Gimmick:

"Always Awesome" wasn't just some phrase I pulled out of a trash can. I consider that to be the underlying quality to Camron. Basically, I'm going to go out there and do what I need to do to steal the show and be just that: AWESOME.

Wrestling Style:

I consider myself to be a combination of technical, submission, high-flyer...but that doesn't mean I wouldn't resort to a little cheating here and there. I can do it all!

Gear:

I try to stick to things that aren't always the norm. You'll still see boots, but probably with skirts or shorts. And my tops will always keep my dignity in tack. Have to stay classy above all else.

Titles Held:

(Including Allie's) CCW Women's; ICW Cruiserweight; MCW Women's; CIW Indy Ladies; BWCW Ladies; TNW Undisputed/TNW Ladies; EWF Ladies; WWA Ladies; KWA Ladies; WCWO Ladies; NCW Tags and IWP Ladies. Voted 2005 Indy Divas

Heel Of The Year

. I have held the CCW Women's Title both as Allie and myself.

Biggest Win:

The fist time winning the CIWI Ladies was great. It had a lot of emotion behind it. Still pretty memorable.

Worst Loss:

Well, aren't all losses bad to some degree? I would say the one that stung the most was having my IWP Ladies Title stripped because of my temper. And I even won the match to begin with! That's okay...I got it back.

Favorite Type of Match:

I prefer singles. Let's me be myself and take the most action. Intergender is the most fun. It really gives me a chance to showcase things that most won't get to see. Being a tall girl in this business isn't always fun. But no-DQ's will always hold a special place in my heart.

Favorite Moves/Holds:

German Suplex; Northern Lights Suplex; And I really love a good triangle hold.

Finisher:

Lately, I've been using a tornado DDT. But I have been partial to my TKO (my version of an RKO)...that will usually get the job done against anyone.

Biggest Allies:

My husband, "Stylin'" Brian Klass; my newest manager Dan O'Mannly; Oola every now and again and anyone that doesn't piss me off!

Most-Hated Enemies:

Oola, ironically enough. Destinee Blade has been a thorn in my side for awhile now. In the past, there have been too many to name.

Toughest Opponent(s):

No opponent is tough. But there are some that don't know when to just die...

Career Highlight:

Ramming my knee in the face of Sonya Blackhawk at GLORYCon 2004. It was especially touching for her I think...HA! Getting to finally be across the ring from Traci Brooks was fun...only took three years of crossing paths.

Favorite Wrestlers:

Shawn Michaels, he's the man. Victoria and Molly Holly are the best female talent out there...and Randy Orton, for completely different reasons.

Wrestling Ambition:

I've accomplished so much that most people will never see or know about. Those things helped me realize that I'm not wasting my time here. Now, I'm just here to provide the best show for the fans that I can. No matter what they think about me.
Camron Star's Personal Notes...
Don't have many friends. Who really needs them!.....My favorite type of music is LOUD!.....I love animals, but mostly I consider myself to be a dog person.....Favorite car: Dodge Charger Daytona!.....Just love sitting around the house reading in my very rare spare time.....Love to jog.....And during football season, you can't get me away from the TV! (Go COLTS!)
Essential Camron Star Links...