Picture Of The Day for November 23, 2008
LuFisto In Harm's Way...
So What Else Is New?!
By now, we've learned that Combat Zone Wrestling is one of the most hardcore, ultra-violent feds in the world of pro wrestling today. Steel chairs, light tubes, barb wire and other dangerous weapons are commonplace in CZW matches. Heck, their most recent show featured matches to determine who would be competing in their next event...Cage Of Death 10...in December. So where do you think G.L.O.R.Y. Girl LuFisto was during all this mayhem called CZW's Night Of Infamy?
Right in the thick of it!
G.L.O.R.Y.'s hardcore, anime warrior took on a disturbed male wrestler named Sami Callihan for the right to wrestle in next month's COD event. The violence began even before LuFisto hit the ring as this crazy Callihan nut attacked her from behind, grabbing a handful of blonde hair and smashing a forearm across the upper spine of our girl. Stunned by the unexpected blow, LuFi was unable to protect herself (below) as Callihan spun her around and nailed her with a vicious chop to the throat. The blow didn't cause serious damage to the windpipe, which was very lucky for LuFisto. But it was very unlucky for Callihan. LuFi is tough enough to compete against in the ring without riling her up even more! But that's exactly what this guy did with his sneak attack.
It didn't take long for LuFisto to even the score...in spades! Take a look at today's final Bonus POD picture to see what a mess Callihan looked like only a few minutes after he launched that cowardly attack on his female opponent!
Tomorrow we'll see some of the action that took place once LuFisto actually got into the ring.
Photo:
Lyle C. Williams
Bonus POD!
Picture #2
Bonus POD!
Photo:
Lyle C. Williams
Bonus POD!
Picture #3
Bonus POD!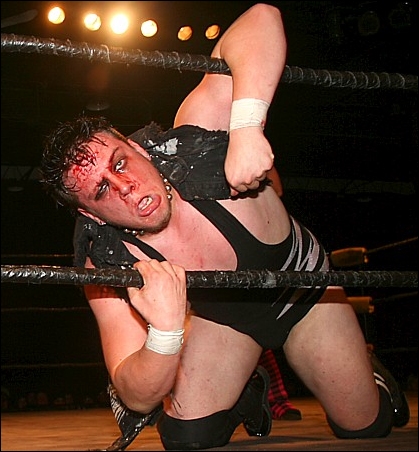 Photo:
Lyle C. Williams