Picture Of The Day for November 15, 2008
Haley Rogers: All Out Attack!
Over the last couple of days, we've watched as Haley Rogers has systematically attacked fellow G.L.O.R.Y. Girl Danyah during their SHIMMER match in Berwyn, Illinois, last month. Haley's first strategy of working over her opponent's arm to collect a win by submission didn't work. Her second strategy of going after Danyah's incredible abs didn't get her the victory either. By now, Ms. Rogers has thrown caution to the wind as she mounts an all out attack to defeat her stubbornly persistent foe.
Cornered against the ring turnbuckles, Danyah absorbs the initial blow of Rogers' all out assault: a flying double-knee shot that the brunette rams into her foe's chest. Danyah stiffens her body against the blow, but enough damage is done to keep Haley in the driver's seat.
Photo:
Wrestlin' Wally
Bonus POD!
Picture #2
Bonus POD!
Can't Ignore The Hair
Rattled after that blow in the corner, Danyah is in no position to effectively defend herself against Rogers' attack. Haley does a little toying with her opponent here...snagging two handfuls of hair and using the curly blonde locks to toss Danyah across the wrestling ring.
But Danyah's torment is far from over...
Photo:
Wrestlin' Wally
Bonus POD!
Picture #3
Bonus POD!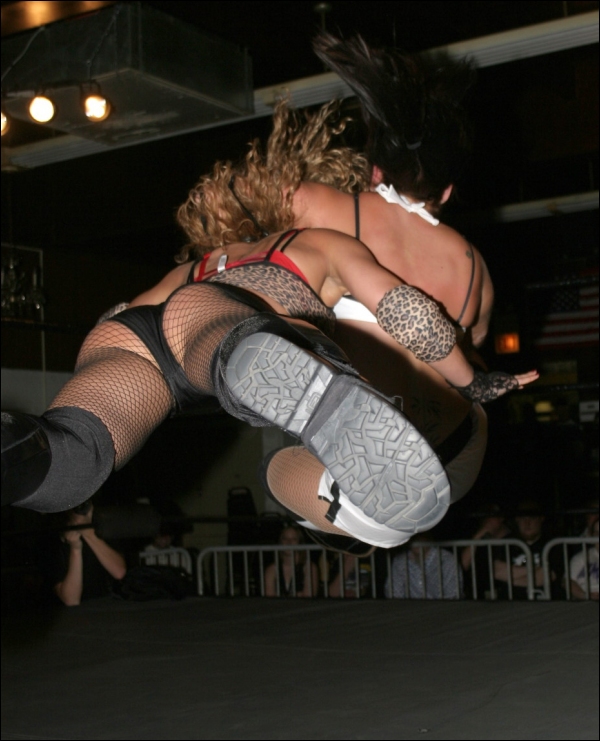 A Hard Landing
It seems that Haley Rogers is not interested in just winning this match. She seems to want to crush and destroy her fellow Canadian. This perfectly-executed bulldog off the ring ropes does its job...planting Danyah face-first into the mat and setting her up for Rogers' next attack.
Photo:
Wrestlin' Wally
Bonus POD!
Picture #4
Bonus POD!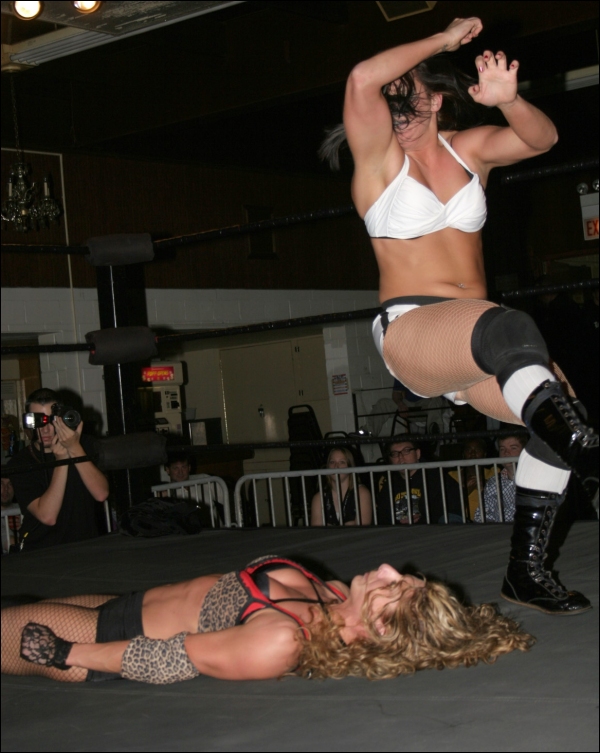 Splattered!
That bulldog did its job...knocking Danyah senseless and keeping her at the mercy of her adversary. But Haley isn't quite finished with her attack yet. Rolling the blonde onto her back, Rogers winds up and prepares to splatter her foe into the mat with a crunching elbow drop to her upper-chest and throat area.
Photo:
Wrestlin' Wally
Bonus POD!
Picture #5
Bonus POD!
She's Out!
Danyah looks to be out cold. Hey...this really can't be a big surprise, right? Look at the battering she's just endured at the hands of the vicious Haley Rogers. The poor blonde beauty has been hammered in the corner, tossed around the ring, planted into the mat by a running bulldog and crunched by a nasty elbow drop. And that's on top of the arm and ab punishment she absorbed earlier in the match (and which we witnessed over the last couple of days)!
Looks like Ms. Rogers is finally ready to end this attack and collect her victory.
Photo:
Wrestlin' Wally
Bonus POD!
Picture #6
Bonus POD!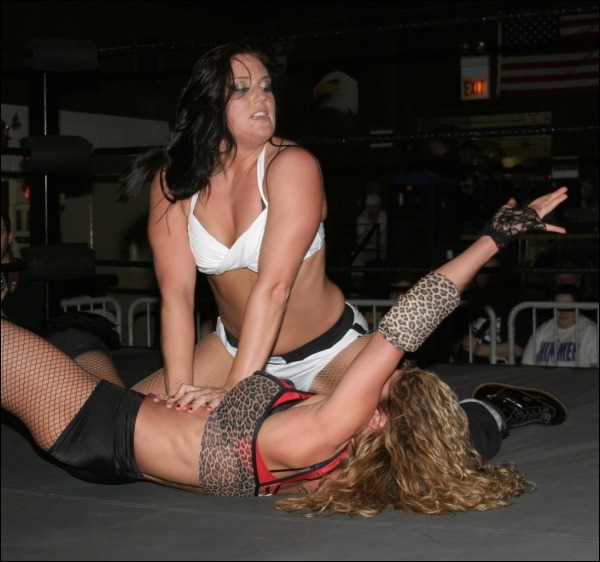 Not A Time To Get Cocky!
After spending most of the match dominating her opponent and beating her into oblivion, Haley Rogers finally is in a position to win this battle. All she needs to do is cover Danyah's shoulders and collect the three-count. It's certainly not the time to get cocky.
But cockiness is exactly the emotion that overtakes Rogers. Rather than using a safe, secure pin to put Danyah away, the over-confident brunette simply puts her hands on her opponent's stomach and leans into what could hardly be called a competent pin attempt. Bad idea, Haley!
Just as the referee's hand is about to slap the mat for the third time, Danyah comes to life...look at the heart she shows as she manages to get that left shoulder off the mat!
Photo:
Wrestlin' Wally
Bonus POD!
Picture #7
Bonus POD!
Sorry, Haley...
After being in control for almost the entire match, Haley Rogers' last moment of arrogance cost her. Staving off that cocky pin attempt, Danyah was able to fight her way back into contention. In fact, she not only fought her way back into it...she actually ended up winning the match by hitting the tough brunette with a devastating powerslam!
Leaving the ring with her arm held high, Danyah certainly earned every bit of this victory...and also displayed to the crowd how much heart she has by never, ever giving up!
Photo:
Wrestlin' Wally