Picture Of The Day for November 11, 2008
Cameramen Plot To Steal The Scene???
We received the following email yesterday from SHIMMER fan/photographer Rob Myers...
JTW!!!

Just saw something a bit humorous in a recent POD (October 30th). It was the one that Wally shot of Rain at the latest SHIMMER show where she's flashing the victory sign. The photographer in the background was...me! Here is the shot that I got with Wally in the background!

Thanks!
Rob Myers Photography
We thought the picture was kind of funny in that both photogs snapped the action at the exact same moment. You can see the original October 30th POD that Wally took below. We've put in a couple of arrows on each picture pointing to Rob and Wally.
But then we got to thinking. Is this really just a funny incident? A quirky coincidence? Maybe. Or is there something more sinister happening here?
Think about it. Both photographers had to snap the shutters on their cameras at the exact same moment. Both had to be focused on the lovely Rain rather than her opponent. Both photogs had to be standing exactly opposite each other across the SHIMMER ring. Notice how both photogs have their cameras lowered slightly so that their faces can be seen? (The video guy in the picture above has his camera glued right in front of his face...he obviously wasn't one of the insiders involved in this plot!)
Coincidence or camera guy conspiracy? You decide!
Photo:
Rob Myers
Bonus POD!
Picture #2
Bonus POD!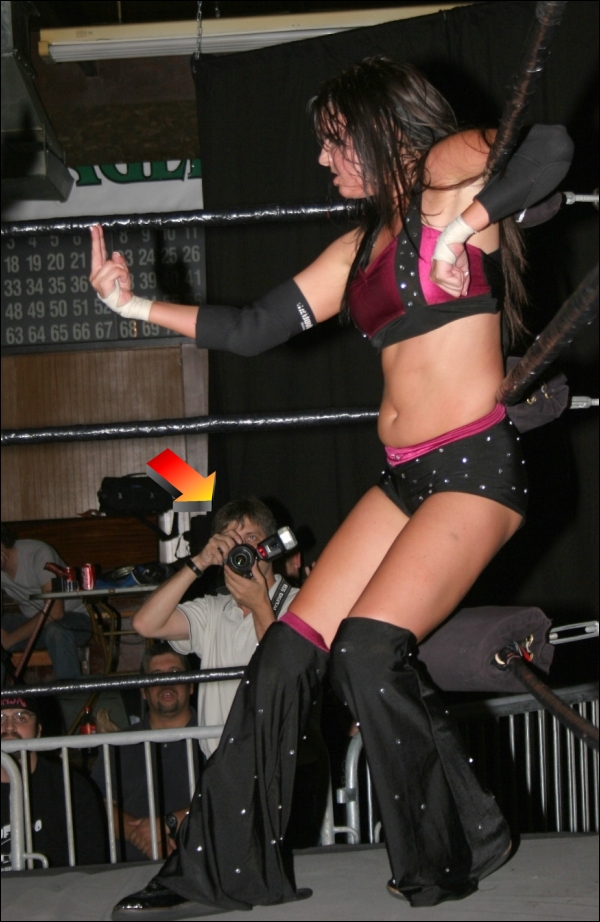 Photo:
Wrestlin' Wally