Picture Of The Day for October 15, 2008
How Nasty Can AmyLee Be?
How nasty can AmyLee be? The simple answer is: VERY!
Anyone who's been a fan of the G.L.O.R.Y. Girls for any length of time has certainly learned that AmyLee is one of the most brutal, roughest and toughest ladies on the indy scene today. And she added to that reputation this past weekend during her WSU match against Angel "Riptide" Orsini.
It wasn't long before Angel was screaming in agony during this brawl. And no wonder...you'd be screaming too if AmyLee was sinking her teeth into your forehead! Luckily, Angel was able to escape the attack before losing some precious blood. But her torment wasn't over...
Photo:
Robert Payes/Stiff Shots Photography
Bonus POD!
Picture #2
Bonus POD!
Anything Can Be Used As A Weapon!
Things really got out of hand when Riptide escaped...or thought she escaped...into the Darress Theatre seats. If anything, Angel was in more danger as AmyLee found even more creative ways to express her brutality. Wouldn't you know that out of the entire theatre, Orsini was unlucky enough to make her way to the one guy who used a cane to help him get out and about! And when AmyLee saw that cane she immediately put it to use. Look at how she uses the makeshift weapon in an attempt to crush Angel's windpipe.
Photo:
Robert Payes/Stiff Shots Photography
Bonus POD!
Picture #3
Bonus POD!
Now That's Really Low!
Even knowing how brutal AmyLee can be, she can still surprise us with the tactics she sometimes uses. This was one of those times. No, your eyes aren't deceiving you...that's AmyLee nailing Angel with a dirty low-blow. After making a wishbone out of Riptide's legs with a big split, the nasty blonde drops down with a below-the-belt head butt. Angel's body recoils in response to the blow, but her torment is still not over.
It couldn't get any worse for Orsini, could it? Well, yeah, it could...
Photo:
Robert Payes/Stiff Shots Photography
Bonus POD!
Picture #4
Bonus POD!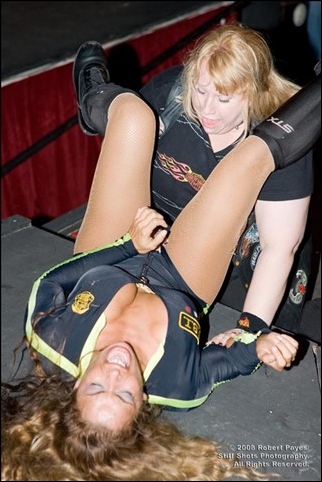 As Dirty As It Gets!
Angel's troubles did get worse. Much worse!
Yeah, that's AmyLee doing what you think she's doing. We can understand why Riptide is screaming in agony here. Anyone would. And AmyLee seems to be enjoying it all as she digs in with that vicious and dirty claw applied...ummm...ahem...well...let's just say it's applied "south of the border".
Is it possible for AmyLee to get any nastier than this?!
Photo:
Robert Payes/Stiff Shots Photography