Picture Of The Day for October 12, 2008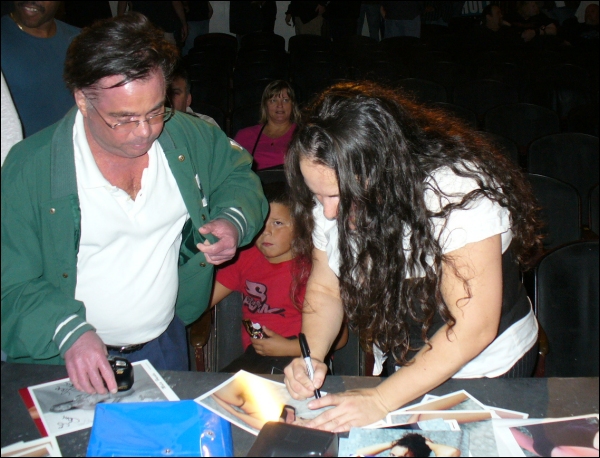 Walkin' Around And Catching Up At WSU...
Last night's WSU show at the Darress Theatre in Boonton, New Jersey, was the only place to be for anyone who considers themselves to be a fan of the G.L.O.R.Y. Girls and the other talented ladies of today's indy wrestling scene. Incredible action. A great show. A fantastic roster filled with big names and new names alike!
JTW left the action photography to the talented photogs who were at ringside to capture the action...Danielle D'Adamo, Robert Payes, Eric Shaffer and others. Instead, I wandered around the arena to chat with some of the girls and snap a few backstage/intermission pics. It was fun to catch up with many of the G.L.O.R.Y. Girls and, maybe, even some future G.L.O.R.Y. Girls who you may be seeing on the site soon.
First up, of course, was Little Jeanne. After two years away from the ring, I was looking forward to seeing her again. But it was tough to get to Jeanne! Obviously, I wasn't the only person there to see her Northeast return. As you can see from the shot above, she was signing autographs and posing for photos for a long line of fans. I was finally able to get a shot of Jeanne for today's POD (below).
Bonus POD!
Picture #2
Bonus POD!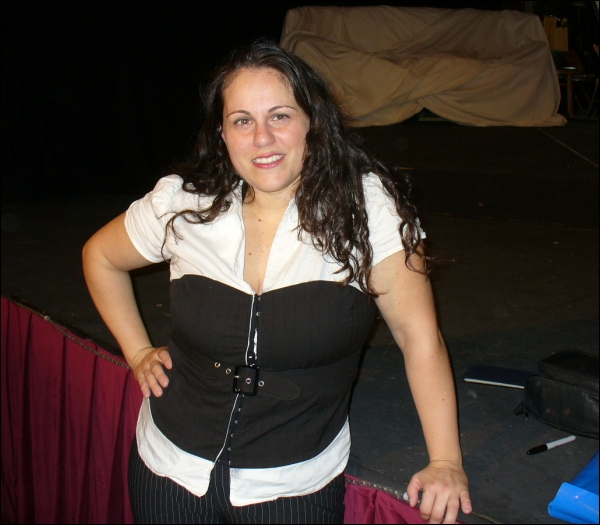 Bonus POD!
Picture #3
Bonus POD!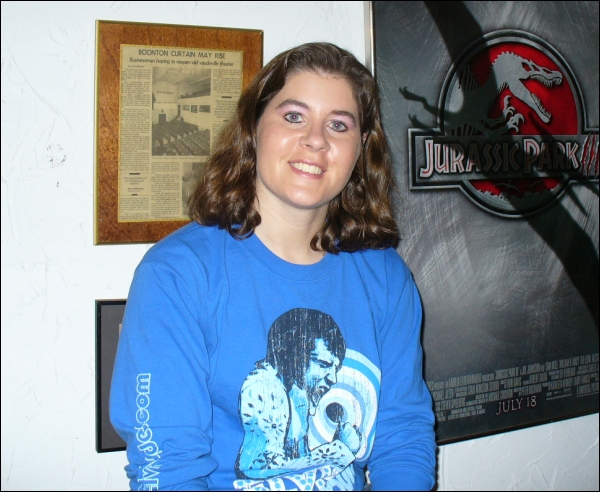 Cindy Rogers: Looking Good!
It was great to see and chat with G.L.O.R.Y. Girl Cindy Rogers last night. Cindy's been sidelined for several months after a collarbone break she sustained in...of all things...a softball game. With all the bumps, high-flying moves and acrobatic tactics that this lady uses in the ring, it's ironic that her major injury comes from diving for a fly ball in center field.
But the good news is that Cindy is well into the healing process. She's past the brace/cast stage. In fact, Cindy even climbed into the ring last night and jumped up onto those corner ropes like old times! I asked Cindy how she was coming along and her response was 100% positive. Yes, she's still rehabbing. And it will take a little while to get her body completely healed up. But she should be back in action before too long. A January return may be possible...but you never know with these kinds of injuries. While we're anxious to see Cindy back in the ring, we don't want her to push it. Better that she takes a couple of months more to make sure everything is in order. Better to be safe, right?
It was great to see Cindy and have a couple of minutes to catch up with how she's doing!
Bonus POD!
Picture #4
Bonus POD!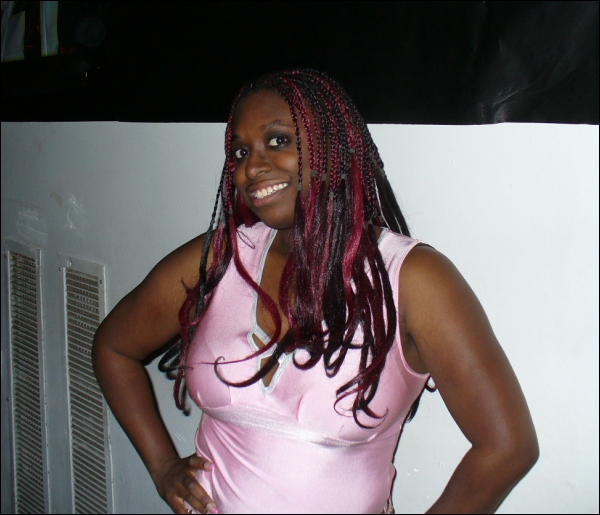 "Little" Luscious Latasha
While Luscious Latasha has been a G.L.O.R.Y. Girl for a few years now and I've seen her in action several times at local shows, this was the first time that I got to introduce myself to her at a show and say hello. What a nice young lady. Luckily, I had a chance to chat with her for a few moments and get a picture before other fans "took her away" for autographs!
I always knew Latasha was a diminutive wrestler from seeing her in the ring and from her G.L.O.R.Y. profile stats. But standing next to her brought her size into a startling perspective for me. I guess seeing the way Latasha flies around the ring and the way she handles herself inside the ropes, I expected her to be bigger. Standing next to her made me appreciate her toughness, ruggedness and tenacity in the ring even more than I had before.
Guess who else was at the show? Recently retired G.L.O.R.Y. Girl Alicia! Looking as pretty as ever, the blonde bombshell told me that she's loving college, but also looking forward to graduation in 2010 and hitting the world of advertising and communications. It was great to see Alicia again after her three-quarters of a year away. Note to long-time fans: I also asked Leesh to deliver G.L.O.R.Y. fan greetings to Momma Alicia when she got back home.
And hey...got to chat with G.L.O.R.Y.'s favorite ref, Matt Bennett, too. Almost didn't recognize him without his stripes! He's been keeping busy as his reffing area has been expanding. Now he's not only keeping order in New Jersey rings, but also in Pennsylvania, Delaware, New York and Massachusetts.
Bonus POD!
Picture #5
Bonus POD!
Miss April: Future G.L.O.R.Y. Girl?
Last night was my first time seeing Miss April in action and, wow, this lady can wrestle! At first glance, you might think this sexy little lady would be out of place in a wrestling ring. You'd be DEAD WRONG! She handled herself well and performed fantastically. Tough for her size, too.
I met with Miss April during intermission, gave her my card and invited her to become a member of the G.L.O.R.Y. roster. She was familiar with the site (a good sign!) and seemed interested...so hopefully we'll be seeing more of "Miss A" here on G.L.O.R.Y. in the near future.
Although I wasn't able to get a picture, I also spoke briefly with Lea Morrison and invited her to join the G.L.O.R.Y. roster. Ditto that on Molly Holly. Lea was familiar with G.L.O.R.Y., so maybe we'll be seeing her soon, too. We'll also keep our fingers crossed on Molly.
Bonus POD!
Picture #6
Bonus POD!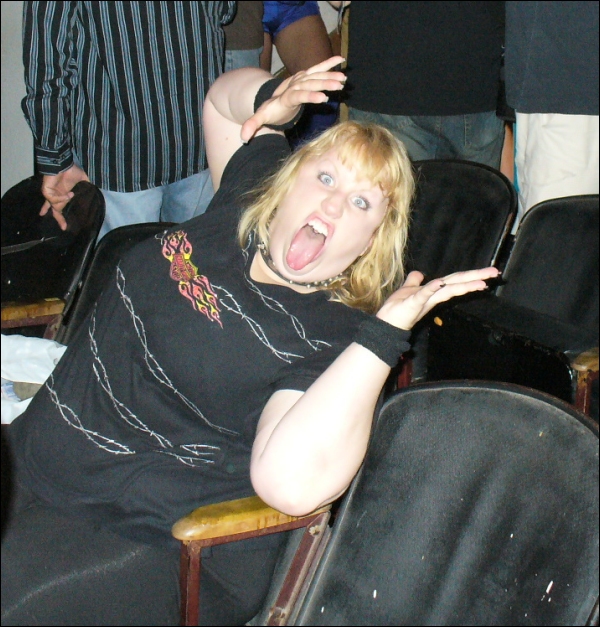 And Then There's AmyLee...
So as I'm roaming around the theatre, I hear a voice yell out from the back row: "Hey G.L.O.R.Y. Chooch! How about taking a picture back here?!" Could there be any doubt who this demure, petite voice belonged to? I slowly turned around...hoping, hoping...DOH! Sure enough, it was AmyLee.
Well, better take the picture, I thought. Who knows what she might do if I refuse? One thing I've learned about AmyLee: do what she says! After all, just minutes before I saw her wade through the crowd and crash half a box of Dunkin' Donuts over the head of some poor innocent fan. Why? Because he didn't offer her one of her sugar-glazed favorites! So yeah...I was snapping a picture of AmyLee as she demanded. I asked her to pose nicely for you G.L.O.R.Y. fans. This is what I got. Did I ask her to calm down and pose again?
ARE YOU NUTS?! I just snapped, thanked her and backed away...slowly!
With Dani, Payes, Eric and Ed Darcey at the show, cameras in hand, we're looking forward to bringing you plenty of WSU action over the next week or so.