Picture Of The Day for September 24, 2008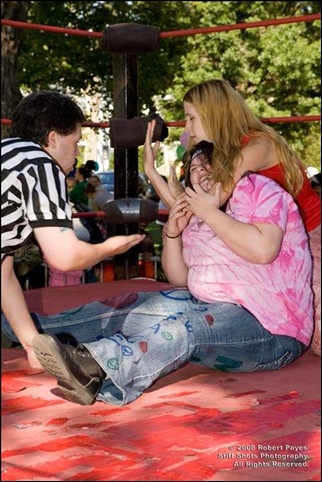 When Hippies Attack!
American Wrestling's Elite Stars of Mat Entertainment (A.W.E.S.O.M.E.) ran an outdoor event on Saturday during Bloomfield, New Jersey's Harvest Fest. After weeks of arguing, accusing and challenging on the G.L.O.R.Y. Message Board, Liz Savage and Taylor Nicole Rules were finally forced to step into the ring and settle their differences one-on-one!
In a bit of a surprise, Liz Savage jumped to the early advantage as she was able to get behind Taylor Nicole and subdue her larger opponent with a rear choke. Savage attempted to lock on the sleeper...which could very well have garnered her the win...but she just wasn't able to secure the hold. That turned out to be unfortunate for the blonde. In fact, it only made her rowdy opponent more intent on dishing out some tough punishment of her own.
When the momentum of the match finally swung the other way, Rules laid into Liz with some savage punishment (below). When the hippie was able to corner her foe against the corner turnbuckle she let loose with a barrage of pounding right fists. So much for "making peace, not war"! Savage didn't fare any better on the mat as Rules straddled her and went on a vicious choking spree that left the blonde breathless and weakened. From that point on, it was only a matter of time before the tough Nicole finished off her nemesis, planting her into the mat with a Boss Man Slam and covering her for the pin.
Will this physical confrontation put an end to the arguing and sniping between these two on the message board? Our guess is...probably not!
Photo:
Robert Payes/Stiff Shots
Bonus POD!
Picture #2
Bonus POD!
Photo:
Robert Payes/Stiff Shots
Bonus POD!
Picture #3
Bonus POD!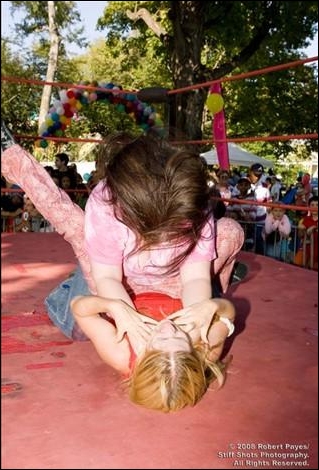 Photo:
Robert Payes/Stiff Shots
Bonus POD!
Picture #4
Bonus POD!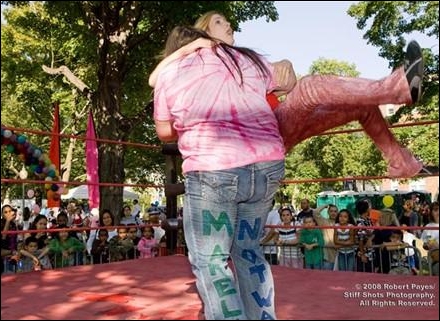 Photo:
Robert Payes/Stiff Shots