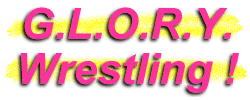 Taylor Nicole Rules
a.k.a. Taylor Nicole
Wrestler
Big, bad Taylor Nicole Rules is no stranger to the wrestling scene, and her size and attitude have quickly made her a force to be reckoned with on the Northeast wrestling circuit. Whether she is going toe-to-toe against the guys--or totally destroying her female opponents--this lady shows no mercy in the ring. Aggression has a new name...and it's spelled T-A-Y-L-O-R N-I-C-O-L-E.
Taylor Nicole Rules with the gold!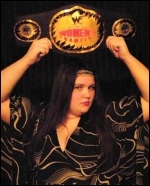 TNR holds her title belt high.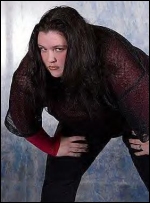 Big, bad, powerful and brutal: Taylor Nicole Rules is one of the most vicious ladies on the Northeast indy scene!
Taylor and her Pure Absinthe partner, DellaMorte, double-team Jana.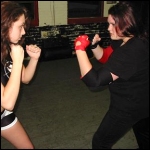 Alexa Thatcher and Taylor Nicole square off.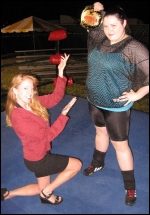 Rules holds up the gold as manager Luxurious Lynne presents her champion.
A sexy Taylor Nicole Rules poses for the camera!
Taylor Nicole Rules' Stats...
Height:

5' 6"

Weight:

246

Hair:

Black, red and blonde.

Eyes:

Hazel

Hometown:

Elm Street, New Jersey (USA)
Taylor Nicole Rules' Profile...
How It Started:

I have been a fan of wrestling since ECW. When ECW was over, I stopped watching. But once the WWF turned into the WWE, I picked it back up. I remember watching Lita on RAW and I really admired her wrestling. So I started watching it more and more...and then I saw Chris Jericho! Because of them, I decided that I wanted to be a wrestler. They inspired me to look for wrestling schools. Unfortunately, I couldn't find one in my price range...so I gave up. But then as fate would have it, I found an ad for the Soul Asylum Wrestling Dojo. I went down to the gym for the free try-out and, believe it or not, I was able to afford the fees!

Gimmick:

I am the type of person that doesn't like to be pushed around and treated like, well, a girl. I am very strong and independent.

Wrestling Style:

I'm your classic heel. I mostly use powerful moves and submissions.

Gear:

White and black shirt... black singlet... black fishnet stockings... calf high boots... black headband... bandanna wrapped around my calf, which was my sister's (Della Morte) and she gave it to me to wear in the ring during her absence.

Titles Held:

Current Soul Asylum Wrestling Women's Champion; Current Dangerous Women Of Wrestling Tag Team Champion; Current Ulster County Championship Wrestling Women's Champion; Current JWA-United Wrestling Women's Champion; Current Jersey Shore Women's Champion; United States Championship; UWC Tag Team Championship.

Biggest Win:

Defeating Kacee Carlisle to retain the JWA-United Women's Championship aboard the Battleship New Jersey. The match was dedicated to my grandfather, who passed away in May 2009.

Worst Loss:

Losing the UWC Tag Team titles to the Silver Bullets. Philly Madison and I should have won!

Favorite Type of Match:

Intergender.

Favorite Moves/Holds:

Foot choke; chops; side slams.

Finisher:

The Taylor-Made

(Powerbomb);

Tsunami

(Inverted Boston Crab);

The Rule Breaker

(Neck and arm stretch).

Biggest Allies:

My manager and husband, Joe Rules; Luxurious Lynne; Della Morte; Cindy Rogers; Philly Madison; Max Gaeta; Pappa Mae; Daddy Mae; Radical Robby Morrison; Mike Matixx.

Most-Hated Enemies:

Roxie Cotton; Alexa Thatcher; Kacee Carlisle; Jana; Cristol; The Silver Bullets; The Diva Killaz; Major D. Kline; Chrissy Johnson.

Toughest Opponent(s):

Before we became a tag team, Della Morte was my toughest opponent. She and I are around the same size, so it was different to take on someone who I couldn't snap in half with one hand tied behind my back.

Career Highlight:

Being awarded the Women's Championship Title at the May 2005 Soul Asylum Wrestling show. And another highlight would have to be winning my first match out in UWC against Allison Danger and Cindy Rogers. Shortly after, I got proposed to by Joe Rules. And I have to add when Della Morte and I became tag team partners. She and I are one deadly tag team.

Favorite Wrestlers:

Chris Jericho; Joe Rules; Lita; Edge; Hulk Hogan; Ricky Steamboat; Randy Savage; Triple H; JunkYard Dog; Tommy Dreamer; Ric Flair; Bam Bam Bigelow; Batista; Rowdy Roddy Piper; Jimmy Snuka.

Wrestling Ambition:

I am happy to be working the indies, but I am looking forward to maybe doing something for the WWE or TNA. I hope that I can inspire someone to want to wrestle as much as I was inspired.
Taylor Nicole Rules' Personal Notes...
Most people call me Nik or Taylor.....I'm a Sagittarius and 100% New Jerseyian..... As of right now, wrestling is my life. I train as much as I can under the instruction of my trainer (and husband), Joe Rules.... I love sports: baseball (Yankees), hockey (Devils), and, of course, wrestling.....In my free time, I play and write music. I am a guitarist, drummer and pianist. (I'm not a prodigy, but I taught myself how to play.) I also write my own lyrics and I sing.....I'm also a story writer. I have written three books--even though I didn't get them published--and am in the process of writing a horror movie.....Just to name a few of my favorite bands: Hanson (yes the MMMBop guys), Fozzy, System Of A Down, Queen, Pantera, Nirvana, Maroon 5, and Five For Fighting.....I love just hanging around with my friends and husband.....I recently finished school with a degree in Criminal Justice and am trying to pursue a career in Crime Scene Investigation.....If there is anything else you want to know about me, visit my web site: www.TaylorNicole.org.
Essential Taylor Nicole Rules Links...
Taylor Nicole Rules Video