Picture Of The Day for August 12, 2008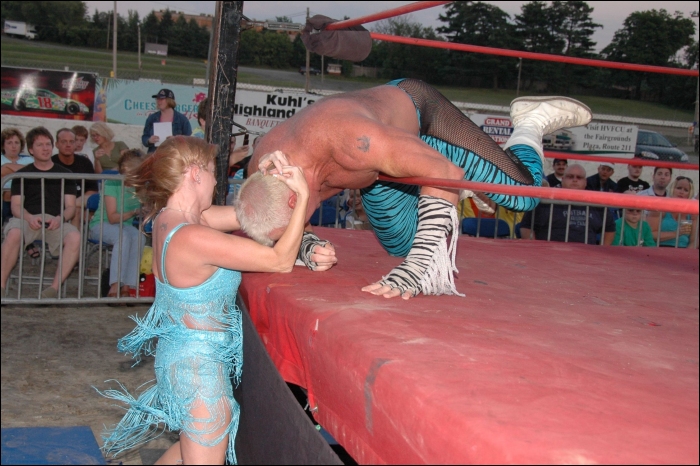 There's Luxurious Lynne's story...
Hey JTW!
Here's a photo I just got from Gypsy, who was ringside taking pictures at the ECPW match a couple of weeks ago where I was managing Donnie The Body. I want you to put it up as a G.L.O.R.Y. Picture Of The Day. I'll even write one of those little stories that you can put underneath it!
"Look see! I told all of you G.L.O.R.Y. people what was going to happen. Even with Liz Savage managing Brutus Beefcake and their threats to cut my luxurious hair, it didn't happen. Not only do I still have all my hair, I even took care of that Beef-fake!"
Photo:
Gypsy (ECPW)
Bonus POD!
Picture #2
Bonus POD!
...then there's the
REAL

story!

Before simply posting the picture and caption that Lynne sent us, we decided to do a little digging. Why? Because we know that Lynne sometimes embellishes a bit. Well, let's say she has a tendency to exaggerate. Actually, she has some problems remembering the exact sequence of facts as they occur...

Okay. We'll be blunt: SHE LIES!

So we got in touch with some of the ECPW people to get the straight scoop. They got us some additional pictures from this event...and they even put us in contact with a couple of fans who witnessed the match. Not surprisingly, those fans saw the match a little differently than Lynne. In fact, we wonder if the match that Lynne described is even the same match that everyone else was watching!

The pictures that Lynne DIDN'T send us tell the real story. After Beefcake started getting the better of Lynne's man, Lynne resorted to that choke over the ropes that we saw earlier. Liz Savage retaliated as she threw Lynne into the ring in what was the start of a wild catfight between the two managers. It wasn't long after choking Brutus that Lynne found herself the victim of a Savage choke! After tossing the Sparkly One out of the ring, Liz retrieved The Barber's trademark shears and the hair-cutting began. Brutus promised the crowd that Lynne's luxurious locks would be his next target after taking care of his opponent. That's all Lynne had to hear! Before the first strand of Donnie The Body's hair hit the mat, Luxurious Lynne was off and running as fast as her high heels could carry her. Well after Brutus and Liz had their arms raised in victory, Lynne was still running. One of the fans we heard from swore that he could still see a little speck that was Lynne, streaking towards the horizon in front of the setting sun!

So much for standing by her man...

Photo:
Gypsy (ECPW)

Bonus POD!

Picture #3

Bonus POD!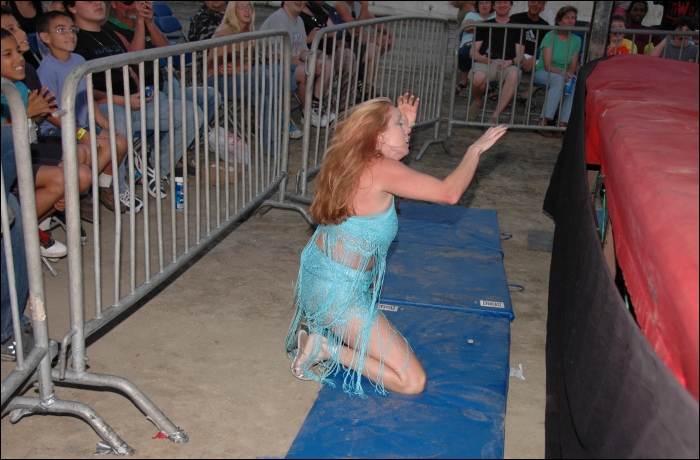 Photo:
Gypsy (ECPW)
Bonus POD!
Picture #4
Bonus POD!
Photo:
Gypsy (ECPW)
Bonus POD!
Picture #5
Bonus POD!
Photo:
Gypsy (ECPW)
Bonus POD!
Picture #6
Bonus POD!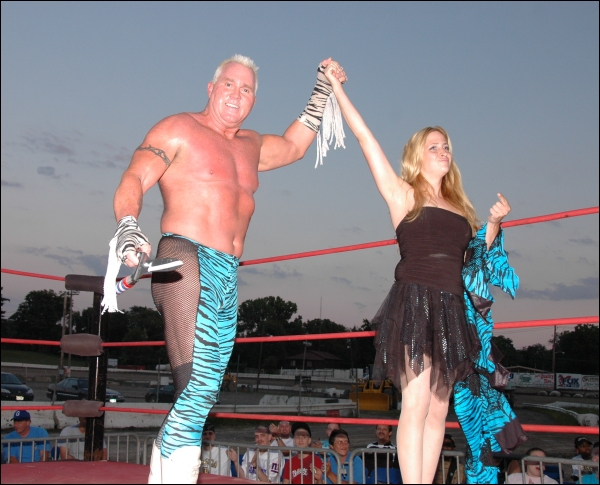 Photo:
Gypsy (ECPW)