Picture Of The Day for August 13, 2008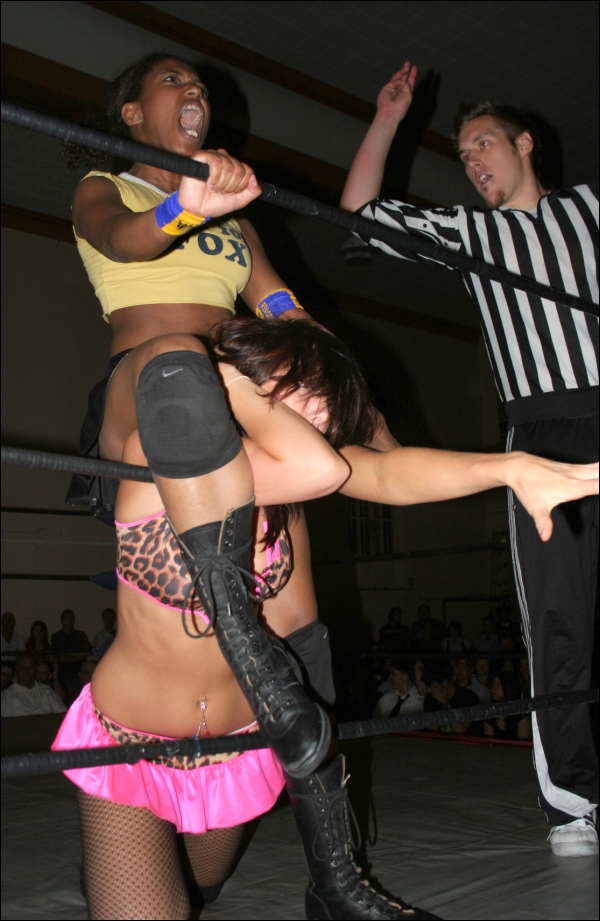 Fox On The
Run

Ropes!

Yes, I admit it. I still like the music of the 1970's. Especially the pop stuff. So when I saw this sequence of photos snapped by Wally at the July ALF show in Montreal, I immediately thought of The Sweet. You know, the guys who did "Little Willy" and "Love Is Like Oxygen"? Well, they also had a song called "Fox On The Run"...which we've spun a little to bring you today's POD headline.

We don't know whether Cherry Bomb is a fan of The Sweet, but we're pretty sure she's no fan of fellow G.L.O.R.Y. Girl 21st Century Fox...especially after the rope workover she absorbed during this ALF tag team match. And when Foxy worked Cherry over in those ropes, she REALLY worked her over. First, Cherry's windpipe was abused as The Fox put all her weight behind a middle rope throat choke. But that wasn't the end of the rope torment that Foxy dished out.

Next, it was Cherry's spine that was targeted for punishment (below). Trapped within the ring ropes, the fishnet-clad wrestler suffered as she was stretched backwards by a couple of handfuls of hair. Even as Cherry was laying limp on the second cable, Fox's assault continued as she battered away with fists and forearms to the back of her opponent's head.

And still The Fox wasn't finished with her attack. A final, dangerous leg drop from the ring apron nearly snapped Bomb's neck off of her shoulders. It takes only one glance at Fox's face to let you know that she was out of control! It looks like she was not only trying to win this match...not only trying to injure Cherry Bomb...but maybe even trying to end the ring career of her rival!

We think this could very well be the start of a new ring rivalry within the ALF ranks. We're anxious to see what happens the next time these two ladies are in the same ring!

Photo:
Wrestlin' Wally

Bonus POD!

Picture #2

Bonus POD!
Photo:
Wrestlin' Wally
Bonus POD!
Picture #3
Bonus POD!
Photo:
Wrestlin' Wally
Bonus POD!
Picture #4
Bonus POD!
Photo:
Wrestlin' Wally