Picture Of The Day for August 8, 2008
Unprettying Portia?
When ALF returned to Montreal, Quebec, last month, one of the featured matches on the card involved pretty G.L.O.R.Y. Girl Portia Perez facing the nasty Misty Haven. Misty's strategy seemed obvious: to mess up Portia's pretty features right there in the middle of the ALF ring!
Misty utilized some hair and the mat to help her in her quest to destroy Perez's good looks as she smashed the G.L.O.R.Y. Girl's face hard into the canvas. Later, Haven introduced Portia to her knee as she held the suffering girl in place in preparation for a knee lift...once again concentrating the blow directly to Perez's pretty face. As you can see from the final shot below, the blows took their toll on the smaller wrestler as she staggered across the ring with her skull ringing from the assault. It's no wonder that Ms. Haven came away with the victory after using these brutal tactics.
The good news is that the abuse heaped upon Portia's head and face during this match caused no serious or permanent damage. The cute Canadian wrestler is still as pretty as ever!
For all you Canadian G.L.O.R.Y. fans: another great Montreal ALF event is scheduled for tonight. Check out the ALF site for details using the link below!
Photo:
Wrestlin' Wally
Bonus POD!
Picture #2
Bonus POD!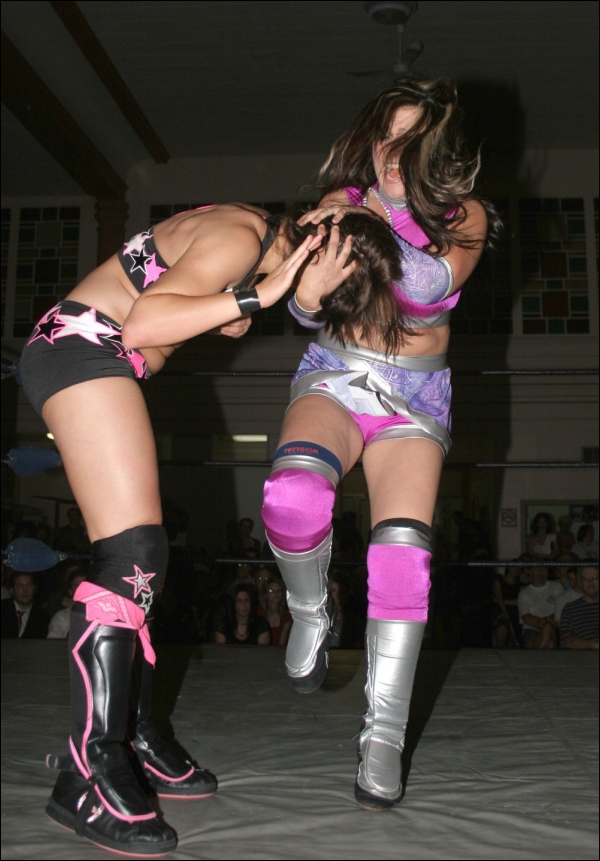 Photo:
Wrestlin' Wally
Bonus POD!
Picture #3
Bonus POD!
Photo:
Wrestlin' Wally