Picture Of The Day for June 23, 2008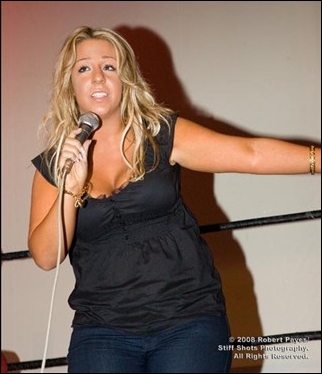 Alicia's WSU Return...
Well, the mystery girl making her return to WSU after studying overseas for most of 2008 (see Saturday's POD) turned out to be none other than G.L.O.R.Y. Girl Alicia. Although not scheduled for a match, the popular blonde took to the Darress Theater ring to say hello to her fans and catch up with them about her whereabouts over the past few months. But somehow, the unexpected always seems to happen when Alicia is in the ring. Even just saying a few words to her fans didn't go as smoothly as you would expect...
Photo:
Robert Payes/Stiff Shots Photography
Bonus POD!
Picture #2
Bonus POD!
Kylie The Party Wrecker
Whatever her reasons, G.L.O.R.Y. Girl Kylie Pierce decided to crash the Alicia/Fan party. Before the blonde finished with the mic, Pierce stepped into the ring, grabbed the stick and had some choice words of her own for Alicia. What nerve to show-up the returning WSU/G.L.O.R.Y. star!
And we all know that you just don't do that kind of stuff to the short-tempered Alicia...
Photo:
Robert Payes/Stiff Shots Photography
Bonus POD!
Picture #3
Bonus POD!
Take THAT, Kylie!
Even after nearly a half-year away from the wrestling ring, Alicia showed everyone that she hadn't lost her edge...or her temper! After kicking off her shoes, Alicia sent Kylie "The Buttinski" Pierce flying with a perfectly executed hiptoss. After a hard landing, Pierce didn't waste any time scooting from the ring and back to the locker room.
Photo:
Robert Payes/Stiff Shots Photography
Bonus POD!
Picture #4
Bonus POD!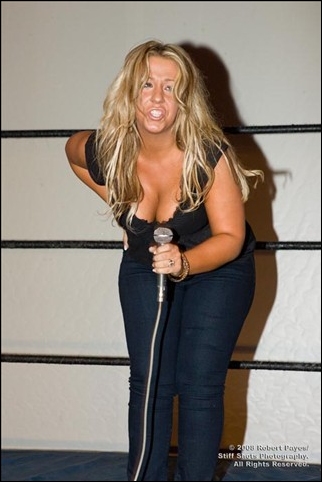 Alicia ALWAYS Gets The Last Word
Even as Kylie beat a hasty retreat from the ring, Alicia wasn't finished with her. She followed her physical assault with a verbal attack...which, coming from the tough blonde, can be almost as damaging! Take a look at Alicia's face as she tosses quite a few choice words at Pierce. She's ticked-off for sure! And one thing you don't want is to have Alicia ticked-off at you...
Welcome back, Alicia!
Photo:
Robert Payes/Stiff Shots Photography