Picture Of The Day for June 9, 2008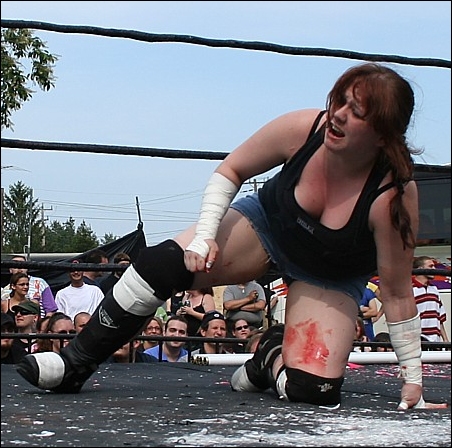 Mickie Knuckles: A Brutal And Bloody Beating!
WARNING! Today's POD of Mickie Knuckles in hardcore action is VERY BLOODY and VERY VIOLENT! If the sight of blood bothers you, DO NOT...we repeat...DO NOT look at the rest of today's POD photos! We'll see you again tomorrow for our normal Picture Of The Day fare.
Yesterday we showed you the first part of Mickie Knuckles' match against Vortekz at last month's CZW Tournament Of Death VII event in Smyrna, Delaware. Mickie held her own against her male opponent in the first half of the match, trading blows and giving as much as she got. But as the match wore on, the tide started to turn...especially when Vortekz received some help from his ringside ally to double-team Mickie. Here, the first signs of blood show up on Knuckles thigh. Look at all the shattered and broken glass in the ring. Unfortunately, this blood is nothing compared to what Mickie is about to experience...
Photo:
Lyle C. Williams
Bonus POD!
Picture #2
Bonus POD!
Choked!
Vortekz shows his female opponent how brutal CZW competition is as he buries two bloody hands into Knuckles' throat and chokes away at her. Poor Mickie is not only struggling to breathe here, she's also suffering from dozens--if not hundreds--of cuts to her body as her back is being pressed into that glass covered mat. Mickie desperately kicks at her attacker's head to get free and she eventually does...but her pain and suffering are far, FAR from over!
Photo:
Lyle C. Williams
Bonus POD!
Picture #3
Bonus POD!
Raw

Brutality...

As the match progressed, Vortekz realized that a win against Mickie was not going to be as easy as he may have thought when he signed the contract to fight her. The CZW wrestler got more and more violent as the match continued...and his attacks came very close to what some might consider barbaric. Here, after smashing a light tube across Mickie's back, Vortekz takes the end of the broken weapon and uses the razor sharp end to slice up the forehead of the tough-as-nails G.L.O.R.Y. Girl. Mickie's screams of pain don't even faze this guy. In fact, they only served to drive him to more brutal heights...

Photo:
Lyle C. Williams

Bonus POD!

Picture #4

Bonus POD!
Creative

Brutality...

Okay, so what's worse than getting hit with a light tube? Maybe getting kicked below the belt? Well, as you can see from the shot above, Mickie got both at the same time! Say what you want about this guy...but you sure can't say that he isn't creative!

After backing Mickie against the ring ropes, Vortekz positions a light tube between the G.L.O.R.Y. Girl's thighs and lets fly with a left kick. And you can see where that kick landed. Mickie crumples in pain as the glass flies after being shattered between her groin and her attacker's boot.

Photo:
Lyle C. Williams

Bonus POD!

Picture #5

Bonus POD!
Double-Team

Brutality!

Unbelievably, Mickie Knuckles continued to battle on even after absorbing Vortekz's thorough and brutal pounding. So what did he do when he realized that this tough G.L.O.R.Y. Girl was not going to give up?

He recruited his ringside buddy to lend him a hand! What a creep!

The double-team assault commenced when Mickie was positioned sitting in the corner of the glass strewn CZW ring. That's when Vortekz's helper used an arm around their opponent's throat to keep her in place while positioning some light tubes across Mickie's chest. Vortekz then charged across the ring and launched himself into the trapped Knuckles. Once again, glass sprays in every direction as Vortekz drives his knees into his victim's chest...grinding those sharp splinters of glass into Mickie's skin.

Photo:
Lyle C. Williams

Bonus POD!

Picture #6

Bonus POD!
Come On Now!!!
At this point in the match, the brave Mickie Knuckles was certainly at a point where she could be pinned. Bruised, battered and bloodied, we have to believe that it was simply a matter of Vortekz going for the cover and waiting for the ref's three-count. But these two guys apparently wanted to do more than just win this match. They wanted to teach their female opponent a lesson...
Photo:
Lyle C. Williams
Bonus POD!
Picture #7
Bonus POD!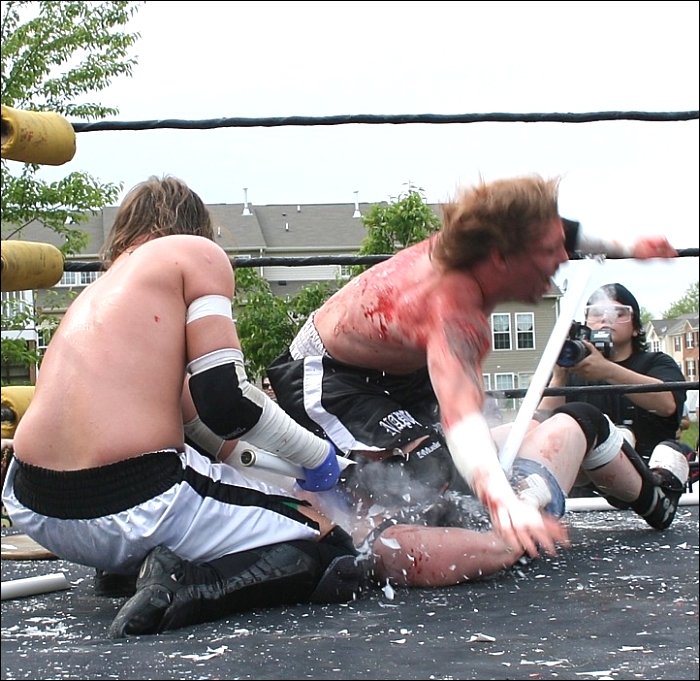 Unbelievable!
Yup...you're seeing it for yourself. That's Vortekz coming off the top ropes and driving both knees into the body of poor Mickie Knuckles. No...not a frog spalsh. That's two knees to the chest and gut! And once again, Vortekz's helper is there not only to hold Mickie flat on the mat, but also to position those light tubes on her body to cause even more bloody damage.
In the end, it was Vortekz who finally came away with the win. Of course, it took choking, low blows, dozens of shattered light tubes and help from his ringside friend before he was finally able to defeat his opponent. But do you think that made any difference to this guy? All he cared about was getting the "W" and advancing in the tournament, no matter what he had to do to defeat Mickie!
Photo:
Lyle C. Williams
Bonus POD!
Picture #8
Bonus POD!
Total Carnage...
We warned you up front, didn't we? As you can see, we weren't lying.
This match was arguably the most violent and bloody we've ever seen here on G.L.O.R.Y. Wrestling. A cut-up and bleeding Mickie Knuckles lays devastated in the middle of the CZW ring after taking what may be the most brutal and barbaric beating of her wrestling life. A match like this could be a career-ender for many wrestlers. But they don't come any tougher than this G.L.O.R.Y. Girl. Mickie is still competing. Still fighting. Still hardcore. In fact, we wouldn't be surprised to see Mickie once again vying for the CZW Tournament Of Death trophy...and winning it!
Photo:
Lyle C. Williams