Picture Of The Day for May 23, 2008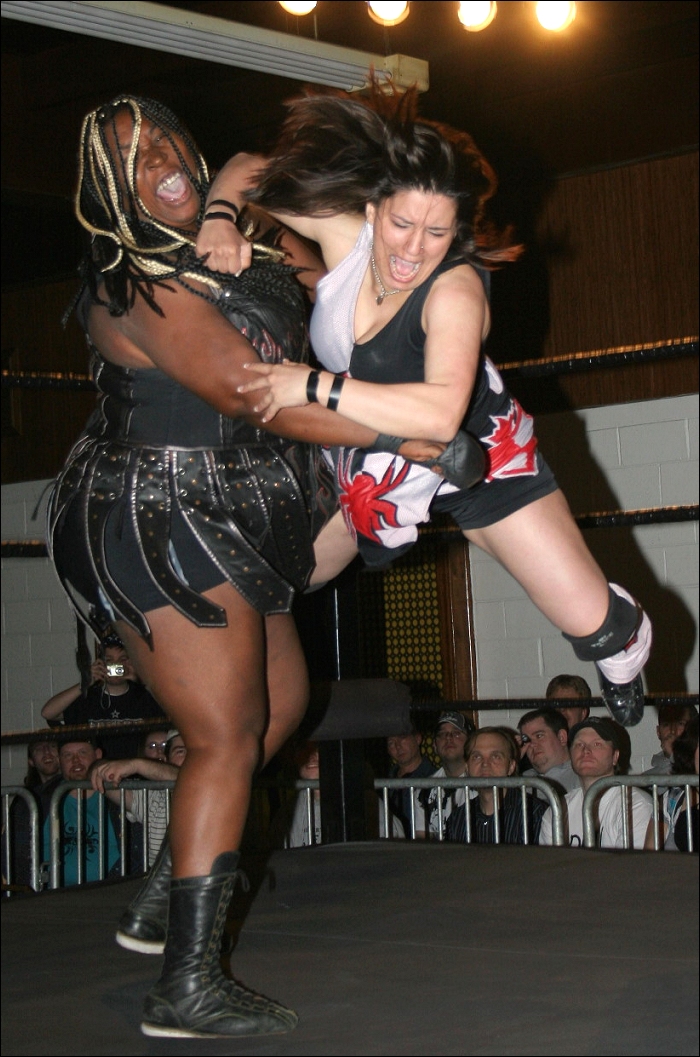 Wrestlin' Wally's Ringside Heroics!
SHIMMER held another great wrestling event last month when they once again enticed some of North America's top indy women to travel to Berwyn, Illinois to compete in the world-famous SHIMMER ring. And, as we have come to expect, our own Wrestlin' Wally was not only in attendance...he was at ringside to capture all the action. And some of the most intense and dangerous action he encountered was during the Ariel vs. Amazing Kong match.
You would think that a match between huge Kong and much smaller Ariel would be a slaughter right from the opening bell. But that thinking would be wrong. Ariel was not only able to hold her own, she actually came out on the offensive...attacking her larger opponent with some high-flying moves like this right forearm shot to the jaw after leaping off the middle ring ropes.
Photo:
Wrestlin' Wally
Bonus POD!
Picture #2
Bonus POD!
Crunched!
As the match progressed, Kong was able to assert her authority as she used her size and strength to wear down her opponent. Ariel's in big trouble here as she prepares herself for a Kong leg drop that's about to crunch her throat and upper chest. Take a look at the face of The Portuguese Princess. She's already anticipating the pain before Kong actually makes contact!
Photo:
Wrestlin' Wally
Bonus POD!
Picture #3
Bonus POD!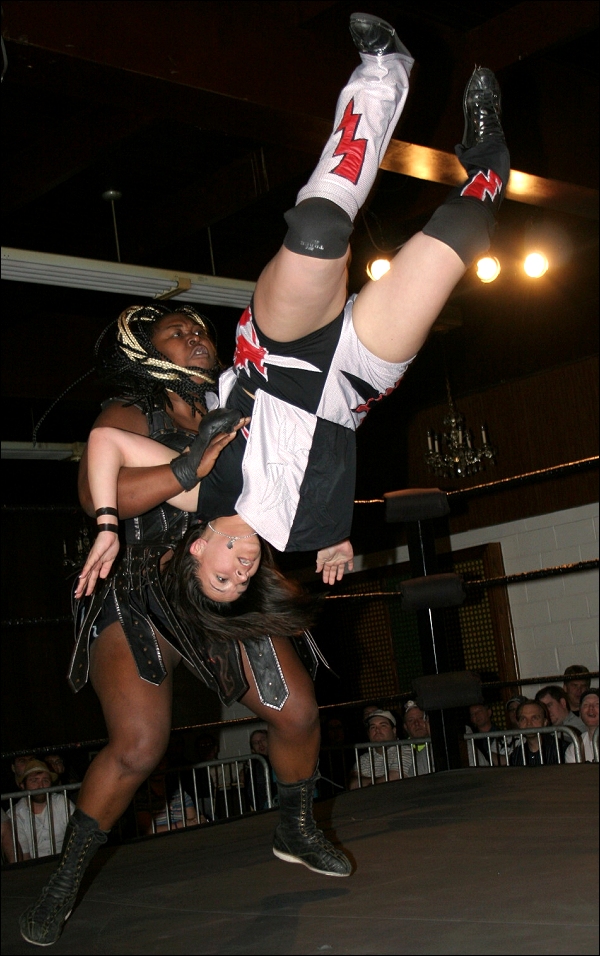 Manhandled!
Understandably, Ariel continued to get manhandled by the angry Kong. Amazing is so big and so strong, it's hard to believe that the smaller G.L.O.R.Y. Girl was able to hang with her as long as she did. Here, Ariel gets lifted off her feet in preparation for a body-flattening front slam to the mat.
Photo:
Wrestlin' Wally
Bonus POD!
Picture #4
Bonus POD!
Punishment Outside The Ring, Too...
Here's an example of why we said Wally was heroic earlier. As the action spilled out onto the SHIMMER Arena floor, Wally kept on snapping without regard to his own safety. As Ariel took a beating against those cold steel barricades, Wally was right there to record the action. Our girl looks to be in serious pain as she writhes on the wood floor, holding her bruised and battered ribs. At this point, we wouldn't blame Ariel if she was questioning her decision to face Kong in this brutal mismatch.
In what has to be considered an upset, Ariel actually took the win in this match. But the victory might lead to trouble later. We can only imagine how vicious Kong will be when these two ladies collide in a rematch!
Photo:
Wrestlin' Wally