Picture Of The Day for April 19, 2008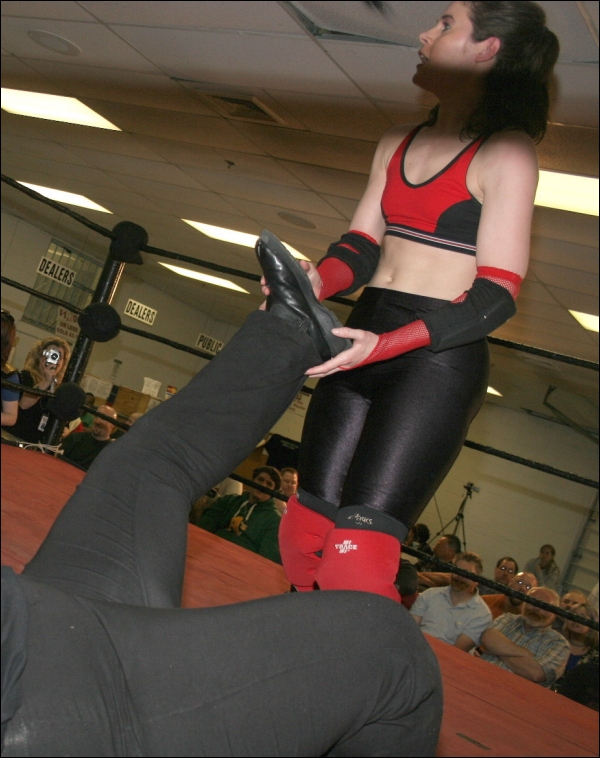 Down (Low) And Dirty!
Yesterday we told you that AmyLee and Cindy Rogers threw purely-technical wrestling out the window during their WWWA Title match last weekend. And you saw some of the brawling that took place. But today, we show you what happened with the fightin' got really dirty.
In the shot above, Cindy Rogers holds the left leg of her dazed opponent high after having done some damage with stomps to the knee and inner-thigh muscles. But her follow-up move was one that could hardly be called legal inside a wrestling ring...or anywhere else for that matter! Yes, Cindy's attack was just what you're thinking it was...and what AmyLee was hoping it wouldn't be!
Photo:
Wrestlin' Wally
Bonus POD!
Picture #2
Bonus POD!
The Aftermath...
The result of Cindy's low-blow stomp to AmyLee was obvious: the big blonde ended up suffering on the canvas as the crowd booed their disapproval of the dirty tactic. Most wrestlers wouldn't have been able to recover after being subjected to a maneuver such as this. But AmyLee not only continued, she delivered some payback...
Photo:
Wrestlin' Wally
Bonus POD!
Picture #3
Bonus POD!
Cindy's Turn To Suffer!
When AmyLee saw her chance to give Rogers' a taste of her own medicine, she didn't hesitate in dishing out her own below-the-belt punishment. After trapping Cindy against the corner turnbuckles, the blonde plowed her midsection with some body-crunching shoulder blocks. But the last blow was the one that did the most damage. AmyLee got some revenge with her own low-blow attack...and you can see the result as Cindy crumples in the corner in response!
AmyLee and Cindy Rogers will be joining a host of other G.L.O.R.Y. Girls tomorrow in Lake Hiawatha, New Jersey, when they compete in WSU action. The two ladies aren't scheduled to face each other...but they will be sharing a locker room together. Could backstage tensions spill out to an in-ring confrontation? We'll know soon enough!
Photo:
Wrestlin' Wally