Picture Of The Day for April 15, 2008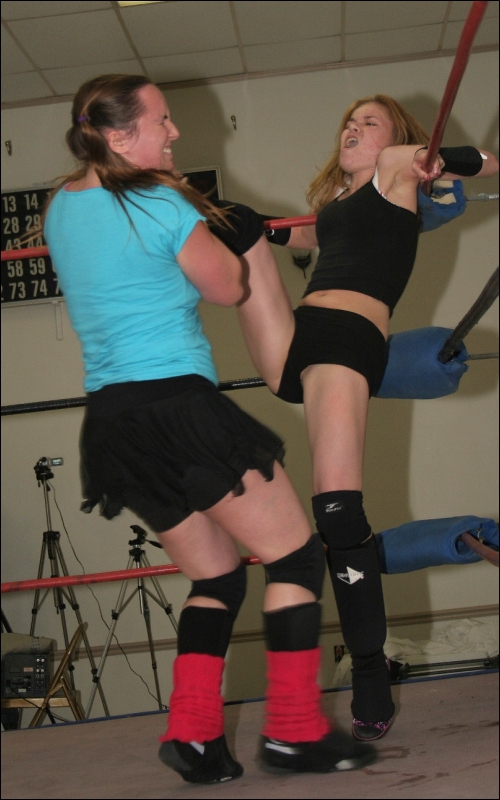 Sorry...Guess We Spoke Too Soon!
So yesterday we showed you Roxie Cotton in MCW/SWA tag team action. After seeing the first 100 or so pictures that Wrestlin' Wally snapped at the event, we told you how the thin-winned G.L.O.R.Y. Girl looked like she was finally turning around her losing streak with a big tag team victory. Then...ummmm...we checked out the last few pictures of the match in Wally's gallery. And it turns out that we spoke too soon...
Somehow, some way...Cotton managed to turn yesterday's domination into a loss!
Rushing into the corner to body splash her opponent against the turnbuckles, Roxie got careless and took this stinging boot to the face. Stunned from the blow, Roxie just stood there...until her opponent rocked her with a tremendous forearm to the chin. The shot had the valley girl seeing stars and set her up for a match ending pin. And, well, contrary to what we told you yesterday...Ms. Cotton once again managed to pull a defeat out of the jaws of victory. Yeesh!
Take a look at the final picture below. It looks like Roxie can't even believe how this match ended. Come on, Roxie. What happened?!
We'll take the blame on this one. Guess we should have looked through ALL THE SHOTS of this match before we posted yesterday's POD. We learned our lesson. But, you know, Wally just has soooooo many darn pictures on his site. All that wrestlin' (Wally) action is overwhelming!
Well, as bad as this whole POD experience has been, at least it can't get any worse.
Photo:
Wrestlin' Wally
Bonus POD!
Picture #2
Bonus POD!
Photo:
Wrestlin' Wally
Bonus POD!
Picture #3
Bonus POD!
Photo:
Wrestlin' Wally
Bonus POD!
Picture #4
Bonus POD!
Photo:
Wrestlin' Wally