Picture Of The Day for April 14, 2008
Roxie Cotton Finally Wins One!
We've been seeing a lot of Roxie Cotton over the past six months. The Northeast-based G.L.O.R.Y. Girl has been signing for matches and stepping into the ring virtually every weekend...sometimes even facing multiple opponents, for multiple federations, in multiple cities! Of course, Roxie hasn't actually won many matches over that time frame. The valley girl's won/loss record has been downright absymal, in fact. But even as she takes some serious punishment and humbling weekly losses, she keeps on plugging away and coming back for more.
Fans of MCW/SWA in Ridge Summit, Pennsylvania, saw Roxie this past weekend as she took part in a four-girl tag match. And from the start of the match, it looked like Cotton was destined to collect a rare win. Throwing the rulebook out the window, the 80's chick took it right to her opponent as she used the ropes to help with the punishment. Throwing a leg over the back of her opponent's neck, Roxie prepares to do some choking...some very effective choking!
Photo:
Wrestlin' Wally
Bonus POD!
Picture #2
Bonus POD!
Cocky Roxie
Well in control, Roxie takes a break to mug for the fans and the camera. Bouncing on the back of her opponent to force the rope choke, Cotton seems to be enjoying herself while saying: "Hey...there's nothing to this wrestling stuff!" Quite a cocky attitude for someone who doesn't win very often. But hey, what can we say? Roxie is in total control here. She can do or say what she wants, right?
Photo:
Wrestlin' Wally
Bonus POD!
Picture #3
Bonus POD!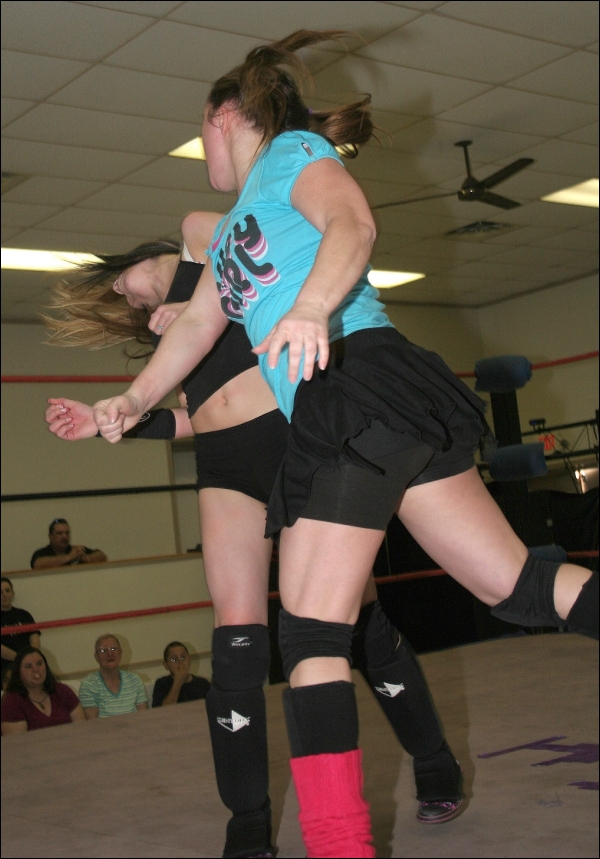 "And Something For You, Too!"
When Roxie faced the second of her tag team opponents, she kept right on that roll that she established early. Coming off the ropes, Cotton landed this massive haymaker to the chin of her foe. You can almost imagine one of those Batman "KABLAMS!" popping up over the heads of the wrestlers when looking at this Wrestlin' Wally shot.
It's nice to see Roxie Cotton finally coming up with a big win...even if it is one that she has to share with a tag partner. We'll bring you some more action from this match...including Roxie's victory moment...in tomorrow's POD.
Photo:
Wrestlin' Wally