Picture Of The Day for April 9, 2008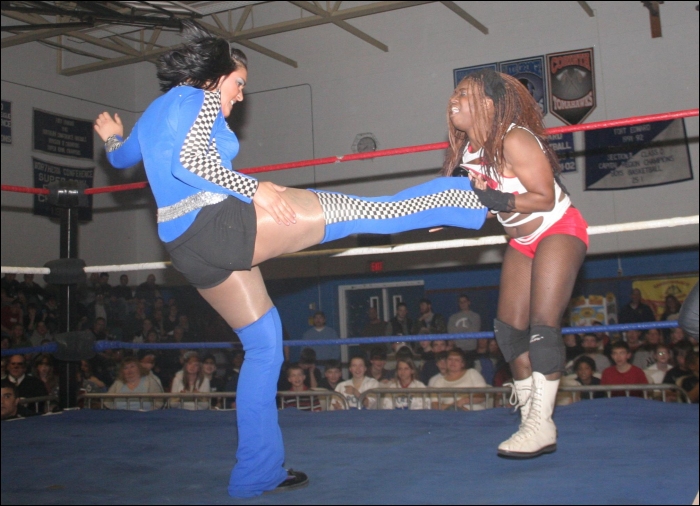 Barbie: Red Sox Nation Destruction!
This past weekend found G.L.O.R.Y. Girl Barbie and her partner, Ashley Alden, facing the team of fellow G.L.O.R.Y. Girl Luscious Latasha and Lea Morrison in tag action at Fort Edward, New York's ICW Spring Fling 2008. Undoubtedly, the NY fans would have been behind their local favorites anyway...but the fact that New Englanders Latasha and Lea showed up in the ring sporting Boston Red Sox gear just drove the crowd into more of a frenzy of support for the hometown girls. It didn't take too long for the Boston gals to realize that they made a big mistake!
Whipped up by the support of the 600+ fans in attendance, Barbie was a whirlwind as she laid into Latasha. This kick to the chest let the luscious G.L.O.R.Y. Girl know exactly what Barbie thought of her Sox! When partner Ashley Alden got in on the action, the New Yorkers showed Latasha that they had no respect for Red Sox Nation as they drove her to the mat with a double bodyslam...the cheers of the anti-Boston fans drowning out the red-clad wrestler's howl of pain after she crashed into the canvas.
In the end, hometown favorites Barbie and Ashley sent the Boston pair packing for Massachusetts with a big loss under their belt!
Meanwhile, one lucky young fan got his picture taken with G.L.O.R.Y. Girl Barbie and her partner Ashley before the show. We're envious that he got to be flanked by such lovely and athletic ladies! (And we like his tee shirt, too...he-he.)
Photo:
Gary Braham
Bonus POD!
Picture #2
Bonus POD!
Photo:
Gary Braham
Bonus POD!
Picture #3
Bonus POD!