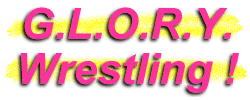 Barbie
Wrestler
She may be named after the goodie-two-shoes blonde doll that millions of young girls adored while growing up...but that's where the similarities end! This Barbie is a nasty ring competitor who will go to any lengths to win a match...and sometimes even further than that just for the fun of working over an opponent. Her favorite target, Lexus, is often on the receiving end of Barbie's fists, chokes and other illegal tactics. But this rough ring heel is ready to bust up anyone who gets in her way as she seeks to reach the top of the sport!
Barbie!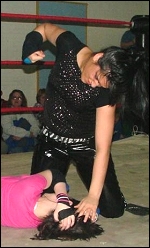 Barbie shows her vicious streak as she pounds away at arch-enemy Kayla Sparks' head.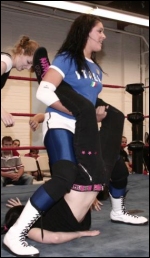 Barbie seems to like nothing better than torturing Sparks! Here she stretches Kayla with a nasty boston crab.
"What? I'm not doing anything wrong!"
Barbie's Stats...
Height:

5' 6"

Weight:

140

Hair:

Brown

Eyes:

Brown

Hometown:

Upstate, New York (USA)
Barbie's Profile...
How It Started:

Friends of mine took me to a local indy show one year on my birthday and I got hooked! I have always been a huge fan of wrestling and my friends knew it...that's why they brought me. I talked to some wrestlers backstage and they gave me info about a nearby training facility and I just went for it! When I was a little girl, my older brother and I used to play wrestle all the time. I was always "The Model" Rick Martel!

Gimmick:

It really depends on my opponent, but I'm usually playing some kind of heel.

Wrestling Style:

Old-School all the way.

Gear:

I have a variety of gear.

Titles Held:

WOHW Women's Title.

Biggest Win:

A tag team tables match at Top Rope Promotions when I splashed Angylena through the table from the top rope.

Worst Loss:

Any loss is a bad loss...but you get over it and learn from it.

Favorite Type of Match:

Triple-threats and tag matches of any kind.

Favorite Moves/Holds:

Abdominal Stretch.

Finisher:

"The Face Lift"...a sit-out suplex where I face bump my opponent.

Biggest Allies:

Shane Alden; Shockwave; Virus; Angyleena; Rhea.

Most-Hated Enemies:

Any opponent that I am about to face in the ring becomes an enemy!

Toughest Opponent(s):

Danger...the 6' 9", 300+ pound WOHW veteran. I've been in the ring with Danger on several occasions and the outcome was not so good!

Career Highlight:

Just being a part of the wrestling business is a career highlight. But if I had to pick one match as of right now, I would say wrestling on the Professional Wrestling Hall of Fame show that I was booked on.

Favorite Wrestlers:

"The Model" Rick Martel; Kurt Angle; Brett Hart; Tatanka; JBL; Fit Finley.

Wrestling Ambition:

To become a success in this business!
Barbie's Personal Notes...
I am very much the type of person who likes to be by themself. Nothing personal...I'm just quiet.....Unfortunately, my family does not support me with wrestling, so I am doing this on my own.....I am a big art buff! I love to paint. (That's another ambition of mine.) I have won many artist awards in school and I have visited a dozen art museums.....I also love music and I am a big fan of the late-70's to late-80's punk era. Stuff like The Sex Pistols, The Clash, Social Distortion, The Ramones and The New York Dolls. I am also a die-hard Nirvana fan!.....My favorite color? I like all of them!.....One thing I do NOT like at all is the bar scene. I don't get involved with bar hopping or going to dance clubs. I'd rather be wrestling in the ring!
Essential Barbie Links...