Picture Of The Day for April 7, 2008
ALF's OCW Punishment
Yesterday we brought you some action from last month's OCW Ladies Night Out 2 event in West Lafayette, Ohio...action that showed Allison Danger taking some nasty punishment inside the ring. Unfortunate as it may be for her, today is Alere Little Feather's turn. The Native American G.L.O.R.Y. Girl doesn't often travel outside of her Northeast home base to wrestle, and perhaps she shouldn't have in this instance.
Alere took abuse from multiple fellow G.L.O.R.Y. Girl opponents on this trip. The first was Josie, who punished ALF with a combo side headlock/sleeperhold/choke that had the beautiful brunette struggling to breathe.
Photo:
Justin Case
Bonus POD!
Picture #2
Bonus POD!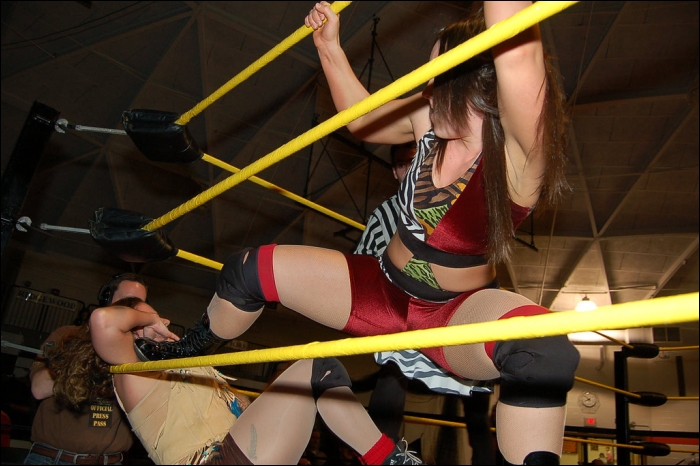 Sara Follows Suit
Apparently, Sara del Rey liked what she saw from Josie and went on her own choking spree. But unlike Josie, it seems this G.L.O.R.Y. Girl didn't want to get her hands messy...so she just let her boots do the dirty work. Look at how she gets down low and uses the ring ropes to generate the most leverage possible for that nasty boot into ALF's windpipe.
Photo:
Justin Case
Bonus POD!
Picture #3
Bonus POD!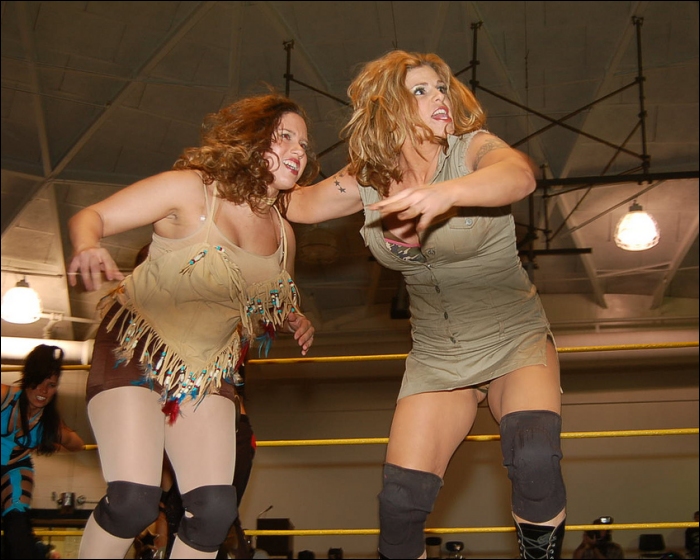 Brawlin' Dalton
G.L.O.R.Y. Girl Jessica Dalton got in on the ALF punishment too. But unlike the others, Dalton didn't bother trying to use chokes, sleepers or any other semi-technical move. The muscular and powerful blonde simply used some hair to run Alere across the ring and smash her into the corner turnbuckle. Not very technical...but very, very effective!
Photo:
Justin Case