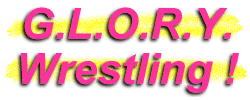 Sara del Rey
Wrestler
"It's all about the wrestling!" is a favorite quote of West Coast grappling star Sara del Rey. This 5' 9", 150-pound wrestler refuses to rely on gimmicks or flashy gear to get herself noticed. Instead, Sara concentrates on one thing, and one thing only: WRESTLING. The California native's style is hard...technical...old-school. If you want to see a no-nonsense athlete who knows her way around a wrestling ring, look no further than Sara del Rey.
Sara enters the arena to the cheers of the crowd.
Sara often takes on male opponents. Here she is nailing one poor guy with a hard-hitting suplex.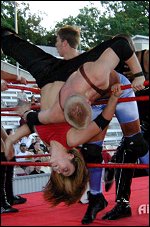 Sara can also absorb a lot of punishment in the ring. Here she is almost eliminated from a battle royal after a nasty clothesline from a guy in the match.
Sara locks-up with her biggest enemy in the ring, Cheerleader Melissa.
Sara del Rey's Stats...
Height:

5' 9"

Weight:

150

Hair:

Light Brown

Eyes:

Hazel

Hometown:

Martinez, California (USA)
Sara del Rey's Profile...
How It Started:

I was a fan as a child, but then discontinued watching it for a few years. Once I got back into it, I knew that I wanted to become a wrestler. After high school I looked into a few different wrestling schools before deciding to enroll in the infamous All Pro Wrestling Boot Camp. The quality of their training is top notch.

Gimmick:

Don't have a gimmick...just enjoy getting out there and wrestling! Right now I don't want to rely on a gimmick...I want to prove myself through hard work and quality wrestling.

Wrestling Style:

Technical.

Gear:

Nothing in particualr.

Biggest Win:

Winning a 14-person Battle Royal in which I was the only female!

Worst Loss:

Any loss is bad.

Favorite Type of Match:

Old-school, technical match.

Favorite Moves/Holds:

Any wristlock counter; all suplexes.

Finisher:

Tiger Suplex rolled into a hooking bridge submission.

Biggest Allies:

American Dragon; Robert Thompson; Bobby Quance.

Most-Hated Enemies:

Cheerleader Melissa.

Career Highlight:

Trying out for Arsion in June 2001.

Favorite Wrestlers:

Chris Benoit; American Dragon; William Regal.

Wrestling Ambition:

I am looking forward to going to Japan the beginning of 2003. And I would like to wrestle in England, Europe and throughout the United States.
Sara del Rey's Personal Notes...
My very special friend has recently been guided to God and I am finding inner peace by knowing Him and trying to live by His word and study His teachings.....Most of my spare time is spent watching and studying wrestling tapes and training.....I have a cat named Sinks who weighs close to 20 pounds...and he's as cute as a button!.....I enjoy reading and spending time with my family and friends.
Essential Sara del Rey Links...