Picture Of The Day for March 15, 2008
I've Got A Crush On You...
Canadian G.L.O.R.Y. Girls Danyah and Jennifer Blake met last month during PWA's EXTREME War In The Ward in a match that is in contention as Ontario's Match Of The Month. Each lady laid into her opponent non-stop, concentrating on using crushing moves that put her foe in intense agony.
Above, Jennifer Blake is intent on using a crushing leg scissors to pour the pressure on Danyah's skull. But when Blake couldn't put Danyah away, she found herself in similar straights later on in the match. Take a look below as Danyah gets a measure of payback when she targets Girl Dynamite's neck...first with a rear choke that cuts off the platinum blonde's air supply, then with a leg drop that further crushes the previously damaged throat area.
Photo:
Mrs. Id
Bonus POD!
Picture #2
Bonus POD!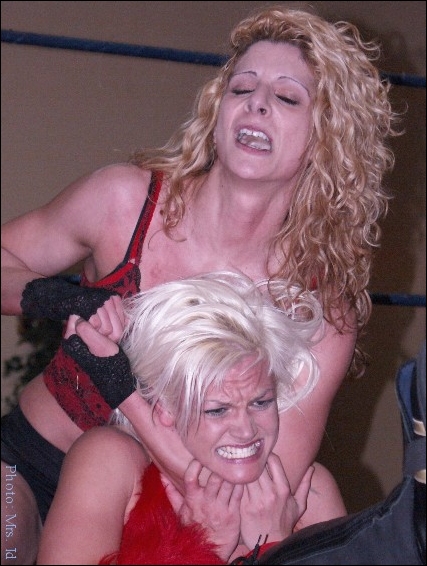 Photo:
Mrs. Id
Bonus POD!
Picture #3
Bonus POD!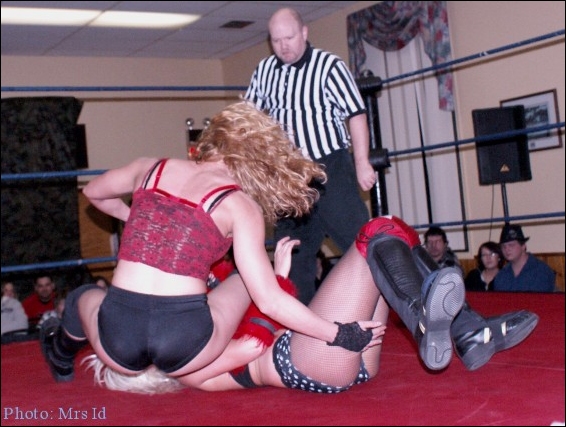 Photo:
Mrs. Id