Picture Of The Day for March 12, 2008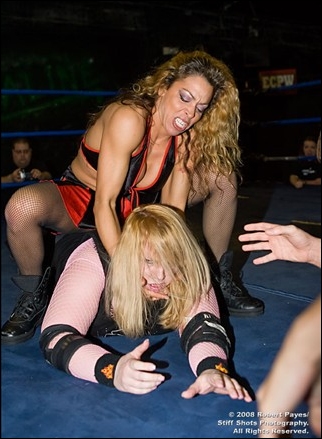 A Tough Weekend For AmyLee: First Riptide...
Usually it's G.L.O.R.Y. Girl AmyLee who makes life miserable for her opponents every month at Women's Wrestling Uncensored events. But at this past weekend's WSU 1st Anniversary Show, the tables were turned as Amy went from being the mauler to being the "maulee"!
In Amy's first match of the day, the tough blonde found herself being worked over by Riptide and Mercedes Martinez. And they showed no mercy in their pummeling of the biker. Take a look at Riptide's face as she concentrates on that chinlock. In a moment, she's going to start pulling back hard and wrenching her victim's neck and spine.
Photo:
Robert Payes/Stiff Shots
Bonus POD!
Picture #2
Bonus POD!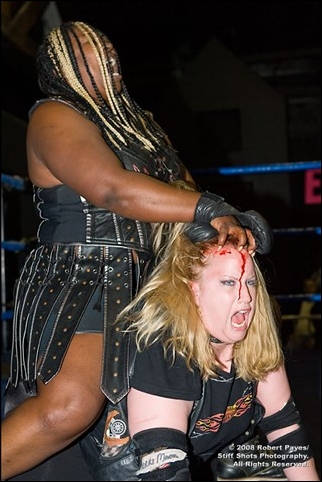 ...And Then Awesome Kong!
Things got even worse for the G.L.O.R.Y. biker chick as her second match of the event was against TNA's Awesome Kong. These two ladies battled all over the place...and when we say "all over the place", we mean ALL OVER THE PLACE! Inside the ring. Along the steel barricades. In the bleachers and ringside seats. Up the entrance ramp. Fans scattering in all directions. Total chaos as chairs flew. Benches were thrown. A half-full garbage can was crunched over Amy's skull. (Being in attendance for the match, I can swear I saw a rear door of the arena fly open...used as an escape route by a couple of fans trying to flee from the melee.)
Here, Robert Payes captures Kong as she bellows out in dominance to the crowd. She's already opened up Amy's head with a chair shot...and now she's really getting the blood flowing as she claws those fingers into the wound. The G.L.O.R.Y. Girl is obviously hurting, but it also looks like Amy is more PO'ed than pained!
It wasn't a pleasant weekend for AmyLee. You know she's going to be looking to take it out on someone. While we don't yet know who her next opponent will be at the WSU Arena...we already feel sorry for them!
Photo:
Robert Payes/Stiff Shots