Picture Of The Day for March 10, 2008
Lacey Von Erich vs. Angel "Riptide" Orsini
Today's pictures and description are provided by G.L.O.R.Y./WSU fan Ed Darcey, who was in attendance at this past weekend's show...
The loveliest member of the multi-generational Von Erich wrestling clan, Lacey Von Erich, made her Northeast wrestling debut at the WSU 1st Anniversary Show this past Saturday night in New Jersey.
During the first show, Lacey was interviewed by Missy Hyatt and challenged any member of the WSU locker room to a match. She also asked Missy if she would manage her for the match. Having been given her first break in wrestling by the Von Erichs, Ms. Hyatt was happy to oblige.
Ms. Von Erich appeared on the second half of the dual taping wrestling barefoot...much like a number of members of her family had. She was opposed by one of the most experienced wrestlers on the show, Angel "Riptide" Orsini. The wily veteran went right after the less-seasoned Lacey: tying her up, tossing her around and working over her legs. But Ms. Von Erich fought back, on one occasion hitting a beautiful handspring back elbow while Angel was in the corner.
After regaining the momentum, Orsini proceeded to pound Lacey...but then she wasted time jawing with the crowd, allowing Von Erich to recover. When Angel turned back to her opponent, Lacy slapped on the dreaded Von Erich claw hold! Angel did all she could to resist. But in the end she was forced to submit, giving Lacey Von Erich her first victory in the NYC/Metropolitan area.
Let's hope we haven't seen the last of this newest addition to the Von Erich legacy in the Northeast!
Photo:
Ed Darcey
Bonus POD!
Picture #2
Bonus POD!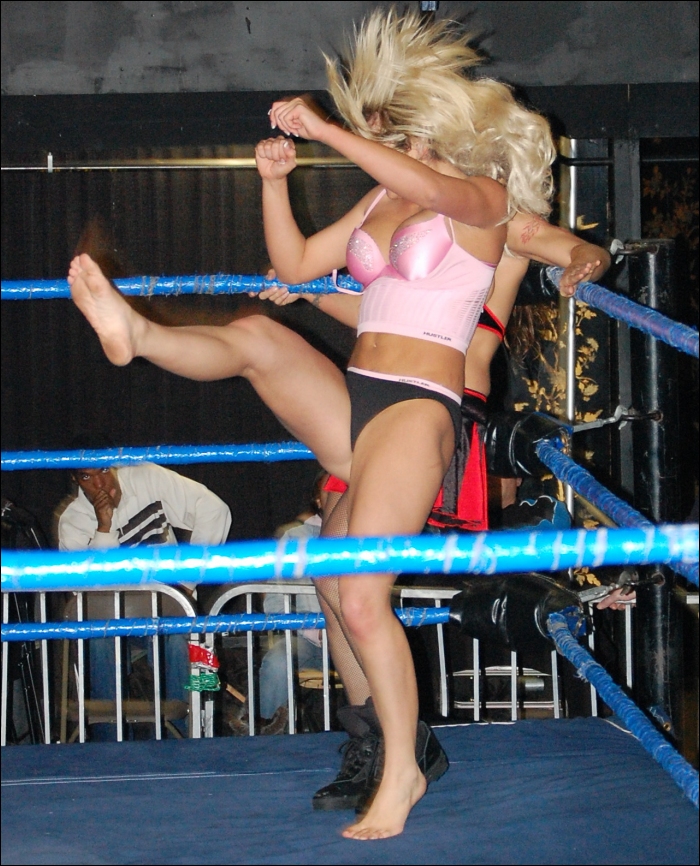 Photo:
Ed Darcey
Bonus POD!
Picture #3
Bonus POD!
Photo:
Ed Darcey
Bonus POD!
Picture #4
Bonus POD!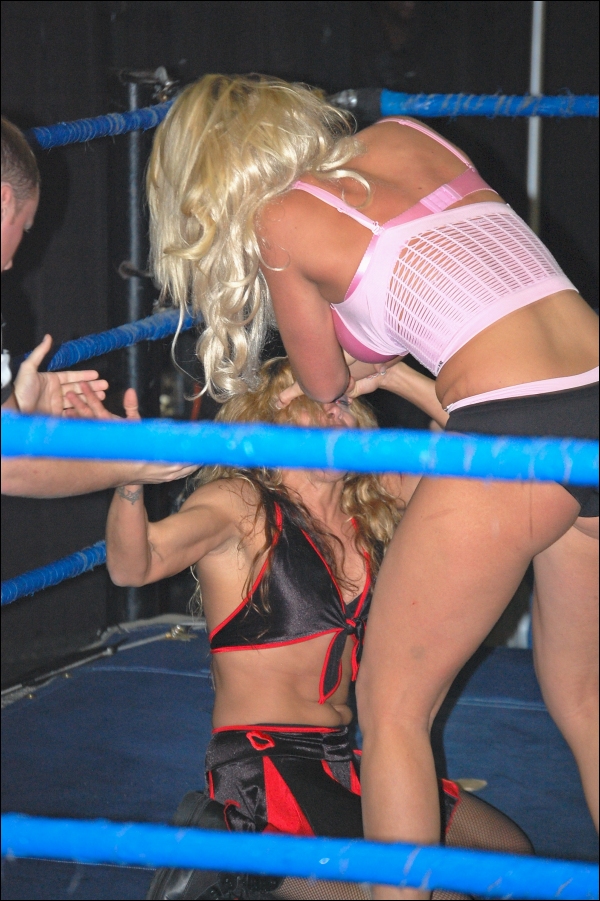 Photo:
Ed Darcey
Bonus POD!
Picture #5
Bonus POD!
Photo:
Ed Darcey