Picture Of The Day for February 7, 2008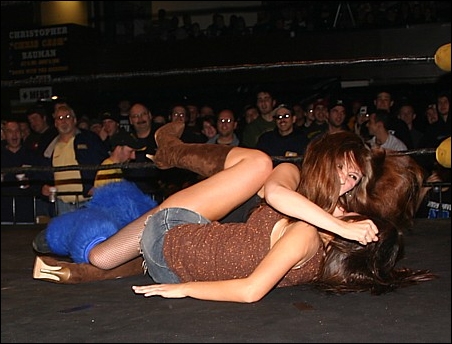 Still Queen Of The Catfight!
It's been a while since we've seen a good ol' catfight here on the Picture Of The Day. It's only appropriate that G.L.O.R.Y. Girl Noel Harlow should end the drought...and she did it at this recent event. Seems that a female wrestling fan attending the show jumped into the ring and proceeded to--as Noel put it--"show off her goods to the crowd". To be more accurate, the unfortunate female fan tried to show off to the crowd. But everyone knows there is only one professional distraction in pro wrestling...and her name is Noel Harlow! As you can see, this unknown lady learned quickly that the last thing you do is try to show-up Ms. Harlow. The G.L.O.R.Y. Girl shredded the trespasser inside the ring ropes...and then continued to beat the living daylights out of her all the way up the ramp.
Noel showed the young upstart why she is--and will remain--The Queen of the Catfight!
Bonus POD!
Picture #2
Bonus POD!