Picture Of The Day for February 5, 2008
Girl Dynamite Action!
Gordo, The Wizard of Id, is back with another action-filled Canadian report for us...
Tillsonburg, Ontario is Jennifer Blake's town. Reigning PWX Champion Haley Rogers is a hated villain when she steps into the PWX Tillsonburg ring. On Sunday, January 27th, Blake announced she would be stepping down as PWX Commissioner so she could focus on winning the championship. Naturally, when Rogers heard that, she had a few words to say herself.
She stormed the ring and told Blake if she wanted a title shot she could have it right then and there. Needless to say...the fight was on! And what a scrap it was. Rogers and Blake scrapped it out for almost 15 minutes with neither holding a sustained advantage, although both certainly laid in the punishment.
But it was Blake's sharpshooter that turned the tide of the match. Rogers escaped the hold but couldn't keep Jen from seizing control. It looked like a title change was in the bag until Haley's friend and workout partner, Tyson Dux, ran to the ring and attacked Blake...causing the disqualification. Haley lost the match but kept the title.
Dux and Rogers continued to pound on Blake until Derek Wylde ran out to make the save. A mixed tag was set for the night's semi-main event. In that match, Jen Blake showed Tyson why they call her "Girl Dynamite" as she got a measure of revenge when she just about kicked his face off (below) and scored the pin for her team!
Note: Seems that Ms. Blake definitely likes to dish out those kicks! Take a quick trip over to Jennifer Blake's G.L.O.R.Y. Profile to see a brand new video we've just added.
Photo:
Mrs. Id
Bonus POD!
Picture #2
Bonus POD!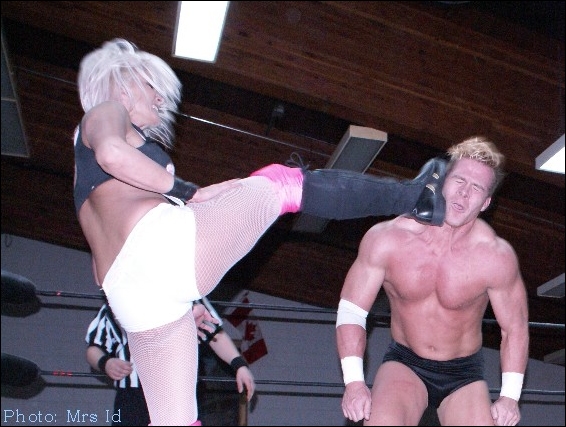 Photo:
Mrs. Id