Picture Of The Day for October 9, 2007
Our Ariel Is Back...
We haven't seen G.L.O.R.Y. Girl Ariel here on the Picture Of The Day lately...but we intend to take care of that oversight right now!
The long-time G.L.O.R.Y. favorite was in action about a week ago when she took on Lexxus for WWW wrestling in Somerville, Massachusetts. The Portuguese Princess came out at the sound of the bell and took it right to her opponent with some rough and aggressive tactics. Here, she puts everything she has into a hard right forearm to Lexxus' jaw. The blow knocks the blonde's head for a spin and sends her down to the mat.
Photo:
C. Sullivan
Bonus POD!
Picture #2
Bonus POD!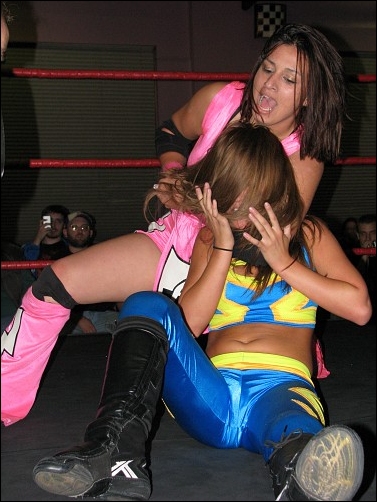 ...And Tougher Than Ever!
Before her opponent could recover from that head shot, Ariel was right back on her as she locked on this rear chinlock...which looks suspiciously like a chokehold to us. Look at the way Ariel asserts her advantage as she screams in dominance to unnerve the suffering blonde while working the choke and cranking the neck. Lexxus' hair hides her pained expression as she desperately searches for a way to escape from the hold. If there is a way to escape!
For more great action pictures from this and other September 30th WWW matches featuring the G.L.O.R.Y. Girls, check out C. Sullivan's photo album on the Fotki photo sharing site.
Photo:
C. Sullivan