Picture Of The Day for August 1, 2007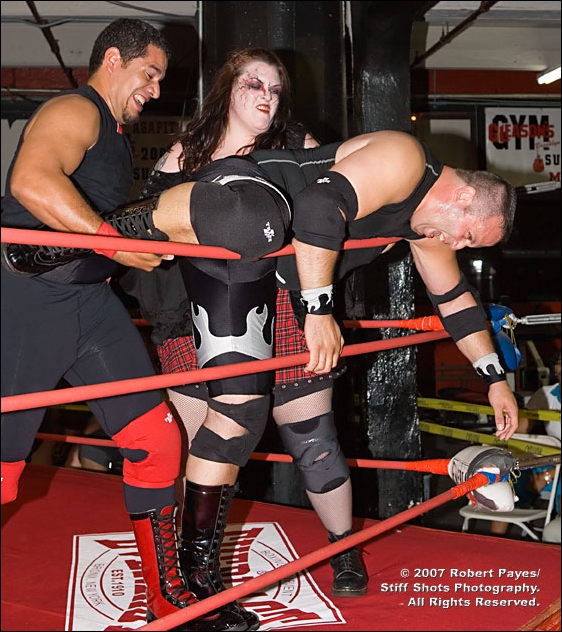 DellaMorte & The Guys
By now, we all know that tough as nails G.L.O.R.Y. Girl DellaMorte backs down from no one. So it was not surprising to see the fearsome-looking fighter enter the WUW ring in Brooklyn, New York last weekend to compete in a battle royal...a battle royal that pitted her against an all-male group of opponents! As you can see from the picture above, Della felt right at home in the ring full of men. She even made a few alliances during the battle, teaming up with this guy to force one of their opponents over the top rope and out of the ring.
Photo:
Robert Payes/Stiff Shots
Bonus POD!
Picture #2
Bonus POD!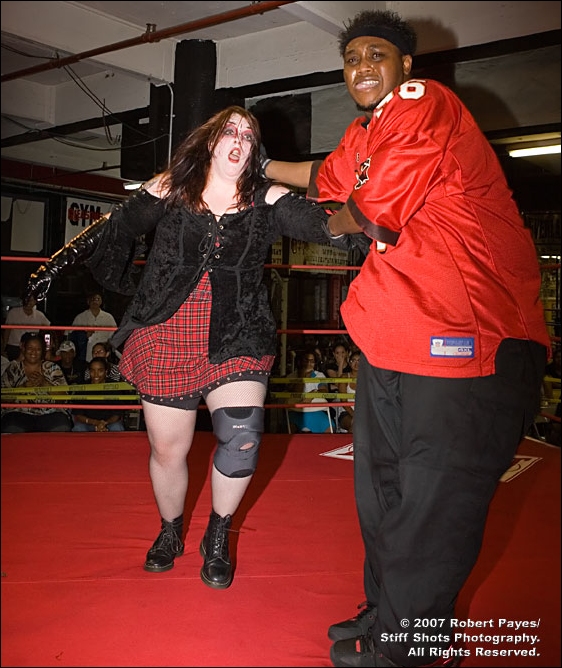 The Final Two...
DellaMorte did more than just compete in this match. She thrived! In fact, the rough brunette made it to the final two...finding herself in a one-on-one battle against this big guy. But Della's luck ran out here as her larger opponent took the advantage and ran her across the ring before flinging her out of the ring.
Photo:
Robert Payes/Stiff Shots
Bonus POD!
Picture #3
Bonus POD!
What Happened?!
Most women of the ring would be happy to make such a fantastic showing in a match of this type. But DellaMorte didn't just want to do well...she wanted to win. In fact, she expected to win! Take a look at that face after she hit the arena floor. The expression says it all as she suddenly realizes that she isn't going to be the winner of this battle royal.
We're sure that DellaMorte is walking around this entire week with a very big chip on her shoulder. You know she's going to want to take this out on her next opponent. We don't know who DellaMorte faces this weekend...but we feel sorry for them already!
Photo:
Robert Payes/Stiff Shots