Picture Of The Day for July 31, 2007
G.L.O.R.Y. Girls Get RAW!
Last night's WWE RAW had a six-woman tag match kick off the wrestling action as the team of Beth Phoenix, Melina and Jillian Hall took on the team of Mickie James, Candice Michelle and Maria. As you can see from the screen capture above, the three G.L.O.R.Y. ladies were looking confident as they headed down the ramp for their match.
Bonus POD!
Picture #2
Bonus POD!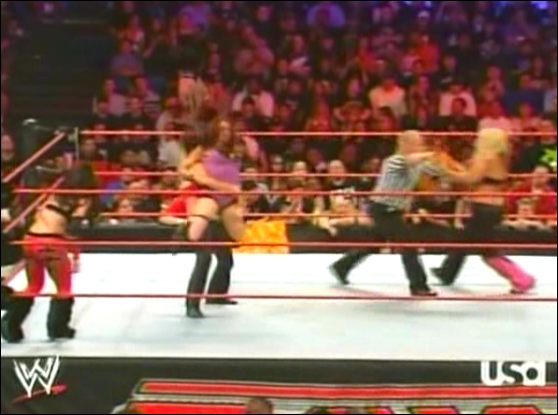 Ring Chaos
The match was a relatively even affair, with each team dishing out and receiving equal amounts of punishment. But when it came to teamwork, we have to give the edge to the Phoenix, Hall and Melina team. After having tossed Candice out of the ring, Phoenix did a great job of distracting the referee. Meanwhile, Jillian had Maria secured in a reverse bearhug...but not for long. In a moment, the blonde G.L.O.R.Y. Girl would tip Maria forward...giving Melina the opportunity to get a running start and secure two hands-worth of hair as the pair drove their opponent face-first into the mat.
The action was constant and exciting. We also noticed that Jerry Lawler actually concentrated on describing the wrestling most of the time. J.R., meanwhile, just couldn't seem to get straight exactly which girl was Beth Phoenix and which was Jillian Hall! Come on, J.R.! Let's give him the benefit of the doubt and say that he was so dazzled by all the beauties in the ring that his mouth just wasn't working right. : )
Bonus POD!
Picture #3
Bonus POD!
And Your Winners...
The team of Beth Phoenix, Melina and Jillian Hall were victorious as they backed their way up the ramp...arms raised triumphantly. We're happy for all three ladies. But we're especially glad to see that Phoenix has been given a chance to shine after her unfortunate injury in her very first WWE match last year. Also, while Jillian has been a featured star on Smackdown for a couple of years now, we're thrilled to see the former Macaela Mercedes actually wrestling on Monday nights.
Congratulations to all the G.L.O.R.Y. Girls who have made it to the Monday night line-up!