Ariel's Mexican Journal
"An emotional final week..."
June 13, 2005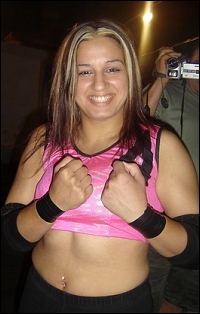 Hey Guys!
First of all, I have to apologize to everyone. For the simple fact that I wanted this to be a record of all the happenings in Mexico and something interesting (I hope so anyway) for G.L.O.R.Y. fans to read. But as most of you may know, many things went down during the final week I was in Mexico...giving me almost no will to go to a computer and write this stuff. I barely wrote anything the last week I was there and the only people who really heard from me the last week was my family. I pretty much stayed away from everyone...trying to keep my head up and just do my best at everything. There was nothing else to do.
So I would like to apologize right now to all the G.L.O.R.Y. fans for not having put more time into this journal as I should have. Later in the entry I will explain more about the situation and hopefully you all can at least understand...
Back to where I left off. Last time I wrote to you we had a big show coming up for LLF with Arena Solidaridad...
Sunday, May 22nd: Arena Solidaridad--Monterrey, Mexico. The match originally was supposed to be this big three-on-three girls match...but it ended up being a four-on-four cage match instead! They said there were about 6500 fans there again. I didn't get the exact number of people, but it was a lot! The cage match rules were as follows: last person left in the ring is the loser...and her team would lose also. It pretty much ended up being everyone for themselves though. The match was awesome. I wore this new outfit I got while I was in Mexico. The fans were very into the match, which is always a big big plus. I ended up victorious! I couldn't believe the reaction. It was pretty insane because when I started to climb out, I climbed up one side of the cage...but then, realizing that one of my opponents was waiting for me at the bottom, I jumped to the other side and quickly climbed out. Hearing the crowd reaction when I landed was unreal. I was so excited! Then I got chased by one of my opponents so I had to get out of there as soon as possible.
The next week was pretty uneventful. By this time, I made new friends in Mexico so I hung out with them when I could. But there wasn't a whole lot going on. My homesickness got a little better, especially since I had made some new friends down there. They made sure I was always smiling and laughing.
Friday, May 27th: I had to do two radio interviews...one of which Tsunami was there for. This chick actually had the nerve to say that the only reason she took the my G.L.O.R.Y. trophy was because she deserved it and I didn't! She said I didn't work for it. I found that amusing. I had asked John already if I could give her a G.L.O.R.Y. title shot and he told me: "Ariel, do whatever you think is best. If you want to prove to her and the G.L.O.R.Y. fans that you deserve to have that title, then by all means you have my approval." So on the radio, I told her if she beat me fair and square that night in our scheduled chain match, I would give her a G.L.O.R.Y. Title shot. And that was the deal.
After the first interview, we picked up the new American girl who was coming to Mexico for a tour, Daizee Haze. It was easy to find her at the airport. Once again, blonde white girl in Mexico? Had to be Daizee! There's not many blonde girls in Mexico so its super easy to find girls like that. We picked Daizee up and we headed to the other radio station. We did the interview and I helped translate for Daizee, also. She doesn't speak any Spanish at all so I did my best at translating...with a lot of help from Luciano. See, I can understand a lot of Spanish...speaking it is the hard part for me.
After that, I showed Daizee some important things. Like where the Internet cafe was, where 7/11 was, and a bunch of lil' things that she should know in order to do be better off in Mexico. I told her that I would be gone in a week, so I was going to show her as much as I could while I was there with her.
Nikki did the same thing with me the first time I was there. It's just a good thing to have another American girl with you because they know how you feel and, obviously, it's not as lonely. However, I did forget to tell her the #1 rule which Nikki reminded me the other day...the rule for when you first get there. You're not allowed to talk about being homesick until you've been there for a week...because if you do, you will make it harder on the other girls. So I'll have to remember that for the next time!
That night we had the show. There was a thunderstorm at the beginning and being that our shows were outside, it was crazy for the first two matches. By the time my match came on it had stopped. The chain match with Tsunami was one of the most brutal matches I have ever had! It had almost everything in there! All in all, it was a good match and the fans seemed to like it. I was super mad that she had taken my trophy so my goal was to pretty much humiliate her. The match ended when after giving her my Dariel, I tapped all four buckles. As they were about to declare me the winner, I went for her mask and I got it off of her! I beat on Tsunami and unmasked her! She automatically covered her face and then the referee reversed the decision. I couldn't understand why, because I already had won the match. But in Mexico, when you take off someone's mask you get disqualified. And if you take it off after the match is over like I did, the decision gets reversed!
Either way, I got my trophy back and I humiliated her. Even though she hadn't beat me fair and square, I agreed that she would get her G.L.O.R.Y. Title shot the next week.
Daizee Haze's debut went well. Fans really liked her and her high flying abilities...as well as her super cool colorful outfit.
After the show, Daizee and I, along with a bunch of my friends, all went out to eat and then headed back to the apartment for some sleep. We needed it since we would be leaving for Texas on Saturday night around 10:00 or so.
Saturday, May 28th: We all hung out and went shopping. Well, looking at stuff anyway. Later in the night, Memo (the LLF helper-person) showed up and brought us to LLF Arena...where all the wrestlers who were going to Texas would be meeting. About ten minutes after arriving, I got the worst call I have ever gotten in my life. It went kind of like this:
Me: "Hello?"
Person: "Hey are you sitting down?"
Me: "No, why whats up?"
Person: "Please sit down..."
Me: "Why what happened? Whats going on?"
Person: "Well, you know Spider?"
Me: "Yeah? What about Danny?"
Person: "I dont know how to tell you this and I'm sorry your hearing about this while you are in Mexico, but Spider died tonight."
Me: "WHAT?! Are you kidding me??? That's not possible. WHAT WHAT WHAT??"
You can figure out how the rest of the phone call went. I spent most of the night and next day crying. The ride to Dallas, Texas was ten hours long...and I spent most of it crying. It was unreal. I don't think anyone actually still believes it. It's so crazy to think about.
Being that Danny was one of my closest friends, both in wrestling and outside of wrestling, it got to me a whole lot. I thank each and every person who sent me kind words through the very tough time that we all have been going through. It was hard for me to deal with because of the fact that I didn't have anyone to comfort me or anyone who even knew Danny. Most of my closest friends called me to tell me what happened. Danny and I had been super close for a while and we had plans for when I came home from Mexico. I was supposed to go see his house and go watch Bulldog Blanski's Play together when I returned. He was one of the sweetest guys I ever met and I still can't believe that he is gone. Danny had one of those smiles that could light up the whole room and one of those personalities you couldn't help but love. He had been my date to the G.L.O.R.Y. banquet and had accompanied me to the G.L.O.R.Y. Convention. He once told me I was his favorite girl wrestler...girls in WWE included. And he was there for me when I won the G.L.O.R.Y. Title. I am so grateful that I knew that and that I had the chance to get to know him like I did.
The way that I dealt with the whole thing was to tell everyone to keep reminding me to do it for Danny. They would tell me: "Danny loved watching you wrestle, so go out there and do what Danny loved to watch you do". Danny loved to see me smile. One time he saw me cry and he said that it wasn't right. I wasn't allowed to cry and that he would never want to see me cry again. So, after a lot of thinking and being miserable, I decided to do my best for Danny...not only in matches, but to do my best to keep smiling for Danny, too. Because that is what he would have wanted.
Sunday, May 29th--Dallas, Texas: My debut in Texas, circumstances aside, went well. I had a picture perfect match and I gave all the props to Danny. I came out with a spider on my arm in honor of Danny and that didn't do him justice, obviously. The match was Daizee and I vs. La Bruja and an Exotic...which is a guy who is a transvestite. Pretty funny! We won the match and fans were very happy. There were a lot of lil' kids and we took tons of pictures with fans. Daizee and I danced together between falls, which seemed to make the fans laugh. At one point we grabbed the two referees and made them dance with us!
When I got to the back, I broke down thinking about Danny and the fact that he was gone. Because I was in Texas, I had phone service so I called a dear friend of mine and Danny's and talked about some stuff. Then I called home and my brother did what he has always been able to do: calm me down and make everything okay. My brother and I might have our differences sometimes, but all in all, when I need him or when I need somebody to be there for me, he is there for me. He always knows when I need him, too...and this was one of those occasions.
The ride back was long. I did some more crying but I tried to be okay about the whole thing. The next week was spent with friends and Daizee doing random things...
On Tuesday, we went to Plaza Sesamo which is an amusement park kind of like Sesame Street. It was the cutest thing ever. It has a water park too, so I was really happy about it. I might have some pictures of it for you soon. I found out some of the characters names are different. I kept yelling "Where is Ernie?"...only to have one of my friends tell me that Ernie's name in Mexico is ENRIQUE! I was so upset!!! I totally screamed when I finally saw him though. I got an awesome picture with him, too!
Also, this week I got a picture with Timo. Timo is from Jungla de Timo...which is a pet store where you can go and take pictures with Timo The Monkey. It is the cutest picture ever. Daizee Haze got one, too. The monkey also gave me a kiss...it was awesome! I was soooo happy and he was so adorable!
I also went to this Hip Hop club with my friends. At about 11:00pm, these break dancers came in and just pretty much put on a show. It was so amazing. I just sat there with my jaw on the ground! One of the guys recognized me because the week before I had been there clapping for them while they spun on their head like a million times. He smiled at me and I popped! I told my friends: "WOW! He remembers me!!!" I am a big fan of Hip Hop now...but Hip Hop isn't real popular in Mexico, so I was super excited to have found a club in down there with Hip Hop music.
Like I said, I tried to keep busy as much as possible. I tried not to think about what happened and about being homesick. All together, it was too much to deal with. So I just kept busy...kept going out...making sure I was always moving. The only time I would sleep was when "my batteries just ran out" so to speak. That way I never actually had time to think about what had been happening or what was going through my head. My friends were actually worried about me, but I told them I would be fine...and I am fine. That was just my way of dealing with it.
Monday of the last week, there were two big newspaper articles on the chain match between me and Tsunami. Awesome! I was impressed. I couldn't believe it!
Oh yeah, I forgot. At some point in the last two weeks, I got my hair done. I got some new highlights put in. I got bored and wanted to do something different...so I did!
Friday, June 3rd: That night was going to be my final match and show in Mexico. I had to do radio interviews about the G.L.O.R.Y. Title defense in which I made it a point to explain I had no problem showing Tsunami what I was all about.
In the afternoon, I went shopping for family and friends for some souvenirs. That went well. I found some really neat stuff.
Friday night was my match with Tsunami. So far, this was my favorite match in Mexico. I had a lot of fun and everything went well. The fans really seemed to like it. And even though the match was two out of three falls...with both of us being tied 1-1 after two...I came up with the win after hitting my Dariel.
Tsunami then showed me respect and told me that when I returned, if I wanted to have her as an opponent, she would be ready to fight. But she also said that if I needed a partner, I could count on her also...because I earned her respect. Then she offered her hand for a handshake...which I accepted. It was an awesome match. Tsunami is an amazing competitor! She is very good and is going places, I think. When it comes down to it...and after all our differences during this trip...I am glad we have reached an understanding.
One of the cool things of this match was that my friends came to the show and had signs and everything. I was so grateful for that. It was super cute. They had one that said: "Do you want a hug?" And another one with: "Ohhh..Poor Baby". There's a story behind each one. "Do you want a hug?" is because every time I would say something they didn't like or when they were mad about anything, I would look at them and go "Do you want a hug?"...with my arms out like a lil' kid. They couldn't help but laugh and they picked it up. Then they started doing that to me, too. The "Ohh...Poor Baby" is what I would do when one of them would complain about something. I would say "AWWW POOOORRR BAABBYY!!!" then I'd laugh. They all started saying it too, which I thought was super cute!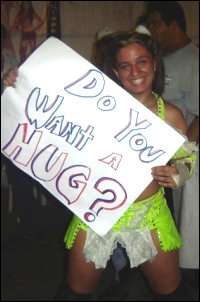 Oh yeah. In between falls when my music played, I went out there and danced with fans and my friends. It seemed like the fans enjoyed it a lot. I think fans always enjoy stuff like that...when wrestlers get involved with the fans. When wrestlers care about the fans.
I had a lot of fun at the last two matches I had in Mexico. I did my best at dealing with the Danny thing. Like I mentioned before, I did what Danny wanted. He wanted to see me smile and to see me happy. I honestly think Danny is watching over me now in each and every match. My matches have gotten better and I am having fun in the ring...mainly because I think Danny knew that I was questioning if wrestling was for me or not. Especially since this all happened. I think Danny is watching over me making sure everything is okay in order for me to keep my love for wrestling.
I guess if someone who didn't know me saw me in the ring that last week, they would think I didn't care or something like that. But in reality, if you know me you know that I was doing what Danny would want me to do. Danny always wanted me to smile...so that's what I did. I did my best to smile always. Like I always say: Keep Smiling...
After the last match, I got home and packed. The rest of my time in Mexico was spent hanging out with friends and stuff. I was sad to leave Mexico because of my new friends, but happy to be going home.
I am soooo happy to be home now with my family and friends. It was a long time away and I am glad to be back. I did my best in Mexico and I am supposed to be going back soon...which is good. I can keep defending the G.L.O.R.Y Title against some powerful contenders. And maybe even against any American girl who is down there and would like a shot at it!
Well, that's all for now. I might make another entry with just little stories of Mexico, some silly stuff or some shout-outs. But that's about it as far as the actual wrestling goes.
I hope you enjoyed reading my journal! That's about it for now. Thanks for reading!
And remember: Don't take anything for granted. You never know how long you have.
Rest in Peace, Danny Quirk. I will always miss you. My new thing: Do it for Danny. That's what is keeping me going...
Take Care and Smile Always,
Ariel
---
"Ariel vs. Darth Vader? Oh, and lots more stuff..."
May 22, 2005
Hey Guys,
Looks like my journal ended up being an every two weeks thing...but at least I kept notes of everything and what not. I'm still doing my best at trying to keep everyone updated as much as possible. Anyway, enough apologizing...lets get to the wrestling!
May 9th - May 12th: During this week, it was all about training and dieting with Nikki. She is really good about that stuff and she taught me a whole lot about just knowing what to eat and when to eat it. She also introduced me to this chicken in a can thing, which I don't think we have in the states. Itīs kind of like tuna but with chicken instead. Super Yummy! She also introduced me to Fastos...it's a restaurant down here and it's like from the hotel chain but the chicken is so good. Needless to say, besides Popeye's, it's the most frequented place for me here.
Friday, May 13th was our next show at the LLF Arena Femenil in Monterrey. Scary that the show was on Friday the 13th. I'm dumb and superstitious and stuff sometimes. I don't believe in everything, but I believe in some stuff and the fact that it was Friday the 13th just creeped me out.
Earlier in the day, Lufisto and I had to go do photos for the El Sol Newspaper. I had no clue what to expect but I was there and ready to take pictures. I made them tell me how to pose and stuff which was amusing. They were super cool with me though. They joked with me, saying I was the "no girl"...because every time they would say..."do this"...I would be like "NO!". Then I would say "Broma, Broma!" which means "Joking, Joking!". They were amused. It made the whole thing a lot more fun. And considering I am super-super camera shy, I guess it worked out. They helped me out. Lufisto is a natural at pictures. I was like..."Damn, I suck at this, I shouldn't be here"...but I tried none the less. They had us do pictures together and posed ones by ourselves.
Right after the photo shoot, Luciano and I dropped off Lufisto and we were off to the radio station. I was there to promote the LLF show with Luciano. One way or another they always try to make me speak Spanish. Due to the fact that I know Portuguese, Spanish is easy for me to understand...or at least make sense of it. So yeah, that went well. At one point, the radio announcer had to take a call so they were like, "Okay Luciano, you and Ariel talk for a lil bit". So I started laughing, saying it was the LLF Hour. Luciano kept rambling on about LLF and the places we go to and stuff. We also got to thank all out friends and sponsors. It was pretty crazy. I was amused as all heck. I thought it was the funniest thing in the world.
Later on that night we finally had the show. It was me and Diana La Cazadora (She's super-famous down here. Shes a celebrity who wrestles. She does the news then wrestles for LLF. Definitely cool!) vs. Tsunami and Chacala. I thought the match went well. I don't remember exactly what happened on all the falls, but I do remember that they beat us. Tsunami gave me an F5 in the last fall and then Chacala helped her pin me. If you ever saw Chacala you would know why it was unfair. It was SUPER unfair. Anyway, some details of the match I remember: Tsunami and Chacala threw me into an icebox. It was so cold! When I got out, I grabbed for my outfit and water went pouring out. It was insane. The fans loved it. Later on in the match, I did the same to Tsunami as payback. She went head first though. It ruled! Fans love that stuff down here.
The main event was a ladder match with LuFisto, Polly Star, Luna Magica and with my teacher, trainer and friend, Nikki Roxx. She almost won, but LuFisto went on retain her title. Nikki got hit in the back with light bulbs. She's insane, I tell you! I love her to death but shes insane none the less...ha-ha! She got to the back and I freaked out trying to help her out cuz her back was bleeding. Ahhhh! Blood is scary!
After we left, we went home in the Stone Cold Truck! A friend of ours down here has a truck which is almost an exact replica of Stone Cold's truck. It's pretty funny. Every time I'm in it I scream! "I AM SOOO IN THE STONE COLD TRUCK!!!" Nikki was always amused at that. One time we were driving and I said, "Why do these people keep staring at me?" Nikki busts out laughing and says: "MAYBE because you are in a Stone Cold truck and the front of it has a huge skull with big "Austin 3:16" letters on the side?!" lol. I couldn't help but feel stupid. I should have thought of that, huh?
Saturday, May 14th: The only thing that happened was when I went to 7/11 before going to the Internet cafe and I notice that there is a lil picture of me on the front page of the newspaper. I go to turn the page to see if they used a picture and there it was: Lufisto and I were "Page 3 Girls" for the day. I thought, "Oh My God...this is insane!" Nikki was like "that's awesome...buy one!" Then when we go outside, she runs up to same random guy who was reading the newspaper, points at the picture of me...and then points at me. I wanted to kill her! But then she told me that payback sucks. I laughed, because I remember the last time we were down here I was in a 7/11 going "LOOK...its NIKKI!" with a huge picture of her. It ruled man! It was the bestest!
Sunday, May 15th: LLF and the whole crew went to a different city: Reynosa, which is right on the border of Texas. It's about two hours from Monterrey. Car trip was me, Luciano, his wife, Nikki, Lufisto and Solitario. I slept the whole way with my Spongebob pillow. When we got there, the show was in a saloon-type of thing. It was so awesome. The set up there ruled. The match was me and Nikki vs. Chacala and Novia de Jason. These are both very big girls but we managed to beat them somehow. It was a good match, I thought. The referee was the best part of the match. He kept speaking English and yelling at me "WHERE YOU FROM BABY!?" It was awesome. Picture a lil chubby Mexican referee doing that and you will laugh your butt off.
On the ride back, I slept again. Solitario, who is a photographer, took a picture of me in my sleep. He showed it to me later and I told him he was mean for taking a picture of me while I was asleep. It was cool though. He's a super nice guy.
When we got back we went to Solidaridad because there was a show on...and since our show had been an afternoon show, we managed to catch the last couple of matches. I just watched the show and I loved it. It's unreal. I sat there going...I am in an Arena in Mexico watching wrestling. It's crazy! Its even worse when you're wrestling in it. I got to see Antifaz (who is super-super great), Maniaco (who helps me train down here and is one of the best wrestlers/shooters ever) and Turbina. Turbina is a high flyer who just rules! He's super-awesome. He hurt his hand pretty bad though. He had to have like 13 stitches on it. I wanted a picture with Turbina, since I already had one with Maniaco and Antifaz...but Turbina was gone.
One thing about this week that I forgot to mention was the fact that Nikki had a dream that she had to save me from Darth Vader. She is a huge Star Wars fan and I think the hype of the movie got to her. The dream had Darth Vader chasing us and stuff, and I was laughing cuz I thought it was ridiculous. But she kept yelling at me: "It's not funny! Darth Vader is BAD ASS!" So she picked me up and carried me. How crazy is that dream? Needless to say, I laughed really hard when she told me. I told her she's crazy, but at least she was my knight in shinning armor! lol.
Monday, May 16th: Nikki and LuFisto headed back home. I was sad to see them go as I am the only American girl here now until Nikki comes back June 2nd. But I've made friends down here, which is a big reason why it hasn't been really hard.
Tuesday, May 17th: I went to train with Norteno and his guys. He's really, really nice and he helped me out. I hurt my ankle really bad. I never hurt my ankle before, so I was upset. I just landed wrong with all my weight on my ankle. I wanted to train the rest of the week but everyone advised me not to. So I didn't. I was limping really for the rest of the week. Tuesday night was the worst. I woke up around 5:00am, almost crying. It sucked. So I finally got some medicine from 7-11 and went back to sleep.
Wednesday, May 18th: Nothing much was happening until Luciano randomly showed up and goes: "Hey, you have to film a commercial. So let's go." I look at him and go, "What?!" It would have all been fine. But I had been asleep so, needless to say, I was confused. The whole idea that I might be doing a commercial. How cool would that be to be in a commercial in Mexico? The guys at the set/station were really nice and they all tried really hard to speak English for me.
Afterwards, Luciano brought me to Solidaridad because he needed to talk to someone. I was talking to my friends, Enrique and David, when Turbina showed up! I was "Aww! This is awesome!" Then my friend David told him that I wanted a picture with him Sunday and Turbina looked at me and said: "Yeah...I want a picture with you, too. I've been trying to get one for a while but we always miss each other!" I was excited! So Sunday I am taking a picture with him! His character is Spider Man so I get to take a picture with Spidey! Nikki and I always said: "HEY...we know what you look like under the mask PETER PARKER!" No one else seemed to understand what we were talking about except us...but that's what made it so funny.
Thursday was easy-going. I just spent time relaxing and taking care of my ankle.
Friday, May 20th: I had the radio show in the morning and then the match at night. The match was Ariel vs. Tsunami...one-on-one. We've wrestled each other in tag matches before, but I said that I wouldn't even think of giving her a G.L.O.R.Y. Title shot unless she actually wrestled me one-on-one. Figures that the day we have our one-on-one match was the day she debuted on G.L.O.R.Y.!
During the show, I went in to save Diana and Felina from La Hermandad...and then Tsunami decided to attack me from behind! So they just started our match early, giving her a big advantage! The match was crazy. We fought all over the arena. It even spilled out into the street with on-coming traffic and everything! There were flying chairs, signs, going into iceboxes...every thing was in this match. The first fall went to me with my submission. The second fall went to Tsunami with a stunner. And the third fall went to Tsunami after she used a chain to just about knock me out! I don't remember how it happened exactly, but that's what I was told afterwards. All I know is, when I woke up, all the fans were yelling at me that she had taken my trophy!
I guess she thought that just because she became a G.L.O.R.Y. Girl that afternoon and because I said I wouldn't just give her a title shot considering she didn't deserve it (I wrestled girls and fought for it. What did she do? Nothing!)...I guess she thought it would be cool that if you can't get a shot at it, you just steal it! That sucks! I still don't know where she is or where my G.L.O.R.Y. Trophy is as I write this. I got in contact with promoters Luciano Garcia and Gabriel Martinez to make her give me my trophy...but if she doesn't give it back before next Friday then she will pay. I challenged her to a chain match. The way I see it: she cheated by using a chain to beat me...well, then I'll make the chain legal so I can use it too! So yeah, she will pay next week and I WILL get my G.L.O.R.Y. Trophy back. Have no fear!
So yeah...that's about it for now. I officially have two weeks left. I am happy to be coming home but still sad to leave the nice weather. There is another American girl scheduled to come down this Friday, so that will be good. Here are my upcoming matches:
Sunday, May 22nd: Arena Solidaridad
Ariel, Diana and Meztica vs. Polly Star, Bruja and Chacala. The show is supposed to be unreal. The main event is a war of idols: La Parka vs. Hijo del Santo. Juvi is also on the show, as is Hector Garza. I can't wait. Last time there was a huge card like that, there were about 6,500 people! So I assume it will be around that many again. Ahhh...nervousness!
Friday, May 27th: LLF-Arena Feminil
Ariel vs. Tsunami in a Chain Match!
Sunday, May 29th
I make my wrestling debut in Texas! Dallas, Texas, to be exact! Yay! Look for me. I will post more details about that soon.
Thats it for now. Thanks for reading!
Sonrie Siempre...Keep Smiling! (Yay! two languages!)
Take care,
Ariel
---
"Fighting, training, meeting fans...and tortillas?!"
May 9, 2005
Hey Guys!
Sorry about the lack of updates, but I am doing my best. Last update I mentioned my first week and how it went. Well, the last two weeks have been super busy but awesome none the less...
April 20th: I was scheduled to go to this arcade named Ships and hand out prizes to the lil' kids with some of the other wrestlers. It was awesome! The kids were super happy so see us and stuff. I couldn't believe it. It ruled! Oh yeah...they had me play one of the games with a kid so that they could take a picture. I was like: "Oh, this is cool. I'm talking to you and you don't even speak English". Then the little kid looks at me and goes: "I know a lil' bit!". OH MY GOD, THAT WAS SO AWESOME! It was fun. Plus I got a card to play free video games so that was pretty cool, too!
April 21st: We picked up Nikki Roxx at the airport. She was pretty easy to find in a Mexican airport. (White, blonde girl with a Nightmare Before X-Mas purse!) I went to get her and Luciano informed her that she had to do pictures with her newly won PGWA belt. The picture came out cute...but it sucked that she had to do it right after plane trips and stuff.
April 22nd: We had a LLF show at the LLF arena. Nikki and I vs. Bruja and Polly. We won the match with a double submission. It was pretty awesome. Nikki is an awesome wrestler and a great partner. People love her down here so it was awesome to have that match.
During the first fall, this newer wrestler named Tsunami took it upon herself to come tell me that I was a nobody and the fact I have a title in the states isn't fair because I don't deserve it. I don't know what her problem is. I think she is jealous that I have the G.L.O.R.Y. Title at such a young age and, considering she is a newcomer also, she thinks it's somehow unfair to her. Hey...too bad there Tsunami. I EARNED THAT TITLE!
Saturday was spent training and working out and what not. We decided to pretty much just take a day to relax (working out and wrestling training don't count...those are a must!).
Sunday was Arena Solidaridad. You guys already saw a few pictures and a match report of the show on Sunday. There were about 6,500 people there. It was unreal! The match was an eight-person mixed tag. Me and my partners--Nikki, Maniaco and Diana la Cazadora--took on Polly, Bruja, Vaquero Jr. and Tigresa. We won the match in the third fall due to a low blow by one of our opponents. We got swamped for pictures afterwards. It was pretty crazy but I loved it! I had a blast. The show was unreal...it had to be with over 6,000 people there! And at the end when we got our hands raised, it sounded like every single one of them cheered. It was sooooo awesome!
Later that night, Nikki and I and a bunch of the girls decided to go to a local club. It was really funny because I don't drink...or dance, really...so I sat there and just watched the singer. He kept making comments at me about not dancing and being bored. He finally figured out that I didn't speak Spanish so then he started to try and speak to me through the microphone in English. It was so funny!
Monday and Tuesday were off days...besides training, of course. Nothing really happened as far as wrestling. But on one of those days, Nikki Roxx figured out that tortillas are way better when they are cooked. Nikki has been helping me eat healthy and helping me with workouts and what not. She figured-out one day to just cook a tortilla to see why people did it and she thought it was the greatest thing in the freakin' world! Super funny! I told her I had to include it in my journal (and here it is!).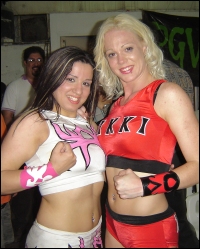 Wednesday we had a show at Solidaridad again. It was Nikki and I vs. Polly and Bruja. We won by DQ after Polly accidentally hit the ref. Some fan called me the Little Mermaid. I thought that was funny!
Thursday was workout and training again. I decided to try to work on doing kip-ups. It took some practice, but I can so do one now! Awesome!
Friday we had a Lucha Libre Femenil show at the LLF Arena in Monterrey again. (They run every Friday in case you didn't know by now.) It was Nikki and I vs. Tsunami and Chacala. They got the upper hand on us that time. It was a close match and Tsunami kept coming after me. She kept yelling at me in Spanish and I couldn't really understand her. I was told afterwards that it was about my G.L.O.R.Y. Title again. She kept screaming that she was going to make all the Mexicans proud and steal my title right from my hands. I told her later that she should learn some English then talk to me...especially if she wants a shot at my title!
Oh yeah, Lufisto got here the night before but her bags didn't make it with her! So she ended up wearing one of my outfits to wrestle in. Everyone said we look alike. It's the hair, I think, but it was funny. : )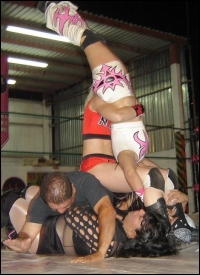 Saturday I got the sad news that the uncle of a friend of mine down here died. It was so sad because he was such an awesome man. He always invited me to go over to his house for dinner and stuff so it was so sad to see him go. Early Sunday morning I went to the funeral. You could tell how great of a person he was because about 300 people showed up for the funeral. It was unreal. So sad, though. Paco will be truly missed.
Yesterday we had Solidaridad again. It was me, Nikki and Diana against Polly, Bruja and LuFisto. The match went pretty well, I think. We lost because of a mistake on our part...but its all good. We will get them next time! Nikki and I were both sporting out new gear. Fans cheered my name this time. I think it had to do with the fact that my name was written on my butt! I had tape on with "R.I.P. Paco" in memory of my friendīs uncle. My thoughts are with his family and friends.
Happy Mothers Day to all the mothers and especially my mommy!
So, needless to say, it has been a busy two weeks. Sorry for the late update, but I have gotten super homesick. : (
Being away from home this long is really depressing for me. It's what I want to do, but it still makes me sad because I'm a very homey-type of person. I miss the people close to me the most, so thank you being there for me. My phone bill is super high right now so I have to cut down on that...lol. I will do my best!
Last but not least...
I had the pleasure of meeting and speaking with Chris Candido. He was one in a million. I had never met anyone like him before. He was always so happy to be where he was and I remember him telling me: "You gotta have fun at what you do...if not, then you shouldn't be doing it". He will be truly missed and the world has lost one of the greatest people in it. Heaven, however, has gained one of the jolliest angels ever. I know he will be looking down on all of us smiling.
Take care everyone...more coming soon!
Miss you!
Ariel
---
"What a trip!"
April 30, 2005
What a first week I've had in Mexico!
After a long day at work (and no sleep at all), I was on my way to my 6:10am flight to Monterrey, Mexico. Because it was an international flight, I had to be at the airport by 4:10am. I got home about 1:30am from work that night, so I pretty much just got packed, picked up my bags, and my brother and I headed to the airport.
Once at the airport, I checked in and once again got searched. It seems to happen to me every time I travel. I think it's because I'm a young person traveling alone and it must make them suspicious. Anyway, I'm used to it by now and the people at the airport were amused at how nice I was about it. But anyway, I had a layover in Atlanta and the flight there wasn't too bad...except that the plane was super crowded and my carry-ons had to be next to my feet. Thankfully, my Spongebob pillow (who is now a world traveler) made my flight a little better!
Once arriving in Monterrey, someone asked me where I was from. I said Portugal and handed them my passport. Then they asked me where my other passenger was from. I looked at them confused before realizing they were talking about my Spongebob pillow!
My first day here (Thursday the 21st) was rather relaxing. I just got to my apartment and relaxed for a little while before heading to an Internet cafe to let everyone know I was safe and what not. I was super, super exhausted and fell asleep around 10:00pm that night and didn't wake up until about 1:00pm the next day.
Luciano, the LLF promoter, came to pick me up around 1:30pm that second day because I had to go do a radio interview/appearance at one of the local radio stations. Everyone remembered me there from my last trip. They said I seemed shy and that my Spanish was wearing off...but they understood it was because I hadn't spoken Spanish in over four months. But the interview went well.
I picked up the local newspaper (EL Sol) and realized there was a huge picture of me in the sports section with the caption: "Be careful Ariel". That's when I figured out who I was wrestling that night: Simply Luscious, the newly proclaimed Mexican girl. She works here so much and is Texicana (as she calls it). She has Mexican heritage so she is pretty much Mexican now. We wrestled each other in the main event of the LLF show. The match was billed as "the foreign girls at war".
I thought the match went very well. There was a lot of cheating on her part as was seen in the pictures recently posted on the G.L.O.R.Y. Picture Of The Day. She even resorted to throwing beer at me! It was a rough match and it ended in a not so good way for me. As you may or may not know, most Mexican matches are two out of three falls. The first fall went to me with my new submission. (I don't have a name for it yet. Any suggestions?) The second fall went to Simply Luscious. The third fall had a lot of strikes and kicks and just plain old brawling. The fall ended when Novia de Jason interfered by hitting Luscious. I guess they have a feud going on and Novia wanted to settle some unfinished business. But the referee disqualified me! I lost the match because of something that wasn't even my fault! Boo to that.
Oh...one other thing about this show. When I first got there, a fan named Angel gave me presents. It was super cute. It was a bunny and a huge lollipop. I took tons of pictures with fans which was cool, too.
Saturday was a day to relax and what not.
Sunday, on the other hand, we had to go to Torreon, Mexico. Torreon is in the middle of nowhere! It's pretty much in the middle of a dessert. It was 5 1/2 hours from Monterrey. When we finally got there, I marked out for seeing my name on the show poster because the girls' match was main event...which was super cool. That's something you don't see in the states like EVER!
The match was me and Reyna Vampira vs. La Bruja and La Chacala. Call it the "David vs. Goliath" match...two very small girls against two very big girls. The match went well. We managed to pull off a win in the third fall after capitalizing on their mistakes. I got a camel clutch on Chacala to take the second fall for my team. And in the third fall, we double-pinned them for the win. It was wild! The fans were so lively there...it was unreal.
After the match I took so many pictures I felt like a rock star. It was great! I was walking to the car with my bag and all these fans were trying to take pictures and talk to me. Luciano finally had to rescue me. I couldn't walk...that's how crazy it was. Awesome! I had to take a picture in front of the building because it had my name painted on it advertising the event.
The ride home was long. It pretty much involved me sleeping the whole time! We finally got in at about 5:30 in the morning. CRAZINESS of a ride.
Anyway, today (Tuesday the 26th) I'm supposed to be going to this arcade thing to hand the grand prize to the winner. It's awesome. You get the honor to do things like that down here. I'm excited!
This Friday coming up (the 29th), Nikki Roxx and I will be teaming up against Polly Star--who is one of their best veterans--and a mystery partner. I look forward to teaming with Nikki.
Sunday (May 1st) it will be Nikki Roxx and I vs. La Bruja and Tigresa in Solidaridad...which is their arena here in Monterrey.
Thats it for now! I will update you guys more as soon as I can. Thanks for reading and take care!
Smile Always!
Ariel
"Leadership is a potent combination of strategy and character. But if you must be without one, be without strategy." -- Norman Schwarzkopf
Quick Links