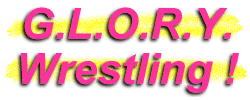 Wesna
Wrestler
One of the most talented (and meanest) females in Europe has come to G.L.O.R.Y. Wrestling. Based in Germany, Wesna has proved that she can defeat the toughest the continent has to offer. Many of Europe's best male and female wrestlers have been victims of this lady's vicious kicks and submissions. Cheerleader Melissa calls her "one of the best I've ever competed against". And now Wesna has her sights set on conquering Japan!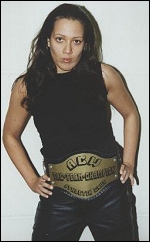 Wesna is one of Europe's premier women wrestlers.
Wesna shows her strength as she holds her opponent upside down before suplexing her to the mat.
Wesna is not afraid to mix it up. Here she sits in the corner bloodied and bruised after a particularly brutal match.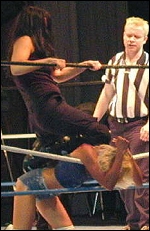 Wesna shows no mercy in the ring. Here she toys with her smaller blonde opponent as she chokes her over the middle ring rope.
Wesna's Stats...
Height:

5' 9"

Weight:

143

Hair:

Black

Eyes:

Dark Brown

Hometown:

Berlin, Germany
Wesna's Profile...
How It Started:

I was a wrestling fan when I was a child and it was always my dream to be a professional wrestler. It's very hard to find "professional" wrestling schools in Germany. That's the reason why I started with amateur wrestling and kickboxing...to have a good sports background. I did that for two years until I found one of the best European wrestling schools, the GWF.

Gimmick:

Heel.

Wrestling Style:

Submission, striking and shoot-stlye.

Gear:

Pleather pants and a shirt; kickpads...everything in black or silver.

Biggest Win:

Winning the EWA Womens European Championship, the NWA-Germany Women's Title and the ACW Tag Team Title!

Worst Loss:

Losing the ACW Tag Team Belt.

Favorite Type of Match:

Singles matches.

Favorite Moves/Holds:

Suplexes and kicks of all kinds.

Finisher:

CB4-Driver (reverse piledriver).

Biggest Allies:

CB4.

Most-Hated Enemies:

Blue Nikita (Greece).

Favorite Wrestlers:

Ahmed Chaer; Crazy Sexy Mike; Misawa; Kenta; Kawada; Minoru Tanaka; Low-Ki; Doug Williams.

Wrestling Ambition:

My ambition is to be one of the best female wrestlers in the world and to be a big women's wrestling star in Japan!
Wesna's Personal Notes...
Actually, I live in Croatia. My whole family is there, but there is no chance to wrestle there.....Everything I do is related to wresting: training, gym, watching tapes. And I still do kickboxing for flexibility and fitness.....In the rare times when I do something outside of wrestling, I like to watch movies, go to cinema and listen to music.