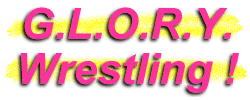 Venus
Wrestler
How does a beautiful and sexy Texas girl like Venus get involved in the rough and tumble world of pro wrestling?! After earning a university degree in theatre and dance, this lovely lady decided to combine them with her love of athletics and fitness to jump into the grappling game. Starting off as a valet, it didn't take Venus long to realize that she wanted to be in on the action between the ropes! Venus quickly made a name for herself in Texas...and now the rest of the country is learning what the fans in the Lone Star State know: that Venus is poised to be the next big name on the national wrestling scene!
The beautiful Venus could just as easily be a model than a wrestler.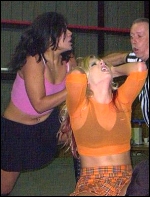 Venus has fellow G.L.O.R.Y. Girl Krissy Vaine in pain.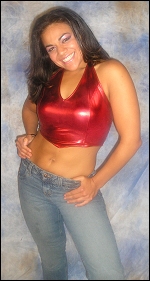 Sexy Venus started in the business as a valet, but she quickly decided that she would rather go all out and become a wrestler.
Venus and her "R.A.T.S." tag-team partner, Serina.
Venus' Stats...
Height:

5' 4"

Weight:

145

Hair:

Brown

Eyes:

Brown

Hometown:

Austin, Texas (USA)
Venus' Profile...
How It Started:

I was working partime in a dance club as a cocktail waitress to pay my tuition. I met a bouncer there who brought me in as his valet. He quit coming to the shows and I had nothing to do, so I snuck into the classes on my own. After the first few classes, I found myself in love with it. My major was theatre and dance, and since wrestling involved acting, moving and performing in front of an audience...what more could I want?!

Gimmick:

I use to only be a baby, at least for the first year of my career. But since leaving Texas I have gotten use to playing a little dirty. What can I say...I like being a naughty girl! You have more fun that way!!!

Wrestling Style:

Quick and agreessinve with lots of grappling and some high flying. I work a lot of old school.

Gear:

Whatever I want!!!

Titles Held:

CTPW Women's Champion.

Worst Loss:

When I lost my title to a guy who dressed up as a girl to wrestle me!

Favorite Type of Match:

I like mixed-tag matches and I love double-teaming our opponents.

Favorite Moves/Holds:

I roll 'em up! Anyway, anyhow: victory roll, sunset flip, inside cradle, school boy...

Finisher:

"The Venus Fly Trap". What else?!

Biggest Allies:

Psycho Simpson...I have to play nurse sometimes. Of course, now I have my tag partner Serena in my corner!

Most-Hated Enemies:

Kara Slice; Krissy Vaine; Christie Ricci.

Toughest Opponent(s):

I love working with Christie Ricci and Tasha Simone. It's a real contest when we get in the ring.

Career Highlight:

Anytime children come up to me after the shows. Performing for the troops overseas was a huge highlight. Wrestling in front of Vince against Melina...that was frightning!

Favorite Wrestlers:

Psycho Simpson; Chris Benoit; Rip Rogers; Fit Finley; Dr. Tom.

Wrestling Ambition:

To work all over the USA, whether in the independents or with the major feds.
Venus' Personal Notes...
I graduated from the University Of Texas at Austin with a degree in theatre and dance.....I enjoy working-out, running, painting, writing and taking the area kids to the library.....I would like to run my own website with merchandise.....Other dreams: writing a book, buying my mom a house and helping my sister finish school.