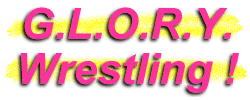 Vanity Vixxxen
Wrestler
After starting her wrestling career as a manager for Tony Atlas, Vanity Vixxxen decided her future was battling inside the ropes. Now wrestling on the New England indy scene, Vanity's epic battles with fellow G.L.O.R.Y. Girl Mistress Belmont have left fans clamoring for more.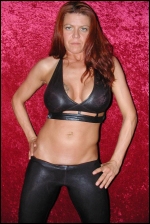 Vanity Vixxxen
Vanity and main ally Sethoran
Ms. Vixxxen cranks on the headlock.
Mistress Belmont slugs away at archenemy Vanity.
The sexy Ms. Vixxxen.
Vanity Vixxxen's Stats...
Height:

5' 5"

Weight:

130

Hair:

Red

Eyes:

Green

Hometown:

Peabody, Massachusetts (USA)
Vanity Vixxxen's Profile...
How It Started:

I began training in 1996 and started as a manager for Tony Atlas. Soon after, I started managing (and still do manage) Sethoran. My career in the ring began when Steve Bradley gave me the confidence to wrestle in his promotion...and I've been wrestling ever since.

Gimmick:

I am a break-the-rules good girl. I have brawled, been involved in catfights and kicked some butt. I am a sexy vixxxen that can take a beating and for sure give one back!

Wrestling Style:

I am a little bit of everything.

Gear:

Various outfits...but they are always sexy and hot!

Titles Held:

None.

Biggest Win:

It was the hardcore match I had with Mistress Belmont in Derry, New Hampshire. We had a great match in which I suplexed her through a long piece of wood that was set up across two chairs. We got the best "WFA" chant!

Worst Loss:

I would say it was a hardcore tag match in Lawrence, MA. When I was getting off the mat and turning around to grab my opponent, her partner threw a chair at my face and they took the win. That chair shot ended up chipping my tooth.

Favorite Type of Match:

I have been in singles, tags, hardcore, evening gowns...and I loved all of them. I feel you should be able to do all types of wrestling matches.

Favorite Moves/Holds:

I grab my opponent in a full nelson then pick her up and plant her on her face as I sit down. Another move: I throw my opponent into the turnbuckle and then follow her up and land on the second rope. Then I grab her hair and drop down to the mat, face planting her as I land on my knees.

Finisher:

Sit-out face plant.

Biggest Allies:

Sethoran; Marykate; Sammi Lane.

Most-Hated Enemies:

Mistress Belmont; Tanya Lee; Coverly; Nikki Roxx.

Toughest Opponent(s):

Mistress Belmont.

Career Highlight:

It would be the incredible matches I have had with Mistress Belmont. We always have awesome matches.

Favorite Wrestlers:

Jeff & Matt Hardy; Beth Phoenix; Rey Mysterio; Triple-H; Shawn Michaels; Undertaker; Melina; Mickie James.

Wrestling Ambition:

First would be to make sure my wrestling fans are entertained at all times. They are first in my book. Second, making it to WWE would be my dream. If not, then I will still love working in the indies.
Vanity Vixxxen's Personal Notes...
I love walking my dog Scrappy, bike rides, the gym and dancing.....My favorite bands are BLS and Dope, but I love to listen to all types of music.....My favorite foods are salmon and asparagus.
Essential Vanity Vixxxen Links...