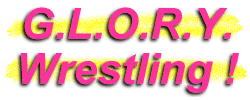 Vanessa Kraven
Wrestler
Big, dominating and intimidating: all are adjectives often used to describe Canada's Vanessa Kraven. This 6' 0", 195-pound Montreal native uses a combination of strength, size and plain-old rule breaking to devastate the unfortunate opponents who choose to step into the ring with her. And it makes no difference if those opponents are male or female, because Vanessa is just as rough and rowdy with the boys as she is with the girls. Two tours of Japan have also helped to toughen-up this ring ruffian. It looks like a breakout year is just ahead for Vanessa Kraven!
Canada's intimidating Vanessa Kraven. [Photo: Kevin Jordan]
Vanessa displays her trophy: another pulverized opponent! [Photo: Kevin Jordan]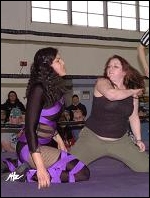 Kraven and Knuckles trade crushing chops.
Vanessa has no problem going head-to-head with the big guys.
This guy tries to ride Vanessa's back...but he'll be smashed flat to the mat before long.
Vanessa Kraven's Stats...
Height:

6' 0"

Weight:

195

Hair:

Dark Brown

Eyes:

Brown

Hometown:

Montreal, Quebec (CAN)
Vanessa Kraven's Profile...
How It Started:

I've liked wrestling ever since I was a kid, or at least until my mom banned it in the house. I got back into it when I was 16 and have been obsessed ever since. I basically picked up and moved to Toronto by myself at age 20 and started training at Ron Hutchison's school for six months. I moved back to Montreal after those six months, surprisingly one month before it closed. I've been training in Montreal since.

Gimmick:

Basically, I'm an intimidating, dominating, no nonsense-taking female.

Wrestling Style:

My wrestling style is a combination of power wrestling mixed with some technical and rough stuff. Plus, I like to fracture the occasional rule...or two.

Gear:

I design my outfits. I'm all about purple. Love the colour! Purple will somehow be incorporated on most of my costumes. I'm also a very big fan of fishnet.

Titles Held:

nCw Women's Title.

Biggest Win:

Defeating El Generico and Beef Wellington in a tag match with my partner, Kid Kamikaze, at IWS's

Scarred For Life 2005

.

Worst Loss:

Losing to Julie The Red Foxxx.

Favorite Type of Match:

I'm a rather big fan of mixed tags. It gives me a chance to wrestle around with guys, and since I'm tall for a girl it usually leads to a pretty even match-up.

Favorite Moves/Holds:

I really like my running cannonball onto an unsuspecting victim sitting in the corner. I also favor the sit down face buster.

Finisher:

A spinning sit down powerbomb that is yet to be named.

Biggest Allies:

James Kraven; Kid Kamikaze.

Most-Hated Enemies:

Anybody I get into the ring with.

Toughest Opponent(s):

Yoshiko Tamura, the NEO Japan Ladies champion. She may be short but she definitely packs a punch!

Career Highlight:

Going to Japan twice to wrestle for the NEO promotion, as well as others, visiting the country and wrestling in Korakuen Hall. The people there are some of the most polite people I've ever met. I can't wait to go back again!

Favorite Wrestlers:

I have soooo many to name: Victoria, Molly Holly, Jazz, Chris Benoit, Eddie Guerrero, Randy Orton, Nigel McGuiness, Doug Williams, HHH, A.J. Styles, Christopher Daniels and Paul London. On the indy scene: Kevin Steen, El Generico, Claudio Castagnoli, Franky the Mobster, Jagged and Shane Matthews (tag team of "2.0") and so many more.

Wrestling Ambition:

Without a doubt: The WWE! I WILL make it! But most importantly, to be on par with the guys and be able to be considered a good worker...not just a good worker "for a girl".
Vanessa Kraven's Personal Notes...
I'm a fun loving Aquarius.
I love quirky, different things and very much like having friends with different personalities.
I'm a certified hairdresser. I graduated from hairdressing school in 2002.
I'm a HUGE movie fan. Some of my faves include

The Life of David Gale, Magnolia, American Beauty, Memento, Seven

and

What Dreams May Come.

I have three piercings (other than the two in each ear) and seven tattoos.
I listen to all types of music from Usher to Opera...from Britney to Marilyn Manson.
I do makeovers and love all aspects of them: hair, make-up, fashion and photography.
I LOOOOVE to dance!
I've been wanting a dog for a long time. Chow Chows are too cute for words! Pugs aren't bad either.
I'm a Pilates enthusiast.
I'm a huge fan of

The Shield

and

Family Guy

.
I want to be able to travel...A LOT!...during my life. There are over 200 locations on my list of places to visit!
Essential Vanessa Kraven Links...